Having The Northman's Vikings Speak English Wasn't An Artistic Choice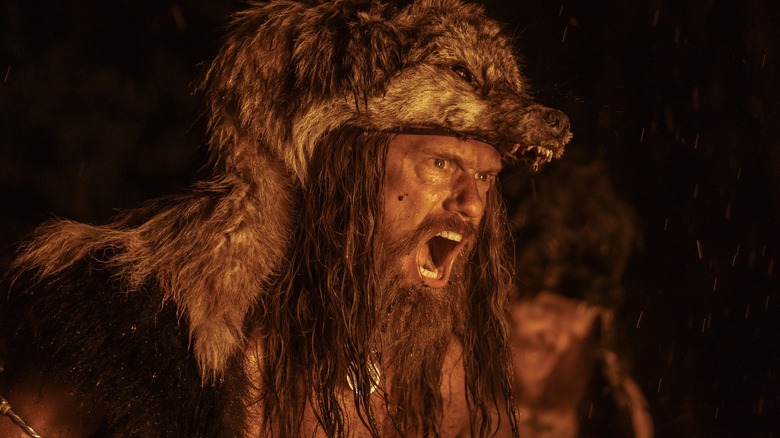 Focus Features
There are a lot of fun facts and historical details you can glean from Robert Eggers' press tour for his upcoming film "The Northman," but the only thing that I learned is that someone needs to give Eggers an unlimited budget so he can unleash a movie entirely in Old Norse onto the world. Sure, he put a ton of research and knowledge into "The Northman," including working with experts and talked to historians, but now that I know we could have gotten an even wilder film, it's all I'll be able to think about. When I walk into an Eggers experience, I want to feel transported, unnerved, and deeply confused.
And, you know, I probably still will, I'll just be slightly less transported, unnerved and confused. As Eggers explained in an interview with IndieWire, he couldn't quite get the money together to write his entire upcoming Viking epic in Old Norse, but that didn't stop him from making his brutal Viking dreams come true:
Certainly if I was Mel Gibson, and had the money to self-finance my own historical epics, this movie would've been in Old Norse. Because of the scale of the film, that was just not possible. I knew it wouldn't be financeable at our budgetary level.
Ye olde Northman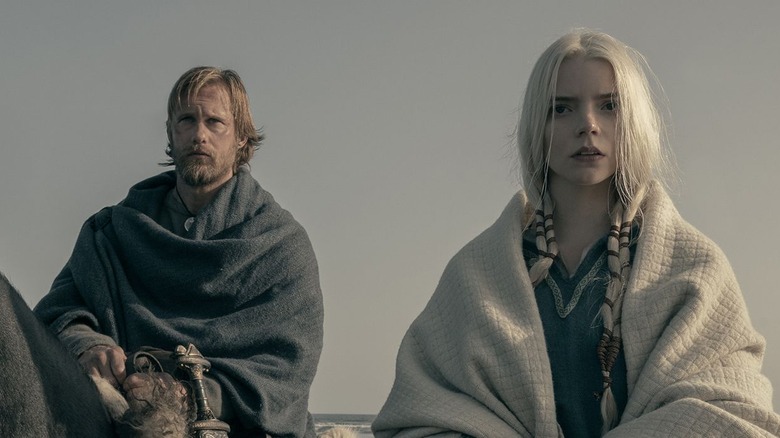 Focus Features
Nice Gibson burn, I think? Anyway, since they couldn't do that, Eggers dives into what they did instead, and it's a fascinating little slice of info about making dialogue feel old without taking it to the limit. In the case of "The Northman," Eggers and his co-writing partner, the Icelandic novelist Sjón, drew their dialogue inspiration from Seamus Heaney's translation of "Beowulf," which was published in 1999 and was lauded by critics at the time of its release:
Seamus Heaney's translation of "Beowulf" is of course Old English and not Old Norse, but they're closely related. Anglo-Saxon culture is similar to Germanic culture. That was a nice tone of "Ye Olde"-y, but also understandable, that Sjón and I used as a reference point. But I also asked Sjón to translate bluntly from Icelandic when giving us the first passage of dialogue so it would give us something really interesting to work with.
Although, Eggers and Sjón didn't give up completely on their Old Norse dreams. The language is sprinkled throughout the film in songs and in rituals, which sounds especially cool and haunting:
Where we kept Old Norse was in ritual settings and in song. We worked with an Icelandic linguist, Haukur Þorgeirsson, and he was often taking poems written in Medieval Iceland to rewind them and translating into his interpretation of that.
Look, there's a lot to look forward to in "The Northman," including blood and mud and rain and hallucinogenic ritual sequences, but I'll always be thinking about the more hardcore movie we could have had.
"The Northman" crawls into theaters April 22, 2022.