Michael B. Jordan Learned An Important Lesson From Denzel Washington's Directing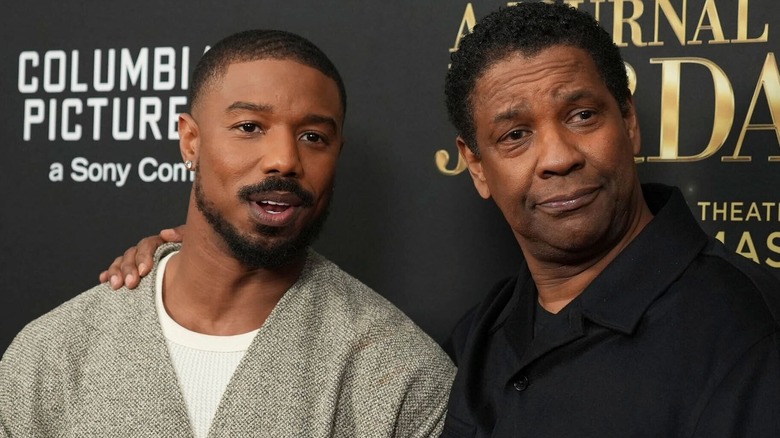 John Nacion/STAR MAX/IPx/AP
"A Journal For Jordan" united two of the most prominent Black actors working today: Michael B. Jordan and Denzel Washington. Jordan stars in the film as First Sgt. Charles Monroe King, who writes the titular journal as a guide for his infant son Jordan. Washington directs and, in a career first, chooses to stay behind the camera rather than casting himself in a role. And while "A Journal for Jordan" itself was less than well-received critically, Jordan took more from the film than just warm memories; he also described the experience of working with Washington as a "master class" in acting and filmmaking.
Entertainment Weekly held an interview with Jordan prior to the release of "A Journal for Jordan," where he talked about working with Washington — whom he idolized. And as it turns out, Washington even gave Jordan some advice that he plans to use when making his directorial debut with "Creed III," in which Jordan is also set to reprise his role of Adonis Creed.
"A master class at everything"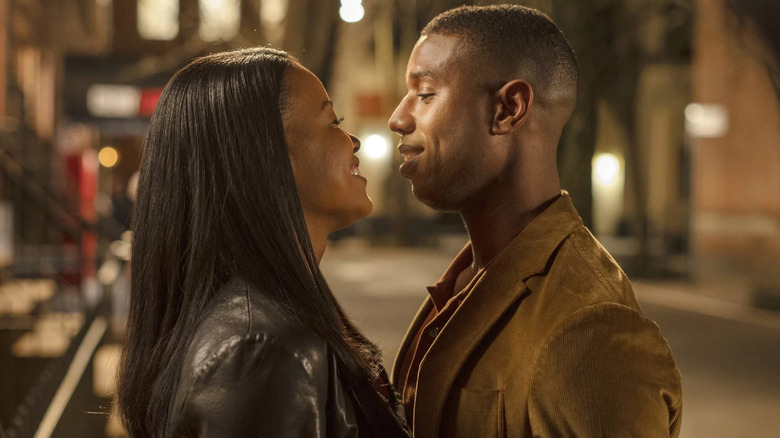 Columbia Pictures
Jordan treated the set of "A Journal for Jordan" like film school — or at least, that's how it sounds according to his answers. He approached his role the same way that Washington approached directing: with nothing less than 100% effort. (After seeing Washington's most recent performance in "The Tragedy of Macbeth," I'm not surprised — the man rarely phones in a performance, so why would his directing be any different?)
"Being directed by Denzel, it's like you had a master class at everything. He shows up every day to work to give it his all. He leaves with nothing in the tank, so you've got to match that energy and that drive. So it definitely pushed me to do more. That was an incredible experience. Character development, breaking down characters, just getting to the micro of everything, being as specific as possible. It raised my game in a lot of ways, so I'm extremely grateful for that process."
Part of that process also apparently involved Jordan asking Washington "a s***-ton of questions," as well as observing the behind-the scenes process. In the end, it sounds as if he not only managed to fulfill a lifelong dream by working with Washington, but also learned the skills necessary to be a director.
Back in the ring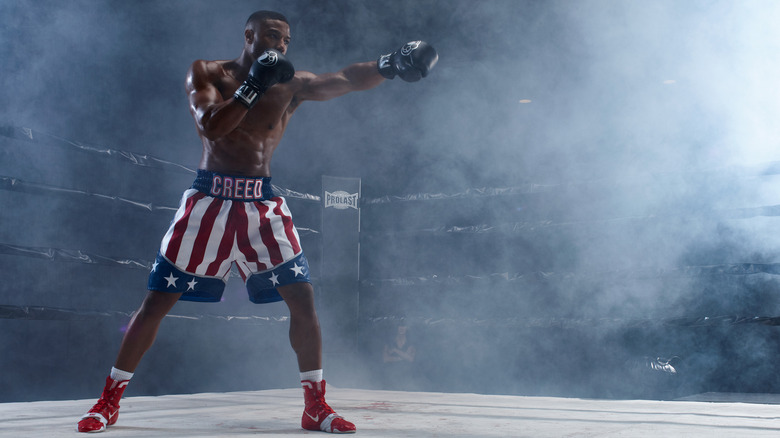 Warner Bros. Pictures
Jordan will definitely have the chance to put the lessons he learned from Washington to the test in "Creed III". Not only will he be pulling triple duty as the film's director/star/producer, he'll also be flying solo for the first time, as Sylvester Stallone has opted not to reprise his role as Rocky Balboa. 
Stallone will still serve as producer, and Jordan has said that the story will still focus on Creed's journey — with fellow breakout star Jonathan Majors slated to play his as of as-yet-unnamed rival (though I'm willing to bet he's possibly playing Clubber Lang's son). "Creed III" should hopefully serve as a fitting conclusion to one of the best "legacyquel" trilogies of the modern era. And Jordan could potentially even reach out to Washington for advice on directing or even a cameo — admit it, that would be pretty awesome.
"A Journal for Jordan" is available on home video and video on demand, while "Creed III" will premiere in theaters on November 23, 2022.