Heartstopper Features An Unexpected Oscar-Winning Cast Member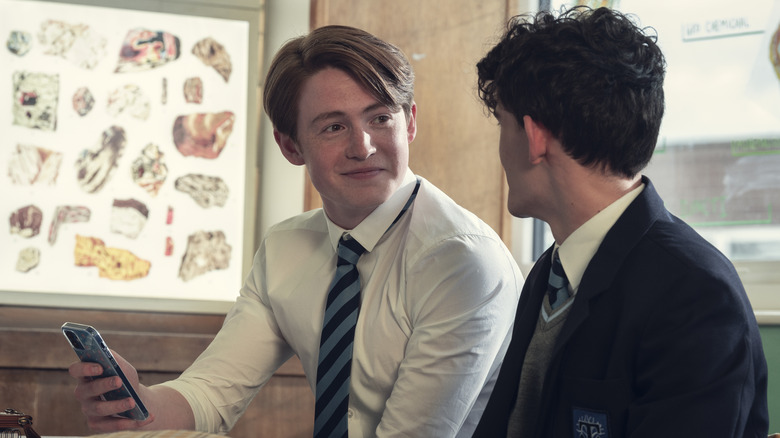 Netflix
Happy "Heartstopper" day!
Netflix has just released the full first season of an adorable YA romance that's so warm and tingly, it's capable of thawing even the iciest of hearts. Based on a popular webcomic turned graphic novel, "Heartstopper" traces the budding love of Charlie Spring (Joe Locke) and Nicholas Nelson (Kit Connor), two teenage boys who form an unlikely friendship before promptly falling head-over-heels in love. Adorable antics ensue, not just between these two but also their extended friend group, with young love blossoming all over the place as they navigate teen angst, irritating bullies, and the hard work of openly being themselves. Besides Connor, who's had previous roles in "Rocketman" and "His Dark Materials," the teen cast is largely made up of acting newcomers on the up and up. But that doesn't mean the series couldn't find some familiar talent to join the exceptional young cast...
A few weeks ago, Locke and Connor spoke with Jon Magazine and their answers hinted at an exciting casting development that production managed to keep tightly under wraps. Alongside the young stars would be an Academy Award-winning actress, starring as Connor's onscreen mother. The actor shared his excitement, explaining:
"We spent most of the shoot not knowing that it would be her. There was a question mark about who is playing my mum we were just constantly asking the producers, who's it going to be? Then suddenly we finally found out and I just wasn't expecting it to be anyone nearly as acclaimed as she is. To have an Oscar winner in our show in general is incredible for us and for me to be able to share the screen with her."
You're on the edge of your seat, aren't you? Her face is revealed by the end of the first episode, but we also have the answer below.
Below are minor spoilers for episode 1 of "Heartstopper."
Surprise! It's Olivia Colman!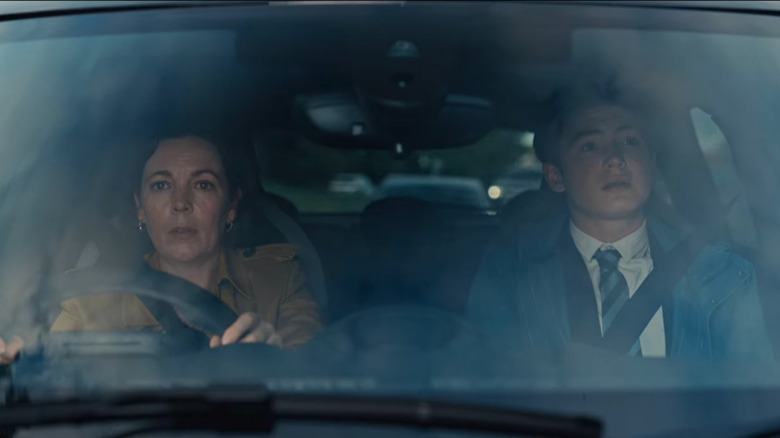 Netflix
One moment the audience is swooning over two adorkable teenage boys who can't even muster the courage to send a text message and the next, viewers will leap forward in their seats because oh my god, is that Olivia Colman?!
Your eyes did not deceive you, Olivia Colman indeed has a surprise guest role in "Heartstopper," as Sarah Nelson, Nick's kindhearted mother. It's simultaneously perfect and odd to see her appear in the show. On one hand, Colman basically radiates warmth, so who better to offer Nick compassion as he figures himself out? But on the other hand, my most vivid memories of Colman as an onscreen mother are "The Crown" (where she plays the cold matriarch who rarely interacts with her children and never does so comfortably) and "Fleabag" (where she's the pretentious, poison-tongued Godmother). Something tells me that the kind and perceptive Sarah Nelson wouldn't quite fit in with those two.
All in all, Colman doesn't have too much to do in the first season of "Heartstopper." The teens are the real stars of the show, but that doesn't mean her brief appearances aren't much appreciated. The fact that Colman is one of the greats was not lost on her "Heartstopper" screen partner, Kit Connor. The young actor expressed to Jon magazine that he was honored to work with her, even for such a short period. He said:
"It was honestly insane. We spent two days filming with her and it was an honor to be able to work with someone of her calibre. She is utterly just so talented and just makes it seems so effortless. A lot of my really important scenes as a character are alongside her, so I felt like it was something I really wanted to get right. The last scene I have with her is one of the ones I sort of circled thinking 'I need to get that right' It's something I didn't take lightly, being able to work with her."
He wasn't the only one making the most of Colman's time. Connor added that "Joe [Locke] originally wasn't going to be there, but he made sure that he was."
It makes sense that Colman's time on set was brief — she only has a few scenes throughout the show. But as Connor hints, there is a particularly emotional moment towards the end of the season that stands out. It's certainly more of his moment to shine, but can you imagine a better emotional climax scene partner than Olivia Colman? Then there's the potential for future scenes. As those familiar with the webcomic know, Sarah Nelson has plenty more emotional moments to come as she supports her son through his coming-of-age journey. And if you've seen a single moment of the show thus far — which mostly involves the two boys trading longing looks — then you know they need all the help they can get. So in case we needed another reason for a second season renewal, this is it — more "Heartstopper" means more hugs, warm smiles, and kindhearted parenting from Olivia Colman!
All eight episodes of "Heartstopper" season 1 are now streaming on Netflix.