Heartstopper Review: A Queer Romance That Knows Exactly How To Make Your Heart Flutter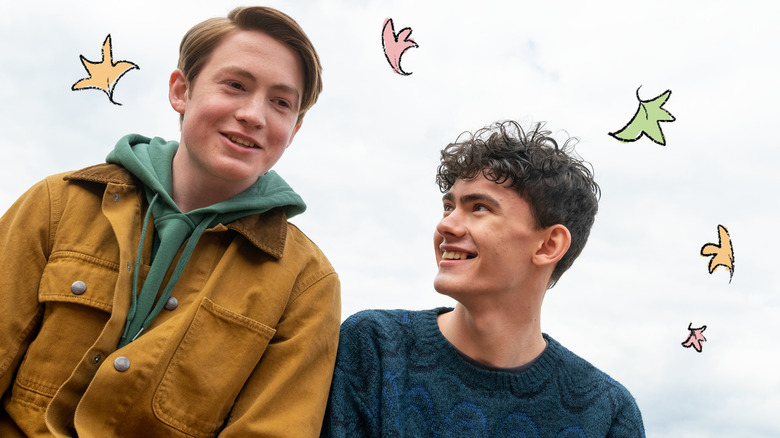 Netflix
The stories best suited to whisking us away from reality often promise unreachable worlds, fantastical creatures, and extraordinary characters. Then come worlds not so different from our own, yet so carefully crafted that their specificity triumphs above all else: there should be nothing novel about bustling high school hallways or expansive fields of grass, but when characters Nick (Kit Connor) and Charlie (Joe Locke) so much as share a glance, "Heartstopper" transports its audience to another plane entirely. The Netflix series takes both its name and story from the hit Alice Oseman webcomic of the same name, continuing the streamer's trend of revitalizing rom-coms with a special tinge of YA. And though they've only ramped up their efforts in recent years, churning out sequels to sagas like "The Kissing Booth" and "After," it's been a while since one of these attempts recaptured the magic of their early hit, "To All The Boys I've Loved Before." But eventually, every ruler gets dethroned.
One of the extraordinary elements of "Heartstopper" is its simplicity. The queer love stories that often conquer the mainstream have trained us for a particular expectation: boy meets boy, boy falls in love, tentative romance begins, and then, just as hope creeps in, tragedy strikes. Queer romance is too often marked by devastation, whether emotionally wrought coming out stories or period pieces grappling with the life-threatening pressures of society. And let's be honest — we're so starved for representation that for a long time, whatever we could get suited just fine. But stories like this are becoming less of a rarity, allowing us to embrace a delightful breath of fresh air — like "Heartstopper," where two teen boys fall in love.
So sweet it'll rot your teeth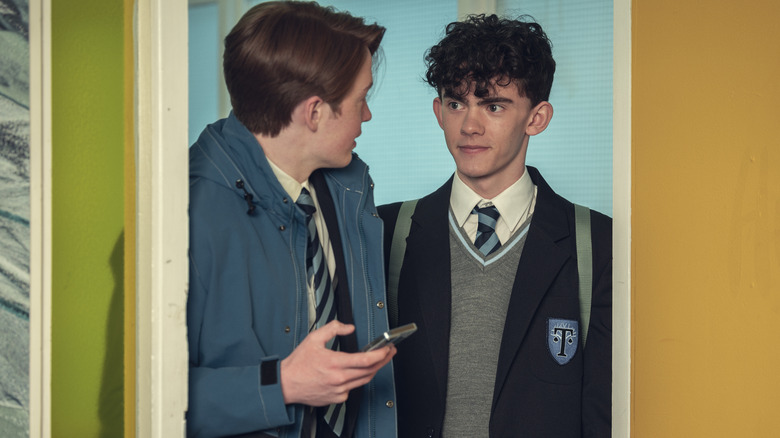 Netflix
"Heartstopper" starts with Charlie Spring, a high-strung, openly-gay teenager with a tight-knit group of friends who are "borderline outcasts." Coming out of a complicated relationship and still shouldering the burden of high school homophobia, he finds himself seeking solace in a budding friendship with Nick Nelson, a cheerful and soft-hearted rugby player on who he quickly develops a crush. Despite his friends' vehement warnings that he's setting himself up for heartbreak (they make a point of dubbing Nick "the straightest person [they've] ever seen"), Charlie can't help but wonder if Nick could possibly return his feelings. Spoiler alert — of course he does! That's not the struggle though; the hard part is getting to a place where either of these nervous wrecks might speak their feelings aloud. The ensuing events are told in chapters like "Crush" and "Kiss," where the duo navigate their feelings and all the possibilities they promise.
Not to reiterate what the title says so clearly, but "Heartstopper" is exactly what it seems: a heartwarming YA tale that knows exactly how to make your heart flutter. Naturally, the story lives and dies on the chemistry of its leads, who need to convince us of their affections, but no worries there — Kit Connor and Joe Locke soar through this series with ease. Connor has previously proven his penchant for emotion in the opening scenes of "Rocketman," where the young star played a young Eton John. As Nick, he radiates golden retriever energy when he's grinning in Charlies's direction, then falls into silent conflict as he struggles to make sense of his feelings. Locke, a newcomer, is a breakout in his own right, operating like a bundle of raw nerves as Charlie jumps from earnest hope to anxious overthinking. And that's just the tip of the iceberg — the series boasts charming performances across the board from the young cast. With them, the show balances embracing inclusivity while never shying away from the bigoted environment that surrounds it. Charlie's friend group includes Elle, (trans TikTok sensation Yasmin Finney), who recently transferred from Truman to the all-girls school where things should be easier and are instead complicated for new reasons. But much like Charlie and Nick will come to realize, Elle finds comfort in a community.
"Heartstopper" is a welcome change from stories where threats from the outside threaten to endanger queer love. Outside pressures aren't nonexistent, of course — after all, Nick's struggle with his feelings stems from having to wonder how his mother might react or how his friends will judge. It makes something as simple as kissing the boy he likes needlessly difficult — until finally, it doesn't. There's so much that can get them down — raw emotions, teen nerves, and irritating societal pressures — but (prepare for some cheesiness), do you know what prevails over all of that? Love. 
What's in a love story?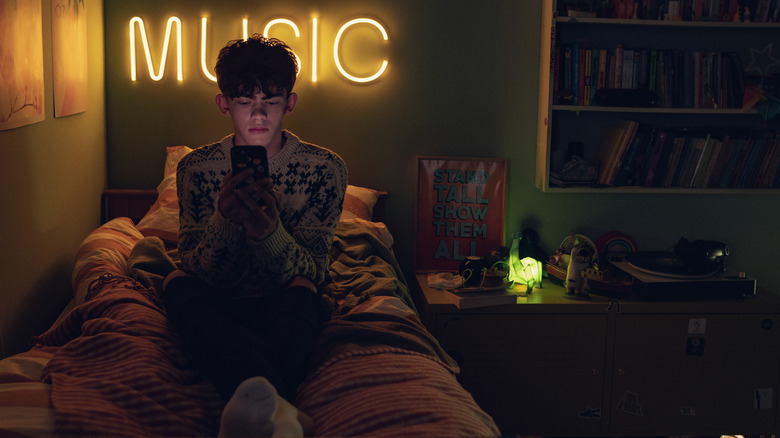 Netflix
So many elements of this series come together that it's almost hard to trace what exactly goes so right: the source material, Oseman's webtoon turned graphic novel, presented such solid bones in its telling of the young romance that it seemed primed to succeed. Of course, it's certainly possible for the charm to dissipate when a story goes from page to screen, but "Heartstopper" took special care to preserve a key element behind the comic's success: Oseman's words. The series is penned by its author and having her aboard proves to be a magic touch. Like the comic, the dialogue is sweet, simple, and refreshingly real in its awkwardness, as the boys stumble through their feelings but maintain an endearing, teasing banter. 
This kind of tenderness can't be manufactured. "Heartstopper" is a passion project and that warmth oozes throughout. Visually, the series embraces its comic roots, with graphic novel-inspired flairs and touches. And even beyond these additions, something about the world "Heartstopper" paints us is so vibrant and rose-tinted that it almost shouldn't pass for an actual high school setting.
If you can't quite get on the show's wavelength, you might find its quirks annoying: the episodes employ song after song to usher us through montages of this blossoming romance and perhaps you'll ache for more momentum. Texting is like a setting all on its own, with various sequences including our teen leads shooting messages back and forth. They may halt the pacing, but they're certainly intentional: Oseman and director Euros Lyn (known for prior work on "Sherlock" and "Doctor Who") know exactly what they're doing there, emulating the vibe of isolating in your childhood bedroom, with a Spotify playlist for every occasion, a song to associate with each memory and a constant flurry of text exchanges. It's all part of being swept into their world. "Heartstopper" employs beloved tropes to a point, but reinvents them at need with a special twist of modern-day. The love story manifests in the vibe-y song choices and tip-tap of Instagram DMs as Nick and Charlie sit alone in their rooms, pondering the best way to express themselves. Every generation needs its love stories, and "Heartstopper" feels especially suited for this moment.
/Film Rating: 8 out of 10
"Heartstopper" premieres globally on Netflix on April 22, 2022.