Bruce Willis Joined The Fifth Element In The Most Bruce Willis Way Possible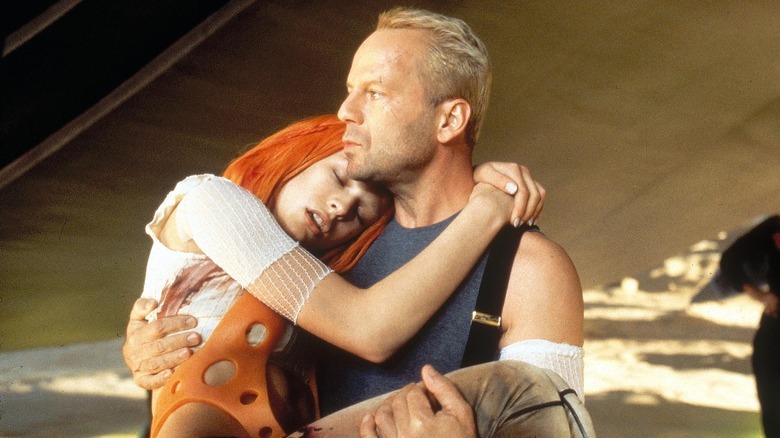 Buena Vista International
"The Fifth Element" is one of those sci-fi films that defined the modern iteration of the genre. Even if you've never watched it, you've surely seen people cosplaying as Milla Jovovich's Leeloo, the opera singer Plavalaguna (Maïwenn Le Besco), Chris Tucker's Ruby Rhod, Gary Oldman's Zorg, or Bruce Willis' Korben Dallas at conventions. The 1997 Luc Besson film was like nothing we've seen before, and to this day, remains very much one of a kind.
In the story, co-written by Besson and Robert Mark Kamen ("The Karate Kid"), we follow Korben Dallas, a former Earth's Special Forces major-turned-cab driver in the 23rd century. An ancient baddie is on the way back to destroy Earth, but aliens have the elemental stones needed to stop them ... and they're being attacked. A fifth element is reconstructed from a dismembered hand in their ship's wreckage into Leeloo (dressed in Jean-Paul Gaultier), a young woman out of her element who ultimately saves the planet with Korben as they fall in love. It was a wild ride of a film, weird, and funny, and a truly singular piece of sci-fi.
Bruce Willis' Multipass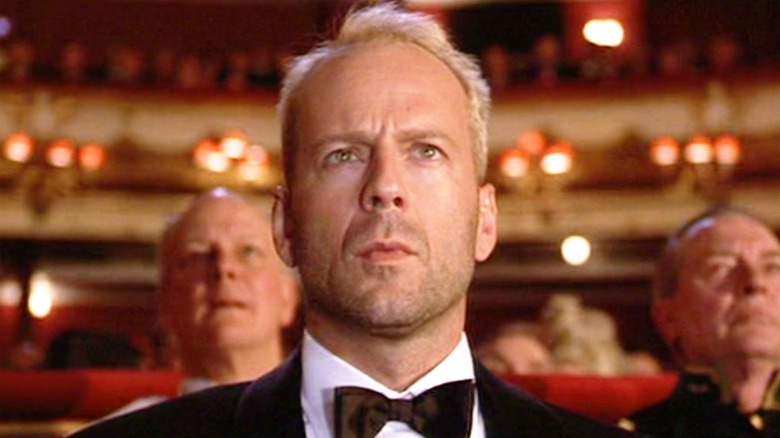 Buena Vista International
According to Entertainment Weekly's's article for the 20th anniversary of the film, Besson wrote the original version of this film as three stories, and said, "It was bad." He joked that the second time he wrote it, it was bad as well, but obviously the version we saw was wonderful. His co-producer Iain Smith told the site that this was going to be a huge undertaking as it stood, which was in two parts. Besson looked at the budget and made it into a single story. Of course, he still needed a star to take on the role. 
Besson told EW, "Everyone in L.A. was saying, 'Oh, if you don't have a star, you can't make the film.' But we didn't even try to go to Bruce Willis, because he was too expensive." That can be a sticking point for filmmakers. In the late '90s though, getting Willis was a huge coup, but with effects and costumes like the ones in "The Fifth Element," there isn't going to be a ton of money left over for stars. However, Besson lucked out. He was having lunch with Willis' wife at the time, Demi Moore. Besson explains, "Bruce shows up at the dessert and he just says, 'Hey, my man, what about me?'" 
Money wasn't on Willis' mind that much though. Besson said that when he mentioned that it wasn't in his budget, Willis was cool about it. "He said this very sweet line," Besson said of Willis. "'If I like it, we will make an arrangement.'" 
Let's play it hard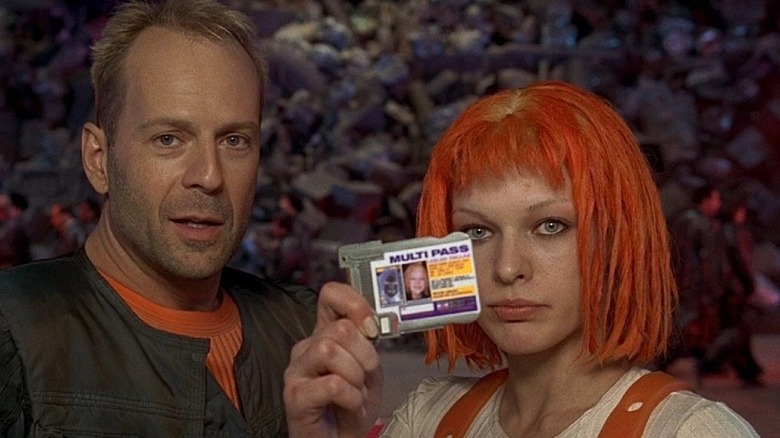 Buena Vista International
Willis saying that he'd make that arrangement changed the landscape of sci-fi as we know it. Willis himself said to the site:
"He came out to our house in Malibu. I just liked Luc — I liked the story, I liked the idea. I thought it would be fun to go to France and make a movie."
Thank goodness he did! Even better (maybe this is just me, but I doubt it) is the fact that he was willing to wear the crazy Gaultier costumes. He told the site at the time, "I liked that stuff I wore, that Gaultier. I thought it was pretty cool. One of the things I remember is that Luc had for some reason dyed his hair blond. And I said, 'You know what? I should dye my hair blond, have a little wig on my head.' That was a contribution of mine, and he liked it."
Everything about this movie is a delight. It's even more so, knowing that it's the only one we're getting — Besson won't do a sequel. He said, "For me there's no point to go back to the same place. No matter how much you love a film, the fun is to try something else."