The Last Tango In Paris Didn't Require Much Acting From Marlon Brando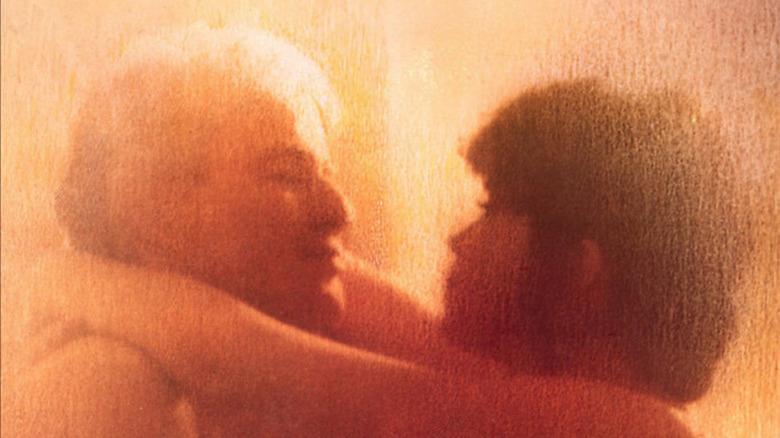 United Artists
Marlon Brando stars in Bernardo Bertolucci's existential drama "Last Tango in Paris" as Paul, a middle-aged expatriate in Paris who has an intense, anonymous affair with a young girl named Jeanne (Maria Schneider). Paul is a brusque man haunted by the recent death of his wife who uses aggressive sexuality to exorcise his personal demons. 
The lines between performance and reality were frequently blurred on set, leading to some controversy surrounding one of the most aberrant sex scenes in the film. Schneider's tears while shooting the violent rape sequence where Paul uses butter as lubricant were genuine, as it was not in the script, but reportedly devised by Brando and Bertolucci on the spot. They purposefully did not tell Schneider their plan so they could get an "authentic" reaction from her. It was Brando's initial idea and he closely collaborated with the director throughout filming on many creative decisions. 
Bertolucci wanted Brando to bring his own personal history and creative ideas to the role. "He wanted me to play myself, to improvise completely and portray Paul as if he were an autobiographical mirror of me," Brando recalls (via New Yorker). Brando was no stranger to bringing himself to the roles he played. As a method actor, Brando learned how to substitute his own private memories and experiences when performing as a character in order to go to the emotional depths his part required. 
What is method acting?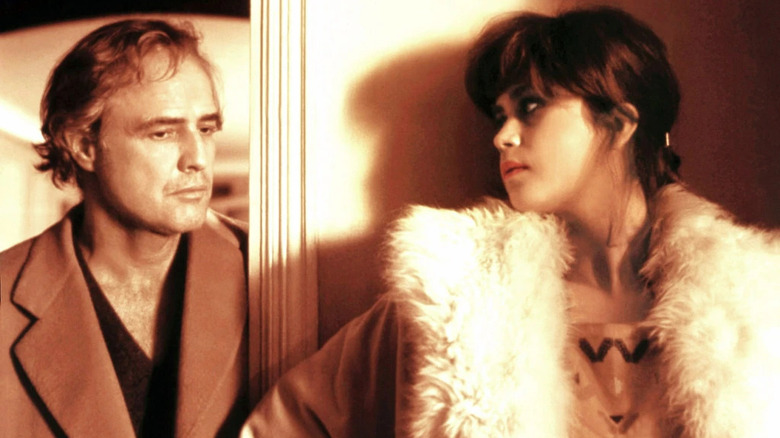 United Artists
Developed by Konstantin Stanislavski, method actors employ a series of psychological techniques and exercises to experience what is called "perezhivanie," the state of fusion where a character and actor become one. As Isaac Butler writes in his book on the technique, this sensation occurs "when an actor is so connected to the truth of a role, and has so thoroughly entered into the imaginary reality of the character, that they feel what the character feels, perhaps even think what the character thinks" (via Vanity Fair).
Brando was one of the first film actors to bring this naturalistic and committed approach to mainstream audiences. Pauline Kael highly praises Brando's performance in "Last Tango in Paris" as a career-best and exceptional example of his method acting approach: "Paul feels so 'real' and the character is brought so close that a new dimension in screen acting has been reached." What makes his performance so captivating are the intimate elements of his life that he incorporates.
What Brando brings to the role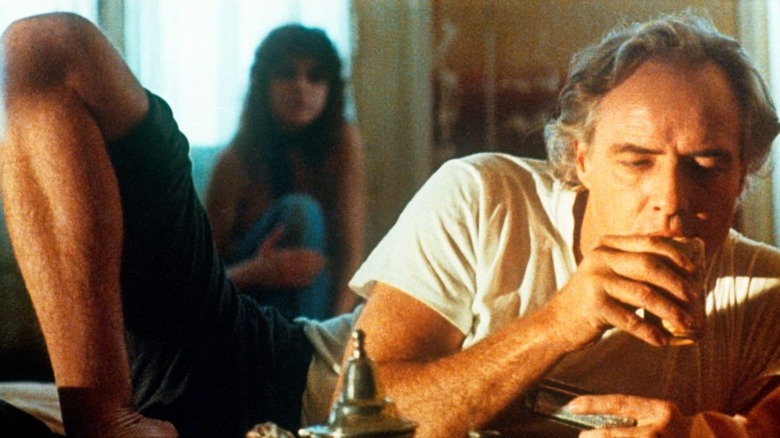 United Artists
The most significant aspect of his life Brando brought to the role was his upbringing. When Paul describes growing up on the farm with a father who was a "drunk, tough, and super masculine whore-f***er and bar-fighter," and a mother who was "very poetic and also a drunk," it is really Marlon Brando speaking. 
Brando's autobiography "Songs My Mother Taught Me" reveals more about his troubled childhood. His father was a brutal man who would routinely slap his son and make him feel devastatingly inadequate. "I was his namesake, but nothing I did ever pleased or even interested him. He enjoyed telling me I couldn't do anything right. He had a habit of telling me I would never amount to anything," Brando writes in his memoir. When Brando's son was born, Brando declared, "My father is never going to come near that child because of the damage he has done to me" (via GQ). 
Brando also infuses his own sexual dilemmas into the character of Paul. In his documentary "Listen to Me Marlon," Brando describes himself as a "beast" with a sexually vociferous appetite, which matches Paul's hypermasculine, deviant carnality. Paul's rough sexual escapades distract him from the pain of his grief. 
For Bertolucci, the actors make the characters their own, and Brando does this in tenfold. Bertolucci allowed Brando to improvise his dialogue, bringing Paul's torment to searing, authentic life. The quiet rage that courses through Paul's veins is also Brando's. But we cannot let Brando's transfixing performance overshadow the fact that his authentic method performance style was the root of Schneider's traumatic experience filming the erotic scenes. Not every on-set experience needs to involve psychological manipulation in order to draw out an intense performance from an actor. Not every actor utilizes method techniques — most are capable of conjuring such feelings on their own.