Kiefer Sutherland Says Jack Bauer's 24 Story Is 'Unresolved,' Would Reprise The Role Again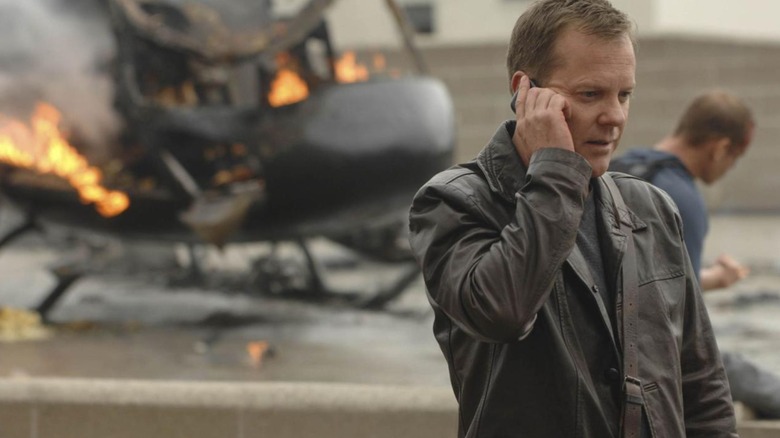 20th Television
Over the past two decades, "24" fans have sat at the edge of their seats through 10 thrilling days in Jack Bauer's (Kiefer Sutherland) life and counting. They've also sat through a season of "24: Legacy," a short-lived show that sidelined the special agent in favor of a new main character. Now, Sutherland is opening up about whether or not he'd ever consider stepping back into the role that rocked prime-time television.
In an interview with GQ Magazine (via Variety), the actor admits that he'd be open to returning as Jack Bauer, but only if the circumstances are right:
If something were to be written that made sense to me and that I thought was going to contribute to the franchise then I would be behind it, even if my participation in that were to be limited.
The actor, who is currently appearing as Franklin Delano Roosevelt on Showtime's "The First Lady," added the caveat that his willingness to get involved "will always be predicated on what I perceive is the quality of the writing." He also mentions the series' original showrunner, Howard Gordon, noting that Gordon would need to be on board if another chapter of the show featuring Sutherland would ever happen.
Jack's not dead yet!
20th Century Fox
Sutherland's comments don't close the book on counter-terrorist agent Jack Bauer's return, but he also isn't promising to reprise the character in a lead role. His comments about limited participation could mean many things, from an executive producer role to a brief appearance designed to pass the baton to a new generation. Of course, "24: Legacy" tried a similar approach in 2017, building a series around Corey Hawkins' veteran Eric Carter, but the new incarnation wasn't as successful as the original.
More than anything else, Sutherland seems to take a "never say never" approach to the topic of a "24" continuation. "I have learned that you're just better off not to be definitive about your answer of whether you will do something or not do something," he tells GQ, before adding that he loves playing the character and thinks that "the story is unresolved."
He's not wrong: We last saw Bauer in the 2014 limited engagement series "24: Live Another Day," and the series ended with him in the custody of Russian agents. In fact, the series ended on an all-around downer note, killing off one main character, memory wiping another, and leaving a third on trial for treason. As far as revival seasons go, "24" is practically begging for the closure.