Fox Cancels '24: Legacy,' To Explore Next Incarnation Of Franchise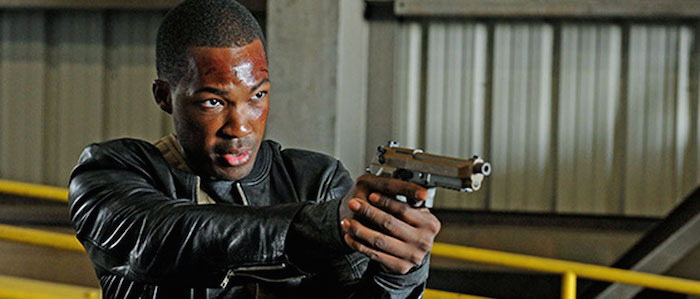 It looks like 24: Legacy has lost the race against time. Fox cancelled the waning reboot of the mega-popular 24 series originally anchored by Kiefer Sutherland, taking away Legacy star Corey Hawkins' chance to catch up with Jack Bauer.
But while that's the end of 24: Legacy's time, it's not the end for the 24 franchise. Fox is already looking to develop a completely new incarnation of the series — without any Legacy characters.
Producers Howard Gordon and Brian Grazer are in discussions with Fox to develop future iterations of 24, possibly as an anthology series built around th real-time storytelling format of the original series, according to TV Line.
24: Legacy was headlined by The Walking Dead star Corey Hawkins, making a much-anticipated premiere after Fox's Super Bowl telecast in February and drawing in 17.5 million viewers. However, that momentum quickly faded, and the first season ended in April to a 3.4 million audience and a series-low 0.8 demo rating.24: Legacy took place in the same universe as 24 and its Sutherland-starring sequel, 24: Live Another Day, but made a point to distinguish itself from its predecessors, with no previous 24 cast members making an appearance except for Carlos Bernard's Tony Almeida.
Here's the synopsis for 24: Legacy courtesy of Fox:
"Six months ago in Yemen, an elite squad of U.S. Army Rangers, led by Sergeant ERIC CARTER (Corey Hawkins, 'Straight Outta Compton'), killed terrorist leader Sheik Ibrahim Bin-Khalid. In the aftermath, Bin-Khalid's followers declared a fatwah against Carter, his squad and their families, forcing them into federal witness protection. But a recent attempt on Carter's own life makes it clear to him that his team has been exposed.
To thwart further attacks, Carter enlists REBECCA INGRAM (Miranda Otto, 'Homeland'), who quarterbacked the raid that killed Bin-Khalid. She's a brilliant and ambitious intelligence officer who has stepped down from her post as National Director of CTU to support her husband, SENATOR JOHN DONOVAN (Emmy and Golden Globe Award winner Jimmy Smits, 'NYPD Blue,' 'The West Wing'), in his campaign for President of the United States. Decades of sleepless nights and missed anniversaries landed her at the top. With the White House within their grasp, can she truly embrace a new role as First Lady? Or will her love of the action draw her back in?"
24: Legacy was the latest in a series of hit-or-miss revivals that Fox has pursued in recent years. The revival of X-Files debuted to mixed critical reaction but successful ratings, capping the 2015-16 season as one of the most watched series. Fox's reboot of Prison Break poorly, however.
It makes sense why Fox will want to keep milking 24 for all it's worth — it was one of its most successful series on television during its original run from 2001 to 2010, and introduced a wholly original format for a TV show with its real-time ticker. An anthology series may work with that format, as the limited time range lends to short, contained stories.
And maybe the next 24 series will finally answer the question: When do they go to the bathroom?