Sam Esmail's Metropolis Series Will Use The Volume Tech From The Mandalorian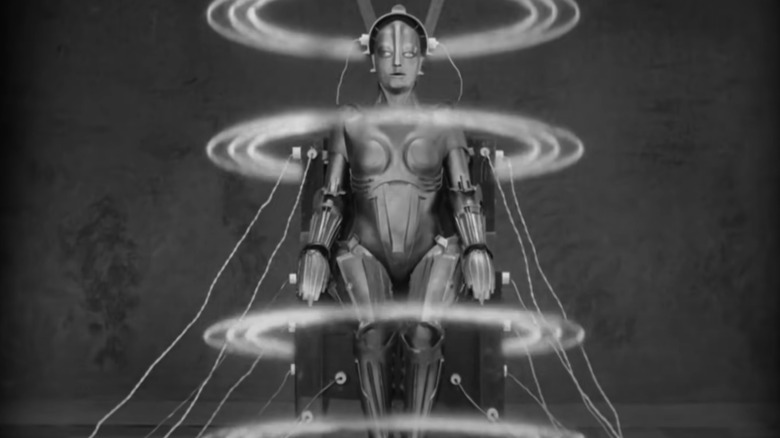 UFA
Sam Esmail, the creator of "Mr. Robot" and director of Prime Video's "Homecoming" season 1, is bringing the production of his recently announced Apple TV+ series, "Metropolis," to Melbourne, Australia, where it will utilize cutting-edge volume technology similar to "The Mandalorian."
"Metropolis" is based on the classic 1927 German expressionist silent film, directed by Fritz Lang, and that movie already shares a connection with "Star Wars" in that its signature robot, Maschinenmensch, inspired the original design of the droid C-3PO. The very first production painting that concept artist Ralph McQuarrie did for the first "Star Wars" movie back in the 1970s featured a C-3PO, whose look was much closer to that of Maschinenmensch, exiting his escape pod with R2-D2 on the desert planet of Tatooine.
"Star Wars" followed in the footsteps of "Metropolis," and now, as Darth Vader would say, the circle is complete and Mando is the master. According to Collider, the Australian government has launched some incentives that will enable it to build "one of the largest permanent 'LED volumes' in the world" in Melbourne, for use in "Metropolis" and other local productions.
What exactly is volume technology?
The current usage of the term "volume" in reference to virtual production technology is a bit confusing, since it applies to both LED volumes, like "Metropolis" will be using, and the official Volume soundstage on which "The Mandolorian" and other productions have filmed. ILM (Industrial Light & Magic) developed the StageCraft technology as a means of achieving visual effects on the set in real-time through a video wall. Stagecraft uses the Volume, which is also being employed in "Ant-Man and the Wasp: Quantumania." That film's writer, Jeff Loveness, likened the technology to "a living green screen," the digital equivalent of a lush old matte painting like "Star Wars" once used.
The Australian government, including the local government in Victoria, the state where Melbourne is located, is building its own LED volumes as part of a larger initiative to boost filmmaking in Melbourne. Caroline Pitcher, the CEO of VicScreen, which is behind the Victoria Screen initiative, said:
"Metropolis is set to be one of the most technically ambitious screen productions in the world, and the state-of-the-art infrastructure being built right here, along with our outstanding crew and locations, truly places Melbourne amongst the world's great screen production cities."
Lang's "Metropolis" film, which turns 95 this year, is one of the early greats in the realm of science fiction on screen. It conjured images that would last for decades to come, so the bar is high for Esmail's TV series, which is being produced through NBCUniversal and which does not have a release date yet. However, with this technology at its disposal, the "Metropolis" series will be able to create vivid backgrounds for both its actors on set and audiences at home when they are watching it.