The Unusual Way Sebastian Stan Landed His Role In Fresh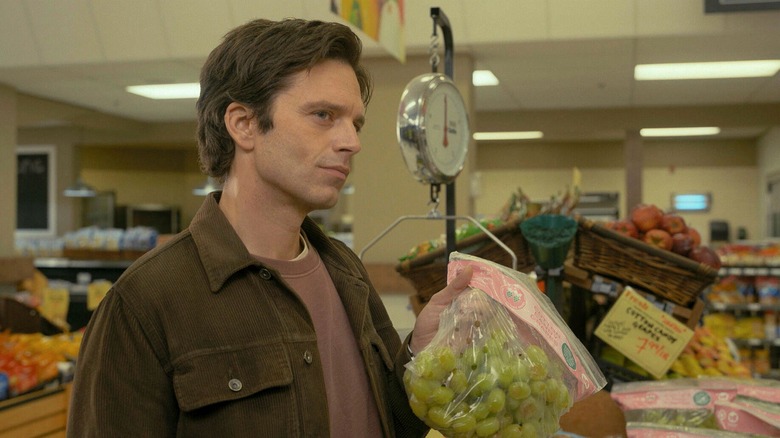 Searchlight Pictures
When it comes to film and TV roles, Sebastian Stan has developed a very distinct appetite. Whether he's appearing as Bucky Barnes in the Marvel Cinematic Universe or Tommy Lee in "Pam and Tommy," the actor has a penchant for unconventional parts. Case in point: His character in "Fresh" is certainly not what you would expect. The recently released thriller skewers modern romance — though the less you know about it going in, the better.
Stan stars as Steve, a dreamy plastic surgeon who runs into Daisy Edgar-Jones' Noa at the grocery store. This meet-cute comes after she's had a string of bad dates, and she can't help but feel like it's great timing. Director Mimi Cave and screenwriter Lauryn Kahn make it really easy to get swept up in the excitement of this new relationship, but you know what they say about something that seems too good to be true. Stan is fantastic in this role, but he had an unusual way of landing it. Here's how the actor convinced Cave he was up to the task.
Don't stop the dance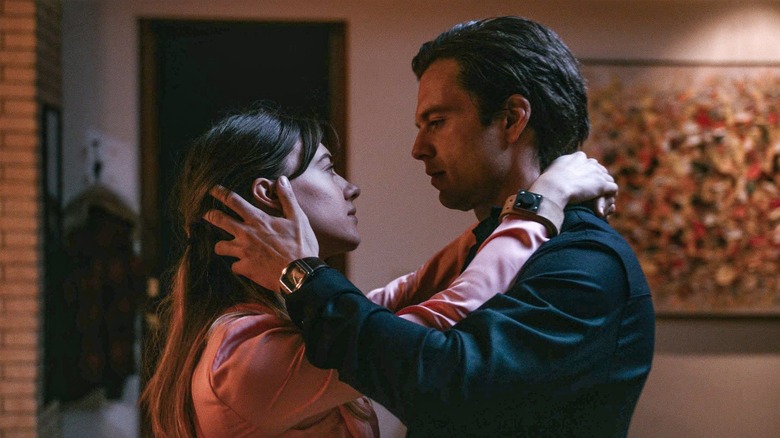 Searchlight Pictures
Some mild spoilers for "Fresh" follow, so if you haven't seen the film and you'd rather not know any details, come back and read this after you've given it a watch. It turns out Steve is a psychopath who has plans to literally strip Noa for parts and sell her meat to those who would pay a whole lot of money for it — and she's not even his only victim. He's only too happy to take these women apart bit by bit, consuming or selling every piece of them, and obviously enjoying the whole terrible process.
Music plays a pivotal role in the film. This makes sense, considering Cave was making music videos prior to making her feature debut with "Fresh," so she knows a thing or two about a killer needle drop. The film prominently features artists such as the Yeah Yeah Yeahs, Duran Duran (covering Lou Reed!), and even a Radiohead cover. Steve has a real love for '80s and '90s pop, and whether he's tenderizing human flesh or surgically removing body parts, he's singing and dancing his way through it. It's one of the more chilling aspects of the film, and also shows off Stan's acting skills. He can go from immensely charming to straight-up terrifying without warning. Cave told Newsweek:
"Before he even knew that he got the part he sent me an email and it was just a video attached of him dancing in his kitchen with a steak knife. He was just really wanting to dive into the character already."
Stan later posted the video on Instagram and you can certainly see he was the perfect actor to play Steve from the beginning. In fact, Cave had already decided to cast Stan in the role before he sent her the clip, though it did cement him in her mind as the right choice.
Creating a character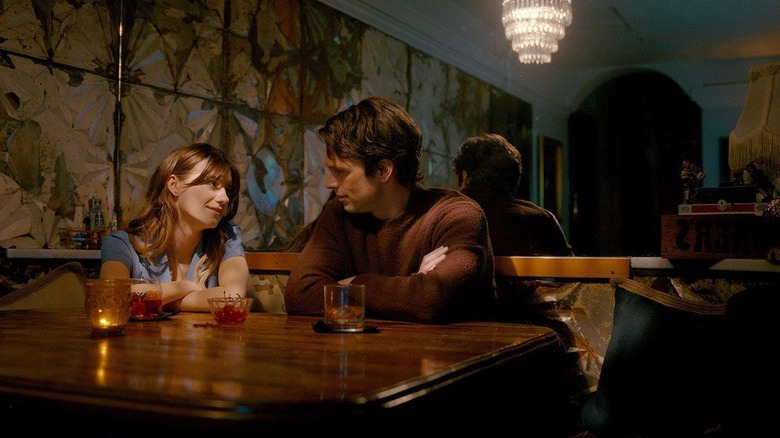 Searchlight Pictures
It's difficult to imagine any other actor in the role of Steve. It had to be a person who the audience would believe could cause Noa to throw caution to the wind, as well as someone viewers would wholeheartedly grow to hate with every fiber of their being. That's not easy to pull off. Cave explained to Newsweek:
"Sebastian and I worked really closely for many months on designing Steve, and his commitment to the role was something that allowed us to do that. I really loved his performance in 'I, Tonya' and I felt like the choices he was making in that role were really specific and really interesting, and I knew that if he was committed to making Steve work that it was going to be great."
Stan played Tonya Harding's ex-husband, Jeff Gillooly, in "I, Tonya," which was another role that required the actor to be quite unlikable. Cave continued:
"Obviously he has a sort of inherent magnetism in him, and so I already knew that I wasn't worried about the chemistry between him and Daisy, I knew it was going to be great. It was really more about honing in on this version of a psychopath that we devised. And Sebastian is very funny, and very warm, and engaging."
According to Cave, from her perspective, Stan seemed to be "very in it all the time," even between takes. Apparently, she and Edgar-Jones are both "goofballs," which led to quite a bit of laughter on the set as well. Considering the subject matter, it's good there was some levity on set. "Fresh" stuck with me for days after I watched it. It's a clever, albeit deeply unsettling movie that is also the darkest of dark comedies. These tonal shifts are a fine tightrope that the film walks deftly. Stan definitely understood the assignment. Not only did he know exactly what kind of a movie he was in, but it seems like he had a lot of fun making it.