The Coming To America TV Show That Never Saw The Light Of Day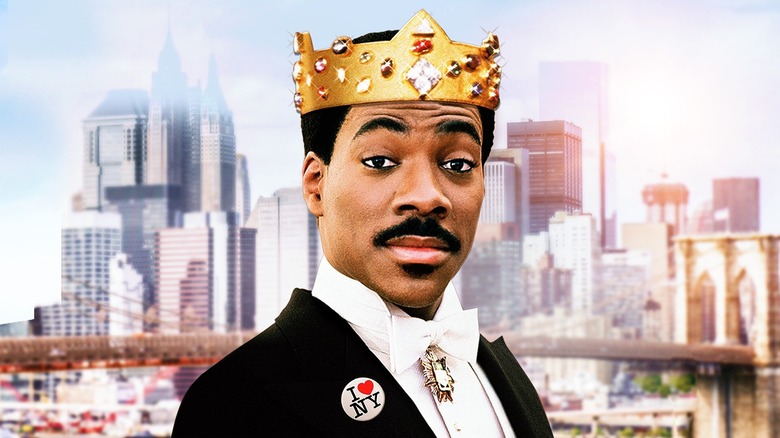 Paramount
"Coming To America" is a quintessential example of a "lightning in a bottle" film, thanks to the combination of Eddie Murphy and Arsenio Hall's comedic talents and its unusual conceit. In the original movie, Prince Akeem (Murphy) leaves his home nation of Zamunda and heads to New York in order to find true love, with his friend Semmi (Hall) in tow. Predictably, misadventures occur — including the pair of them foiling a robbery from a then-unknown Samuel L. Jackson. 
Last year, the sequel "Coming 2 America" debuted on Prime Video, hoping that bottled lightning would strike twice by introducing Akeem's estranged son, Lavelle (Jermaine Fowler), who comes to Zamunda to inherit his rightful throne.
But way back in 1989, more than three decades before "Coming 2 America" arrived in theaters, there was a short-lived "Coming To America" television pilot that sought to build upon the success of the first film. However, Murphy's law (the phenomenon, that is, not the actor) was in full effect during production and the pilot never went to series. Here's what the plan for the "Coming to America" TV pilot was — and why the show never got off the ground.
TV troubles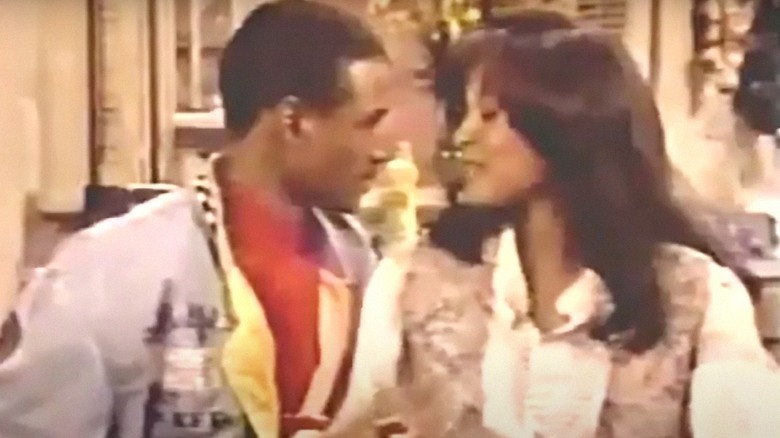 20th Television
The "Coming To America" pilot came to be after the film's rousing success led to Paramount forming a deal with Eddie Murphy Television. Yes, Murphy was big enough to have his own television label at the time. And while TV shows based on movies were becoming more common (look at Robocop!), this pilot took things a step further by tuning the spotlight on Akeem's brother, Tariq, who was played by Tommy Davidson. 
In the pilot, Tariq travels to Queens with royal singer Oha (Paul Bates, the man behind the catchy "Queen to Be" number in the opening of "Coming To America") and attends college while also working in a diner to support himself, as he blows through his allowance in nine days. Davidson beat out the likes of Marlon Wayans and Wesley Snipes for the lead, even turning down a lucrative deal at Disney and a lead role on "Murphy Brown" to film the pilot. 
However, friction rose behind the scenes when "Coming To America" screenwriters Barry Blaustein and David Sheffield proved to be unavailable for the showrunner role, and Ken Hecht ("Diff'rnt Strokes", "Webster") stepped in.
Land of the free, home of the ... bad, bad ratings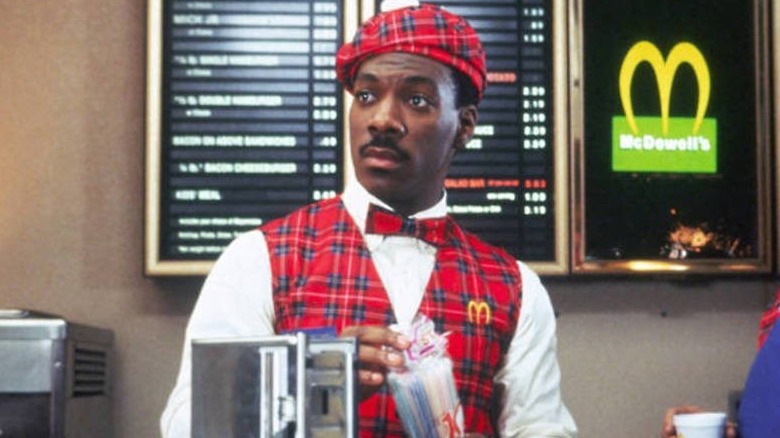 Paramount
Davidson recalls butting heads with Hecht, who apparently took a "my way or the highway" approach to showrunning. Clint Smith, who served as Vice President of Eddie Murphy Television, also had issues with Hecht's material — specifically, the fact that his work was apparently lacking in comedy of Murphy's caliber:
"Oh, me and Ken bumped heads all the f****** time. I thought he was an a**hole. His script was horrible. We were like, 'That s*** ain't funny!' But he had some credits. The studio wanted him and me and my partner were rookies. Tommy almost saved it."
This friction, combined with Murphy's laissez-faire attitude as a producer, started a wave of trouble behind the scenes. But the worst was yet to come as CBS inexplicably decided to air the pilot on the Fourth of July. As a result, the ratings were abysmal and CBS wound up pulling the plug. 
Snipes would eventually wind up as the main antagonist of "Coming 2 America," while Davidson found success on the sketch show "In Living Color" — a series that also helped launch Jim Carrey's career, and featured Marlon Wayans alongside his brother Keenan Ivory, who served as the series' creator. Davidson also went on to provide the voice of Oscar Proud in "The Proud Family" and recently returned for the revival series "The Proud Family: Louder and Prouder."