John Carpenter Fans Might Find Something Familiar About The Resident Evil Films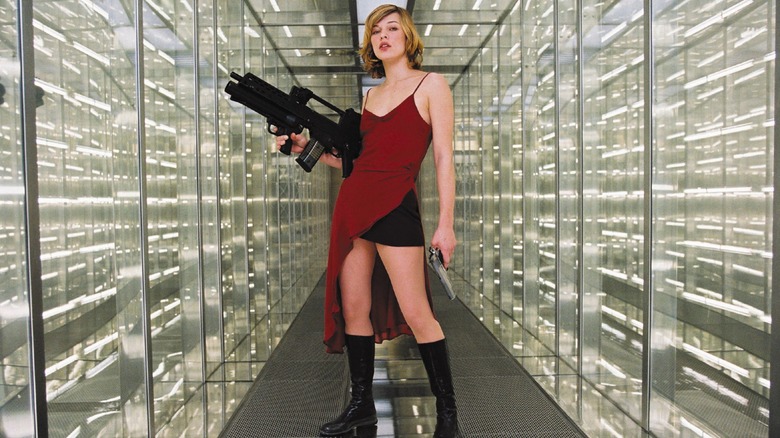 Constantin Film
For many years, Paul W.S. Anderson's 2002 film "Resident Evil," based on the successful video game series (which has, at last count, over 40,000 entries), was considered the high water mark in films based on games. That the film only holds a 36% approval rating on Rotten Tomatoes is a sign of where video game-based cinema was, and still is. Nonetheless, the 2002 film was a big enough hit that it would spawn five sequels and a remake (with Anderson also directing the fourth, fifth, and sixth entries). Fans point to its crazy aesthetic, its monsters (there is a creature with an exposed brain and a twelve-foot tongue), and its fun horror violence: Although it defies basic logic, the scene wherein characters are sliced up by laser beams remains a highlight. "Resident Evil" also has cool sets and a fun setting; it's a zombie thriller that takes place in a miles-deep sci-fi super lab lined with fluorescent tubes. Throw in Milla Jovovich and Michelle Rodriguez as the badass action heroines, and you've presumably made something that is at least watchable. 
Marco Beltrami teamed up with ousted shock rocker Marilyn Manson to write the score for "Resident Evil," and what they created was a pounding, industrial/electronic aural soundscape that doesn't quite resemble any film score that came before it. Beltrami even admitted in an interview that he wasn't used to even watching horror movies, much less scoring them; he claims the first horror film he ever saw was 1996's "Scream," which he scored. Despite not liking horror movies, Beltrami would go on to score "Mimic," "Scream 2," "Halloween H20: 20 Years Later," "The Faculty," "the Crow: Salvation," and "Dracula 2000" before working on "Resident Evil." By then, he seems to have come up with an ethos for writing horror music: It allowed him to explore new orchestral timbres. 
Additionally, Beltrami received a model to imitate: John Carpenter. 
Listen to the master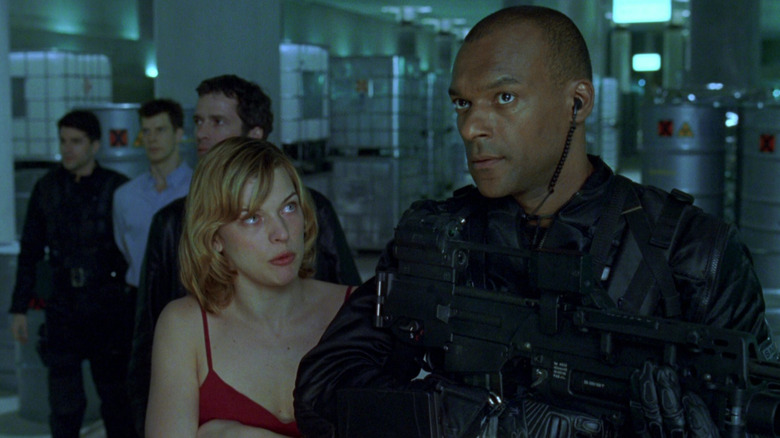 Constantin Film
In the same interview mentioned above, Anderson admits that he — like so many genre film fans in the world — is an aficionado of John Carpenter, and is especially fond of Carpenter's scores. Carpenter is an accomplished musician in his own right — he plays in a band called The Coupe de Villes with Nick Castle and Tommy Lee Wallace — and had an unusual approach to scoring his movies. Once filming was complete, Carpenter would often improvise a film score on his guitar while he watched edited footage, sometimes inventing themes on the spot. That's why Carpenter's scores tend to be repetitive at times; he's literally making it up as he goes along. Carpenter's scores are hypnotic and often contain a strong electronic and/or rock guitar element. (Listen to Carpenter's opening theme to "Escape from New York" for a good example of his synth leanings.)
Carpenter's music has become so beloved to a generation of his fans that he now, at age 74, still tours performing his film scores — and other works — in concert venues. You can buy reissued vinyl editions of his scores on his website. 
For "Resident Evil," Anderson wanted Beltrami to follow Carpenter's lead. In the interview, Anderson specifically mentioned "Assault on Precinct 13," "Halloween," and "The Fog," films Carpenter made in 1976, 1978, and 1980, respectively. Anderson elucidates:
"[T]he kind of scores those movies had, they were very aggressive, intense, electro based scores. They weren't very traditional orchestra scores in any way, and what we wanted was something like that."
A modern edge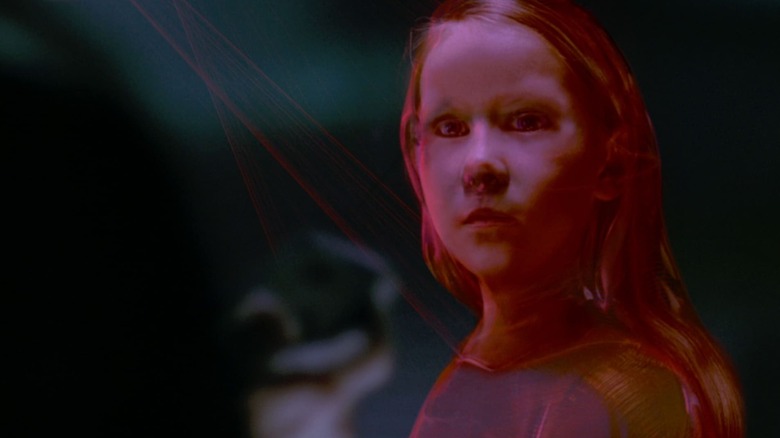 Constantin Film
To give the film a pop music flair, Anderson also hired Manson to fill out the score with a more aggressive edge. Anderson had previously used techno to great effect in his 1995 film "Mortal Kombat," and its soundtrack, by George S. Clinton, is possibly the best thing about that film. "Resident Evil" required a more horrific edge, and Manson was game to provide. In the interview, Manson talks about his lack of formal musical training, and how he improvised haunted music-box sounds to highlight the horror. As Anderson put it:
"Kind of like early Carpenter but for the 21st century. We definitely need something very different to the usual just straight composer roots, and that's why we came up with the idea of pairing Marco and Manson, because I felt they'd be very complimentary if we could actually pull it off ... And when we talked about it, everyone said, 'You're insane, it'll never work, you'll never be able to get them on.' But, as a huge fan of Marco's — because of the 'Scream' movies, and 'Mimic' as well, which is a fantastic score."
At that point in his career, Manson had released only four studio albums, but was a well-known presence in the pop music world. Years later, Mason would investigated for committing acts of domestic and sexual violence against his wives, girlfriends, and other women. 
Anderson would continue to work making many high-grossing popcorn entertainments. His last film was 2020's "Monster Hunter," also starring Jovovich. He and Jovovich married shortly after "Resident Evil," and they have three children together. Given that Carpenter's scores are now readily available on vinyl, perhaps the Anderson/Jovovich household hears them as relaxing lullabies.