How Jenna Ortega's Scream Role 'Sealed The Deal' For X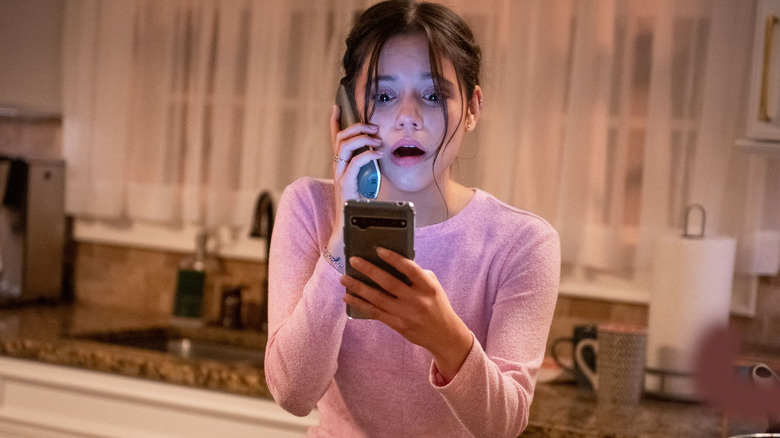 Paramount Pictures
2022 hasn't even reached the halfway mark and already, Jenna Ortega has had an explosive year. Her first big swing saw her taking on the cold open of the latest entry in the "Scream" franchise, as the unfortunate teen who answers Ghostface's call and plays his taunting questionnaire. Following one blood bath with another, Ortega then appeared in Ti West's slick slasher "X" as Lorraine, a seemingly conservative girl who gets wrapped up in a pornography production gone wrong. The young star is firing on all fronts and with two solid horror performances premiering back-to-back, Jenna Ortega is a Scream Queen on the rise. And her ascent has been in the making for longer than many realize.
A scream queen on the rise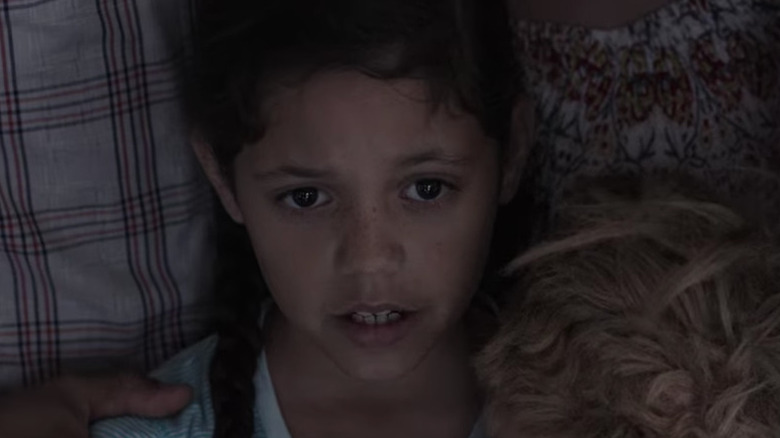 Blumhouse
While some will recognize Jenna Ortega from her Disney Channel days and others from her "Jane The Virgin" stint, this actress has been hovering around the world of the macabre for years. In 2013, she had a small role in Blumhouse's "Insidious: Chapter 2" as Annie, a young girl who could see spirits. Later that same year, she took on some child-friendly scares with the Nickolodean anthology series "Deadtime Stories." Ortega wouldn't get to face horrors in a central role until 2018, when she landed a role in Netflix's hit series, "You."
The whip-smart Ellie Alves (Ortega) entered the picture in the show's second season and unfortunately for her, caught the attention of Penn Badgley's Joe Goldberg. While he appears to be a mild-mannered bookseller, Joe is actually a full-fledged serial killer with a savior complex and Oretga's Ellie makes the mistake of befriending him. "You" is more of a psychological thriller than a horror series, but as Ellie, Ortega still shares the screen with a knife-wielding killer and spends the saga desperate to escape with her life, so it's not too far off. Ortega would later land a role in "The Babysitter: Killer Queen," her first outing in a slasher. And finally, in 2022, she'd come for the Scream Queen crown with her "Scream' and "X" double feature. It's not hard to imagine why both projects pointed in her direction — Ortega has clearly perfected her horror movie scream. 
But it turns out that landing one role had nothing to do with the other.
A happy coincidence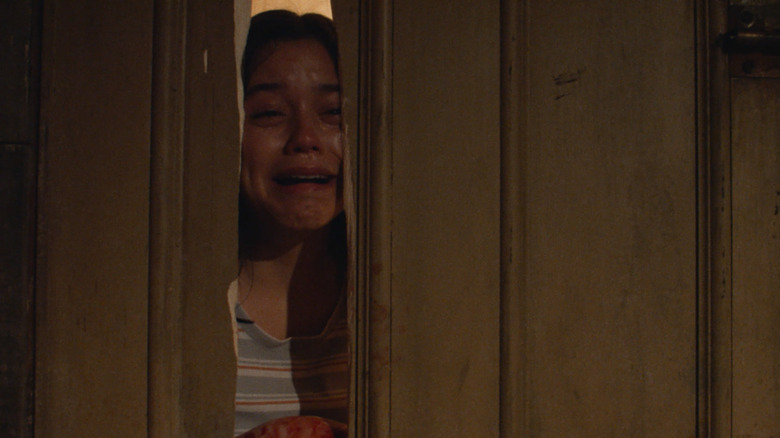 A24
"X" director Ti West has called it "pure coincidence" that Jenna Ortega ended up in both films. In a chat with Forbes, he explained that she won him over with her audition, even before he learned that she was teaming up with filmmaking duo Matt Bettinelli-Olpin and Tyler Gillett on "Scream." West said:
"She had auditioned, and we had a Zoom meeting after that, and I thought she was great. I know the guys who made Scream because we did V/H/S together, so I texted them and said, 'Hey, is Jenna in your movie?' I think she Zoomed me while they were shooting, but ... I didn't even know what they were doing. They raved about her. I had already pretty much made the decision anyway, but that sealed the deal without hesitation."
While both roles throw Ortega into the deep end when it comes to violent killers on the loose, they utilize her talents in very different ways. For West, this worked out perfectly — he wanted each cast member to feel they were stepping out of their comfort zone with their characters. West added,
"I didn't know anything about who she played in Scream, but she implied to me that X would be a different kind of role for her, not specifically to Scream but just in general, and that was really exciting. For me, because the characters in the movie are sort of ambitiously trying to do something, I was interested in everyone in the cast, whether it was on purpose or coincidentally, were challenging themselves and doing something a little different or outside of the box compared to what they were used to. That felt aligned with the characters, and what Jenna said via Zoom without me saying anything was something I found to be charming and inspiring."
If you think that this is where Ortega's horror journey ends, think again. She already has her next terror lined up — Ortega will soon be seen haunting the halls of Nevermore Academy as Wednesday Addams in the Netflix series set to arrive later this year.  "Scream 6" is also confirmed for 2023 and while no returning cast members have been announced, this could be an opportunity for round two of Ortega vs Ghostface. Either way, untold horrors lie ahead for this rising star.