Why Daniel Day-Lewis Felt So Strongly About His There Will Be Blood Character's Hats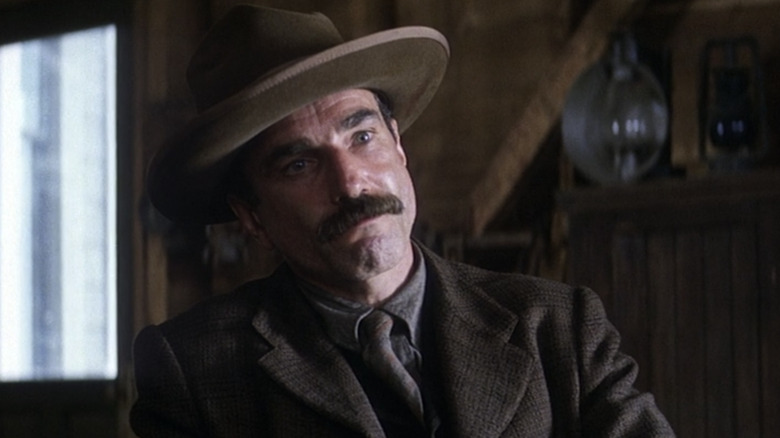 Paramount Vantage
Daniel Day-Lewis' performance as the oil prospector Daniel Plainview in Paul Thomas Anderson's masterpiece "There Will Be Blood" has rightly been heralded as one of the finest screen performances of the 21st Century. Day-Lewis took home his second of three Academy Awards for the part, and so many moments of anger, intensity, and just sheer outrageousness have been seared onto so many brains. The big moments, like his baptism scene or that ending, live rent free in my head right alongside simpler things like his line readings of "That was one goddamn hell of a show" and "Don't be thick in front of me, Al." So much is done with his John Huston-inspired voice and unflinching eyes that deeply unsettle me, and I cannot get enough it.
The iconography of Plainview is just as impactful as the performance itself. Of course, that hearty mustache sitting atop Day-Lewis' lip first comes to mind, but the mental image of the character is not complete without one crucial piece of costuming: his hat. The sweat-stained, wide-brimmed brown cowboy hat feels like a permanent fixture on his head. Day-Lewis, being the perfectionist that he is, was not just going to let any old hat be the one he would wear for some much of the film's running time. No, this hat needed to be perfect.
Clothes make the man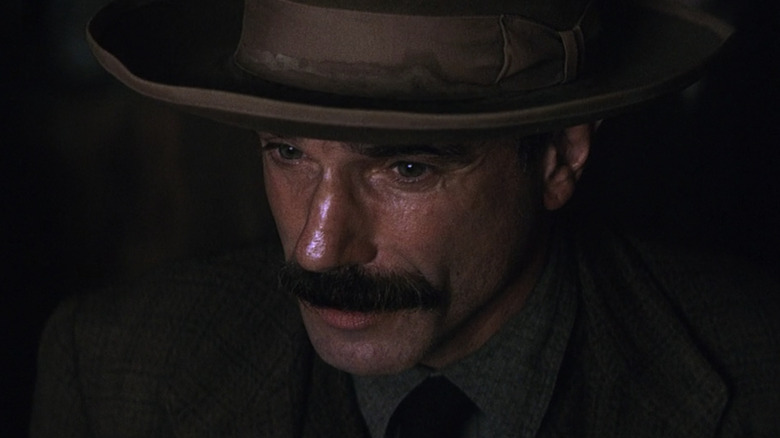 Paramount Vantage
Mark Bridges has worked as the costume designer on every single one of Paul Thomas Anderson's films, winning an Oscar for his work on "Phantom Thread." Through Anderson's work alone, he has been asked to create elegant high fashion of the 1950s, eye-popping disco-era clothing, and give Adam Sandler a suit a shade of blue you will never forget. As a designer, he has to work directly with the actors to create the looks that best represent the characters. 
When it came to making a hat for Daniel Plainview, Bridges spoke with The Denver Post about Daniel Day-Lewis' approach to selecting the right hat:
"Leading up to the first time we see that hat, his hats kind of echo or inform what's going on with his career and life. He starts with a miner hat that is unshaped and unformed. By 1911, he had this hat. Daniel Day-Lewis felt the hats were very important to his character. There were three choices that were all good, and he took them and lived with them for days. He sort of creates mini-worlds, and so he took them, just took them for a spin, so to speak, and settled on that one as what he felt most comfortable with and most represented in his mind the character he was creating. And it took on a kind of magic where he would be Daniel Day-Lewis, but you knew he was Daniel Plainview once the hat went on. So that was very rewarding to me."
After all, Daniel Day-Lewis is a noted method actor. He has to live and breathe these people before he can get in front of a camera. This is a hat that Plainview would wear day-in and day-out. Time needed to be taken to know which hat would hold up over time. He wouldn't pick a hat that was constantly uncomfortable or made him look sleight. This hat was a bold statement. The brim basically acts as a parallel line with his mustache, framing his intense eyes between them. The hat looks as though it were made solely for Daniel Plainview and no one else (though Bridges found the hat in costume shop). Ultimately, the process bore itself out and the correct choice was made.
Oh, and in case you were wondering:
"And by the way, the sweat stains are real. It was worn day in and day out and has been much loved by all who've come in contact with it."