The Unusual Way Everything Everywhere All At Once's Music Was Created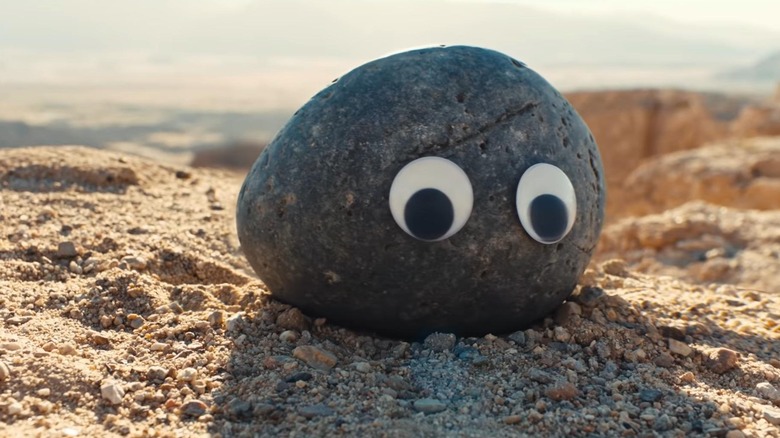 A24
We may receive a commission on purchases made from links.
Daniels' (Dan Kwan and Daniel Scheiner) film "Everything Everywhere All at Once" takes place in multiple parallel universes, rotating through its wild dimensions every few minutes, and in some cases, every few seconds. This required extensive production design, lighting, and music to differentiate the worlds and keep audiences oriented, even as reality is fracturing. In a recent interview with /Film, "Everything's" composers, the New York experimental rock band Son Lux (members: Ian Chang, Ryan Lott, and Rafiq Bhatia), revealed that the film had over 100 music cues, and featured artists as diverse as André 3000, David Byrne, Mitski, and Randy Newman. 
Unusual to the way a film is typically scored, Son Lux was given several years to work on a 49-track soundtrack record. Most composers have a timetable of only a few weeks. The music was vital to "Everything," as certain cues were to be played on set and needed to be composed in advance. In particular, a TV musical is commented on by Michelle Yeoh and the other actors, and will appear multiple times throughout "Everything," seen from other dimensions. Ian Chang comments that the on-screen musical took cues from a famous Rodgers and Hammerstein musical, which was not something Son Lux was used to.
Rodger and Hammerstein
"I think the references they gave us for it were like 'King and I,' a very sort of traditional musical but almost silly. So that was the first thing that we were tasked with writing for this movie, which is a pretty funny first thing, because it was musically unrelated to everything else in the movie."
"The King and I" was a 1951 musical based on Margaret Landon's 1944 semi-fictional book "Anna and the King of Siam." It tells the story of a Thai king who has hired a teacher from England to tutor his children. The king and the teacher initially clash, but then develop a regard for one another. The music is upbeat and plinky, featuring hummable songs like "I Whistle a Happy Tune," "Getting to Know You," and "Shall We Dance?" The musical was adapted to film in 1956, and again in 1999. The '56 version was nominated for nine Oscars. Yul Brynner won Best Actor for playing the King. The 1999 version is terrible. 
On Consequence of Sound, Son Lux' 2011 album "We Are Rising" was compared to Radiohead's "In Rainbows," which is certainly a far cry from a Rodgers and Hammerstein musical.  
Bhatia explains in the /Film interview that it was the three band members' individually unique approaches to songwriting that made Son Lux music so appropriate for a film like "Everything," which is itself so scattered: 
"[Daniels] also noticed that each of us individually in our own solo work seems to be interested in that and approaching it in different ways. And they knew that for this film, there were so many universes and there were going to be so many changing channels happening that it would be important to establish clear sonic identities for each universe."
The above song is "This is a Life," Son Lux' collaboration with David Byrne.
The 49-track Son Lux album that goes with "Everything Everywhere All at Once" can be streamed via Pandora Radio, and can be downloaded digitally from Amazon. There is no release date mentioned for a vinyl or CD release of the soundtrack. Son Lux' albums "Pentaptych," "Bones," "We Are Rising," "At War With Walls & Mazes," and deluxe editions of their triple record "Tomorrows" are all available in the band's online store. They have multiple music videos on their YouTube channel. 
Son Lux are currently touring. You can buy tickets on their website. 
"Everything Everywhere All at Once" is currently in theaters.