Casting Tommy Lee Jones Caused Some Behind-The-Scenes Headaches For Men In Black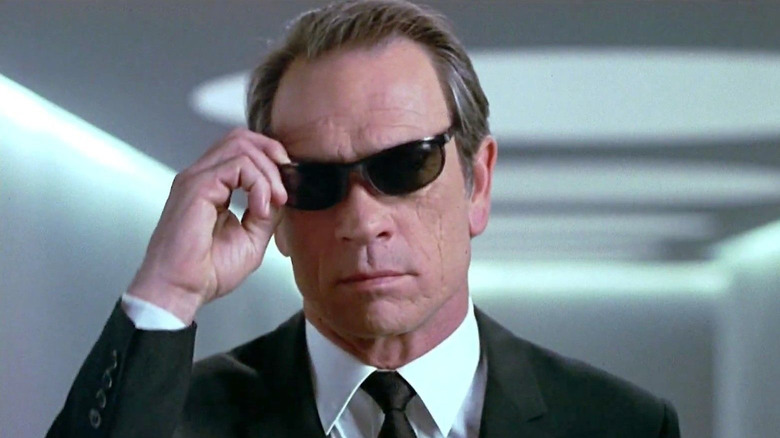 Sony
Tommy Lee Jones is an Oscar-winning talent who's starred in such classic films as "The Fugitive," "Men in Black," and "No Country for Old Men." He was also referred to as a "fabulous" actor but an "a**hole" by his "The Client" and "Batman Forever" director Joel Schumacher and was notoriously unimpressed by his "Forever" co-star Jim Carrey's antics as the Riddler, informing him matter-of-factly, "I cannot sanction your buffoonery" (or so Carrey tells the story).
"Men in Black" writer Ed Solomon had a similarly unflattering and, at times, equally amusing tale to tell about Jones while responding to a question about the film on Twitter. As Solomon explained, his intention was always for James Darrell Edwards III, aka Agent J (Will Smith), to act as the audience's surrogate, easing them into the movie's world of aliens on Earth and the secret agency tasked with keeping their presence hidden.
The only problem? When Jones boarded "Men in Black" to play J's mentor, Agent K, there was (as Solomon put it) "a scramble" to make him the movie's lead, coming on the heels of his Oscar win for "The Fugitive." This was also before Smith had fully cemented his status as a box office titan by starring back-to-back in "Bad Boys" and "Independence Day." Solomon touched on this, noting:
"Partly it was due to the fact that [Jones] was a big 'star' at the time. I disagreed, feeling like it was better to go into the ['Men in Black'] world through the eyes of a neophyte, rather than one who 'knew' everything. It threw off my whole balance, [to be honest]; I wanted to discover [Agent K's] world gradually. But they needed [Jones] to feel like it was 'his' movie."
Solomon got fired and rehired (and fired and rehired again)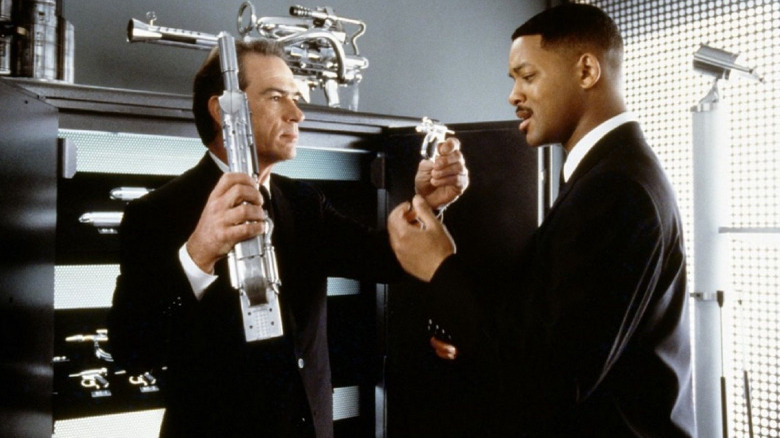 Sony
Things only went downhill from there. At their first meeting, Jones told Solomon "in no nuanced terms" that he needed to "make up [his] mind" and decide if "Men in Black" was a comedy or a sci-fi drama, capping things off by calling him an "a**hole." Solomon, as you might imagine, was mostly just perplexed by Jones' inexplicably hostile behavior, least of all when he "brought up (in the first 10 minutes) that he was Al Gore's roommate at Harvard" for no apparent reason. Solomon added:
"I told him it wasn't good enough science fiction to be drama. That it needed the kinds of leaps of faith that a comedy allows. (I believed then – and do now – that the mood of a film, a very under-discussed concept, is the thing that determines what we'll buy and not buy.)"
Solomon was fired from "Men in Black" some time after, prompting him to write a 10-page memo "about what I thought was wrong, and why." He was later rehired and "fired again and rehired, maybe even two more times" before all was said and done. He also admitted to having recently read the memo he sent, saying it was brimming with "self-righteous hubris," and he doesn't blame the movie's overseers for "being pissed" at him. Solomon added that the film's director, Barry Sonnenfeld, tried to tell him as much at the time:
"Later (after I'd been rehired), Barry Sonnenfeld said to me: 'That memo? That memo is what got you MORE fired.'"
Tommy Lee Jones – great actor, but...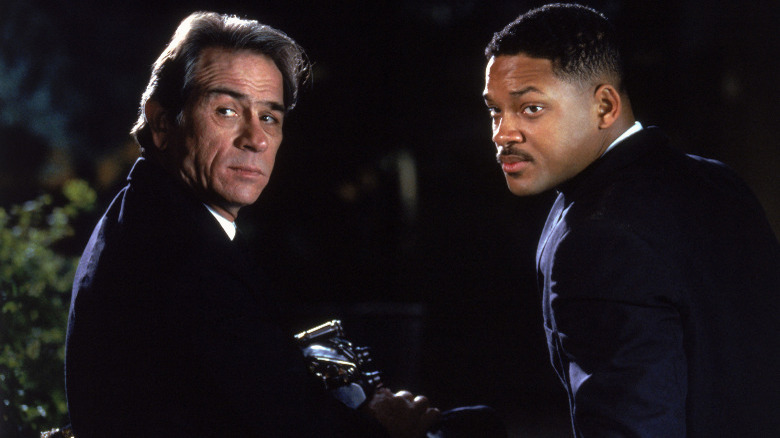 Sony
After all the dust had settled, shooting finally got underway on "Men in Black," with Solomon on stand-by. As the latter recalled:
"Two weeks into production, Barry said to me 'I think Tommy finally figured out he was in a comedy.' I think the fact that he didn't know is what [made] him so great in it. And he was great, I thought."
This seems to be the trend among Jones' past collaborators, in that they all agree he's a great actor but often curiously antagonistic to those he works with. Far from shirking his reputation as a capable stick-in-the-mud, Jones has mostly leaned into the idea with his on-screen roles over the years, including his Oscar-nominated turns in "Lincoln" and "In the Valley of Elah." Much like the characters he plays in those films (grouchy yet undeniably decent men who are driven to do the right thing), you get the sense that Jones is very serious about what he does and commits to his craft, even if it doesn't always make him easy to be around.
But that Jim Carrey story is still very weird (and very funny).