Star Trek: The Next Generation Audition Memo Teases Alternate History With Wesley Snipes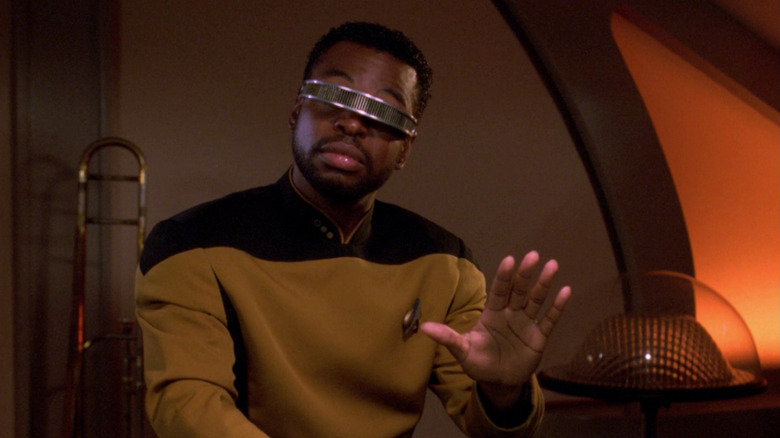 Paramount
The original documentation for "Star Trek: The Next Generation" painted a slightly different picture compared to what eventually made its way to the screen. According to Larry Nemecek's invaluable "The Star Trek: The Next Generation Companion" (the 1995 version), the show's first casting call went out on December 10, 1986, calling for a certain kind of captain:
"CAPT. Julien Picard – A Caucasian man in his 50s who is very youthful and in prime physical condition. Born in Paris, his Gallic accent appears when deep emotions are triggered. He is definitely a 'romantic' and believes strongly in concepts like honor and duty. Capt. Picard commands the Enterprise. He should have a mid-Atlantic accent, and a wonderfully rich speaking voice."
The name "Julien" would eventually be used for Dr. Julien Bashir on "Star Trek: Deep Space Nine." Other notable changes in the casting sheets were that Riker was meant to merely be called Number One, only to have his name eventually revealed to be "Ryker." Lt. Tasha Yar (the role that was given to Denise Crosby) was originally a character named Lt. Macha Hernandez, a "26-year-old woman of unspecified Latin decent," with (and here we emit a deep, heart-rending sigh at the sexism and racism in 1980s Hollywood) "a new quality of conditioned-body beauty, a fire in her eyes and muscularly well-developed and very female body." This was the same casting sheet that described Dr. Crusher as requiring the "natural walk of a striptease queen." Let us sigh again. Also, Wesley Crusher was originally intended to be Leslie Crusher, "an appealing 15-year-old Caucasian girl" who is "a normal teenager." Worf (Michael Dorn) was not on the original casting sheets. 
After some workshopping, the final characters' names and personalities were eventually, more concretely settled on. Gene Roddenberry felt that the writers' room would have more story ideas for a male Wesley than a female Leslie, as he was essentially writing an idealized teen version of himself into the show. Macha Hernandez, Roddenberry admits, was inspired by the character of Vasquez (Jenette Goldstein) from James Cameron's action film "Aliens," and the character's name was changed to Tanya and then Natasha and then just Tasha. Once all the debate had been settled, casting could begin.
The wish list, part 1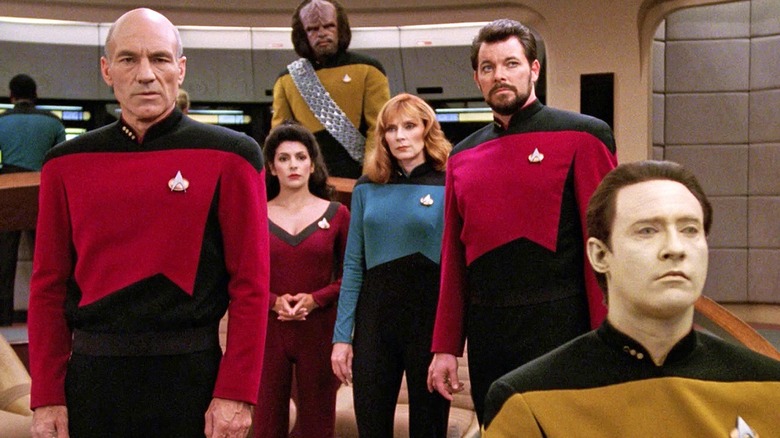 Paramount
For Trekkies, it may be difficult to picture anyone other than the eventual chosen cast in their now-recognizable roles. It's surreal, for instance, to watch Geneviève Bujold playing Captain Janeway on the set of "Star Trek: Voyager." "The Next Generation," like all film and TV projects, had to whittle down a long list of prospective actors before settling on a final "wish list" based on who had auditioned and who Paramount still wanted to see audition. Casting began in March of 1987, and a memo went out on April 13 with a "wish list" laid out explicitly. 
On it, Patrick Stewart was the favorite for Captain Picard, with the list also including Mitch Ryan (from "Dark Shadows"), Roy Thinnes (from "The Invaders"), Yaphet Kotto (from "Alien"), and the Belgian actor Patrick Bauchau from "A View to a Kill" and many other French-language films. Of those, Kotto seems like the most appealing alternative to Stewart, although Picard would have emerged as a far different characters. 
For Ryker (I don't know when in the process that the spelling was changed to "Riker"), Jonathan Frakes was shortlisted underneath Michael O'Gorman (not well known in 1987) as well as Gregg Marx (from "Days of Out Lives") and Ben Murphy (from the 1970s Western "Alian Smith and Jones"). 
Gates McFadden, still credited as Cheryl McFadden at the time, was on the short list for Dr. Crusher alongside Tony nominee Anne Twomey and prolific British actress and international sex symbol Jenny Agutter from "Walkabout," "Logan's Run," "An American Werewolf in London," and many, many others. The only shortlisted actor for Wesley Crusher was not Wil Wheaton, surprisingly, but J.D. Roth, who would go on to host the 1988 Fox kiddie game show "Fun House." 
Counselor Troi also had one actress on the shortlist: Denise Crosby. The list for the role of Tasha included Rosalind Chao, who would eventually play Keiko O'Brien on "Next Generation" and on "Deep Space Nine." Other Tasha prospectives were Liane Lagland, Julia Nickson from "Rambo: First Blood Part II" (who would play an ensign in an episode of "The Next Generation"), Leah Ayers from "All That Jazz" and "St. Elsewhere," and model Bunty Bailey from the Billy Idol "To Be a Lover" music video. Data's list did not have Brent Spiner on it, but included Mark Lindsay Chapman from 1988's "American Gothic," Eric Menyuk (who would play The Traveler on several episodes of "NextGen"), and Kelvin Han Yee, whose list of credits is quite extensive. 
The wish list for Geordi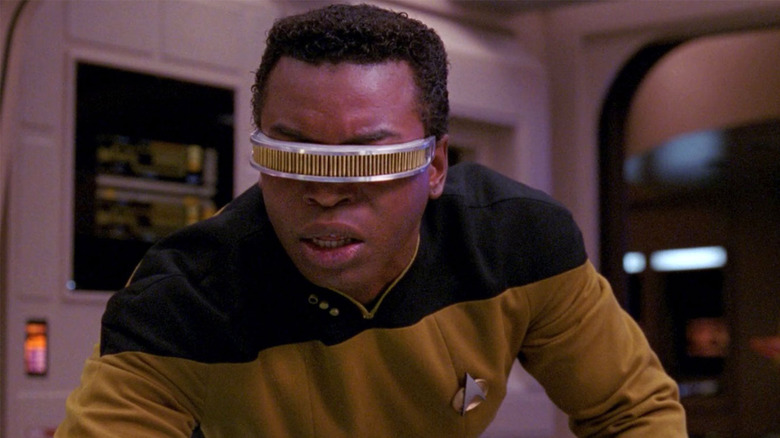 Paramount
The longest list on the April 13 memo was for Geordi La Forge. Although in the early days of the show, Geordi didn't have a "department" (La Forge didn't become chief engineer on the Enterprise until season 2) it was important to get the role just right. 
One of the actors on the list for Data, the 7'2" Kevin Peter Hall, was in consideration for Geordi as well. Because of his height, Hall was frequently cast as creatures and monsters, having played Harry in "Harry and the Hendersons" and the title creature in "Predator." He also played a character named Layor in the "Next Generation" episode "The Price." Hall passed away in 1991 from AID-related pneumonia after contracting HIV from a blood transfusion. 
Also on the list is a tantalizing array of potentials: Reggie Jackson the baseball star was in contention, but if his performance in "The Naked Gun: From the Files of Police Squad!" was any indication of his acting talent, perhaps "Star Trek" dodged a bullet. Also included: Victor Love from "Native Son," Chip McAllister from "Hamburger: The Motion Picture" (an indelible comedy classic), Clarence Gilyard, Jr. who currently serves on the United States Conference of Catholic Bishops (!), and Tim Russ who would go on to play Tuvok, one of the main roles on "Star Trek: Voyager." One can never accuse "Star Trek" of looking after their stable of actors. 
Notably in the middle of the list was Wesley Snipes, who was likely only known at the time for an episode of "Miami Vice" and a supporting role in the Goldie Hawn comedy "Wildcats." Snipes would go on to be a massive movie star in his own right, as his humor and charisma are irresistible. Indeed, it may have been his indelible charm that prevented him from acting in "Star Trek." Geordi La Forge is not so much a charmer as he is a tech nerd. One of the running "gags" in NextGen is Geordi's inability to instigate a romantic relationship, having once fallen in love with a holographic simulation of a starship designer. Not that Snipes couldn't have played an awkward character, but his strengths lie is playing assured and/or funny characters. 
LeVar Burton was right at the top of the Geordi list, however, and the "Roots" star ended up getting the part. Burton will reprise his role in the upcoming third season of "Star Trek: Picard," set to debut early in 2023. At this point, no one else could possibly play Geordi. 
Well, until the inevitable "action" reboot. They still have Snipes' number, right?