The Daily Stream: Jackie, A Portrait Of Grief And Grace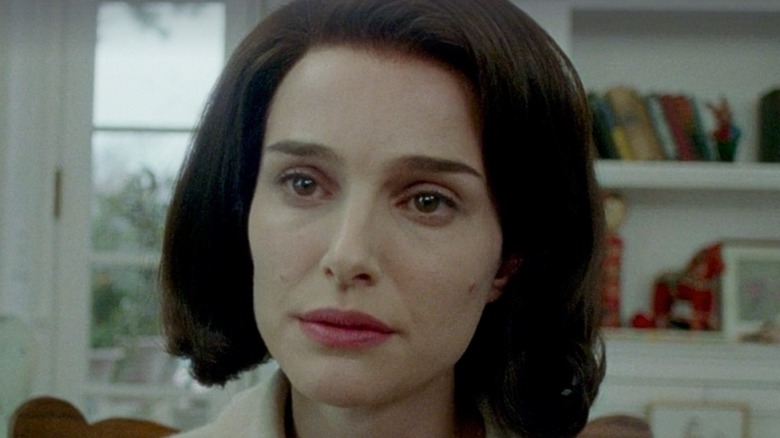 Fox Searchlight
(Welcome to The Daily Stream, an ongoing series in which the /Film team shares what they've been watching, why it's worth checking out, and where you can stream it.)
The Movie: "Jackie"
Where You Can Stream It: Tubi
The Pitch: Imagine losing someone in the most violent way. Someone you love. Someone you're having relationship issues with. Someone who means the world to you, infuriates you, and brings you every high and low. Then imagine losing them in front of the entire world. 
"Jackie" is a portrait of the marriage of President John F. Kennedy (Caspar Phillipson) and Jacqueline Kennedy (Natalie Portman), President Kennedy's assassination, and the aftermath through the framework of an interview that Jackie does with a journalist (Billy Crudup) a week after her husband's death. This is not a light film, friends, so know that going in. What it is, is a comfort to those of us who've lost someone, or gone through a shocking event. 
Grief is something we don't address often enough in modern society, leaving many of us either struggling to understand our own bereavement, or not knowing what to say to someone who is grieving a loss. "Jackie" gives us a look at a woman trying to maintain grace and uphold the dignity of the office her husband held, while trying to go through something alone. The thing is, you're never really alone when your life is playing out on the world stage. 
Why it's essential viewing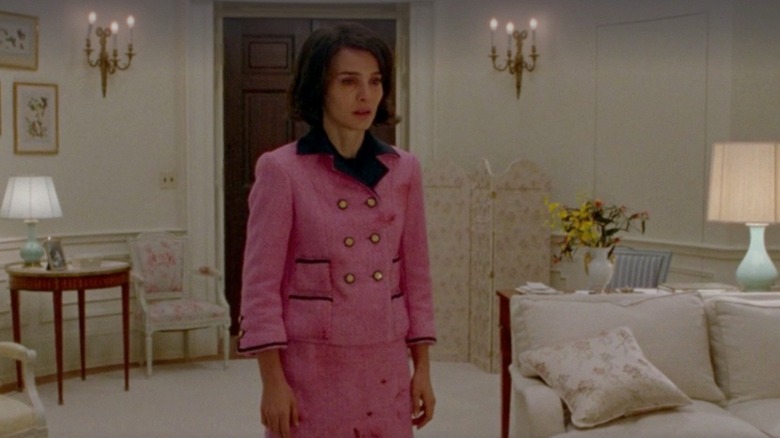 Fox Searchlight
Director Pablo Larraín ("Spencer") absolutely captures the starkness of the moments of clarity that Jackie Kennedy has in this first week of grief. He takes time with this story, never rushing a scene or a feeling in the moment. He allows the flipping between Jackie's stunned silence as her brain tries to process the loss, and her need to control something, to play out fully. 
Portman navigates this deftly in the moments on Air Force One as President Johnson is sworn in. She's quiet and shocky, then angry, wanting to leave the bloody clothing on so the world could see what the assassin did to her husband. There are stark, yet lovely moments where she walks aimlessly around the room the couple shared, drinks to sleep, muses on who could have done this, goes numb again, then gets angry about the funeral plans. Grief is a singular feeling, one that is hard to describe to someone who hasn't gone through it, though this film is the closest thing I've seen to it. 
There are times when emotions are hard to talk about or explain, and that's when art comes to the rescue. Sometimes seeing someone else's wild swings through despair, moments of joy, guilt for feeling them, a need to arrange things, and then abandonment of plans can comfort us as we go through the same, or prepare us for when it happens. 
A subject we don't talk about enough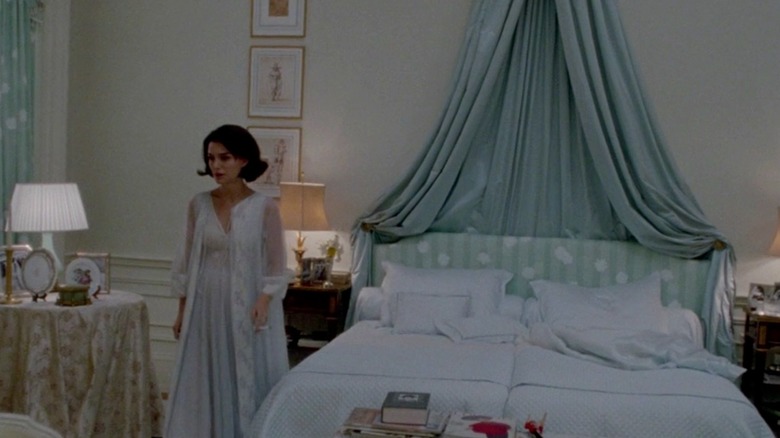 Fox Searchlight
Honestly, I think one of the most beautiful things about "Jackie" is the focus on the one left standing as opposed to the one who was gone. The nation was going through its own grief at the time, and in addition to dealing with the violent loss of her husband in front of her eyes, Jackie Kennedy still stood as a pillar of grace and strength. Watching Portman's layered performance with the soft voice and the calm she displayed for her children and her country, juxtaposed with the anger and the willfulness that the public rarely got to glimpse, is riveting. 
I'm fascinated by this story, as many people are. It's not because of the terrible details, the film footage of the event, or even the moment in "Jackie" where we actually see what happened in grim detail. It's how this woman held up in front of the world, when she was human like the rest of us. She was suffering the same way we all will someday if we live long enough to lose loved ones. Having gone through grief myself, it is such a comfort to see the emotional swings, the anger, the resentment of pity, the desperate need for it, and all the rest of it so intimately and realistically portrayed on the screen. Perhaps, in watching someone else feel these things in a film, it might comfort you as well.