12 Underrated 21st Century Haunted House Movies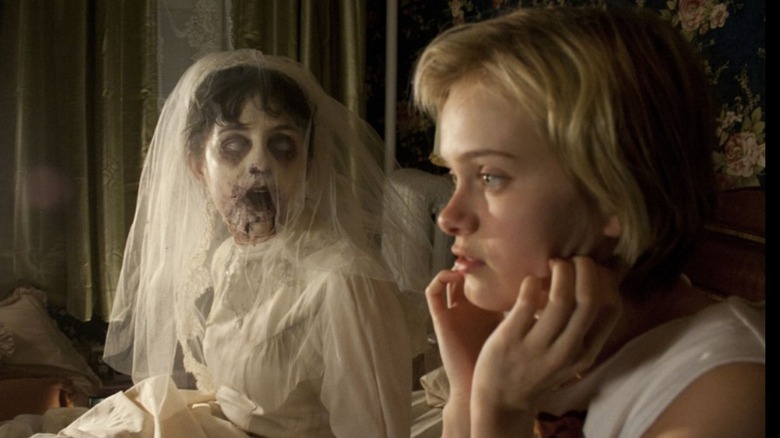 Magnet Releasing
Haunted houses are part and parcel of the horror genre. The very first narrative horror movie ever filmed, George Méliès' "Le Manoir du Diable" ("The House of the Devil") from 1896, is arguably a haunted house movie. From there, Gothic, labyrinthian structures such as castles and rural manors were recontextualized as ghostly abodes overflowing with the supernatural. From "The Uninvited" to "House on Haunted Hill," the early history of horror is the history of haunted houses.
With the release of "Poltergeist" in 1982, ghosts gentrified the suburbs, taking up residence in neighborhoods and subdivisions. The haunted house subgenre has consistently reinvented itself, subverting expectations and adding new wrinkles to a classic narrative template. Even Ti West, director of the deliciously grindhouse-esque "X," tried his hand at a haunted house movie with the criminally underrated "The Innkeepers." While most audiences know "The Conjuring" and "Sinister," there are dozens of other 21st-century haunted house films that have flown under the radar. Despite being relatively unknown, they pack some terrifying residential scares. Here are 12 of this century's best underrated haunted house movies.
Marrowbone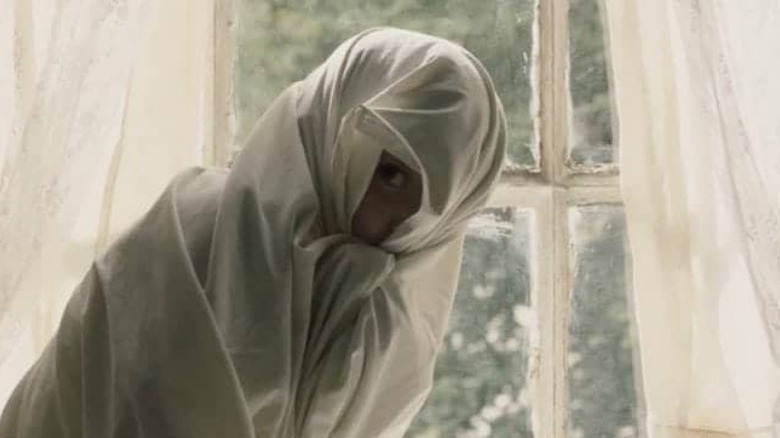 Universal Pictures
Sergio G. Sánchez, long-time collaborator with J.A. Bayona, had his feature-length directorial debut with 2017's "Marrowbone." In the vein of Bayona's "The Orphanage," which Sánchez wrote, "Marrowbone" is a throwback gothic chiller abounding with rich themes and terrifying subtext. The titular Marrowbone siblings, Jack (George MacKay), Jane (Mia Goth), and Billy (Charlie Heaton), are left alone in their estate in Maine after the death of their mother. Soon, they suspect a supernatural presence is living in the home.
Matters are complicated further by Anya Taylor-Joy's Allie, a town librarian with an interest in Jack. However, her burgeoning crush is threatened by estate lawyer Tom (Kyle Soller), the man keeping ownership of the house in limbo who curiously doesn't know the Marrowbone matriarch is deceased. As in "The Orphanage," Sánchez keeps the tension high, the twists compelling, and the ghosts at arm's length. More than just a ghost story, it's a terrifying and poignant tale of family, revenge, and abuse. It lingers.
The Dark and the Wicked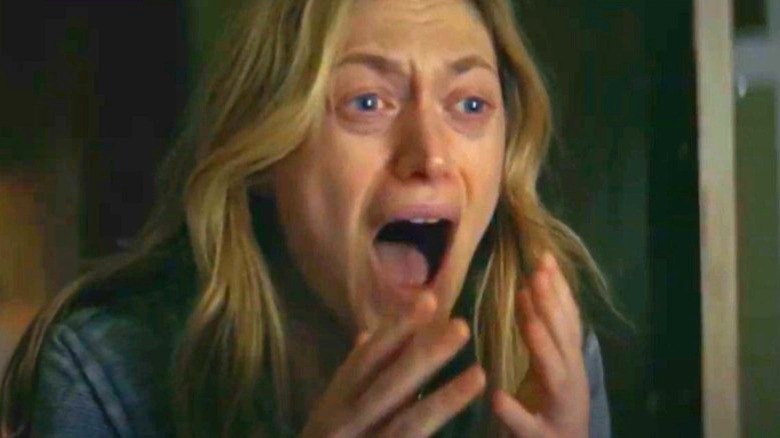 RLJE Films
Were it not for being released in November 2020 during the pandemic, "The Dark and the Wicked" could have easily justified a theatrical release. Had it been given one, it would rank with "The Conjuring" and "Sinister" in the public consciousness as one of the century's scariest movies. Bryan Bertino's haunted farmstead masterpiece is akin to "The Strangers" but with spirits. It's an austere, dour, stripped-down gothic tale replete with unexpected jolts, terrifying bouts of violence, and a committed cast enduring undue suffering.
Marin Ireland and Michael Abbott Jr. star as Louise and Michael, two siblings brought back to their childhood farm because of their father's illness. On their first night back, their mother cuts her fingers off and then hangs herself in the barn, inciting a desperate mission among the siblings to understand what happened and keep their father safe. With a mix of tricks old and new, "The Dark and the Wicked" has the artistry and patience of an A24 horror movie combined with the more mainstream, wickedly effective scares of James Wan. Bertino is at the top of his game, moving from one terrifying set piece to another with perverse ease. Darker than most haunted house movies, "The Dark and the Wicked" isn't an easy watch, but it remains one of this century's scariest movies.
Lake Mungo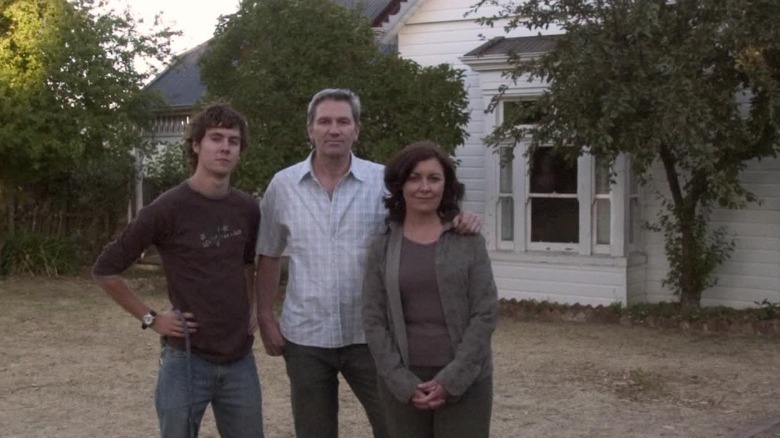 Arclight Films
"Lake Mungo" is difficult to talk about without revealing its more devilish twists and surprises. Have no fear! I wouldn't dare spoil it but know that "Lake Mungo" starts as one movie only to suddenly shift to another. At first, Joel Anderson's "Lake Mungo" looks to be another in a long line of early aughts found footage horror movies.
After 16-year-old Alice Palmer (Talia Tucker) drowns at a dam in Ararat, Australia, her brother equips the house with video cameras, certain he's seen the apparition of Alice inside their suburban home. The family consults psychics and grapples with countless new revelations about Alice and her life. Through diaries and consultations, the family slowly learns Alice wasn't quite who she said she was. Alice also had a secret fear. As recounted by others, Alice had dreams of her own death.
A profound meditation on grief and loss, "Lake Mungo" is as effective emotionally as it is sensationally scary. Subsequent twists jeopardize the sheer horror of it all, though Anderson saves the best for last, ending "Lake Mungo" on one of the century's scariest final beats. Give this one a chance and trust that the familiarity soon subsides. "Lake Mungo is a masterclass in found footage horror.
Crimson Peak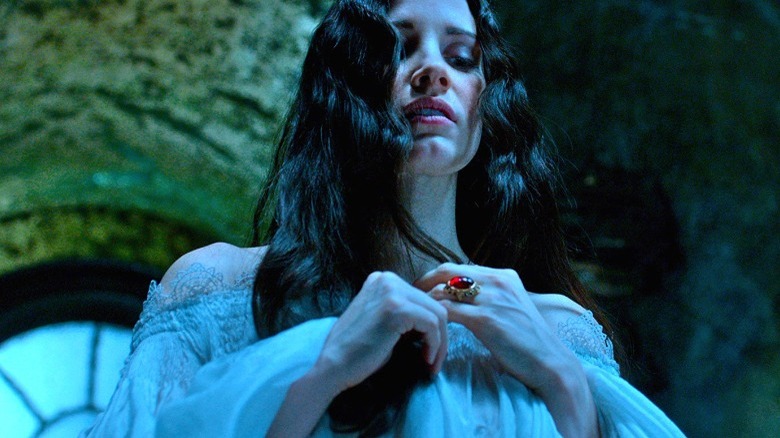 Universal Pictures
Guillermo del Toro played it sort of fast and loose following the lackluster box office reception to "Crimson Peak," his swirling, gothic horror opus. Del Toro sought to contextualize "Crimson Peak" not as a horror movie but as a "gothic romance." I don't quite buy it. While del Toro does successfully tap into the decline of yesteryear's haunted houses, "Crimson Peak" is objectively endeavoring to scare. While those distinct horror elements are arguably "Crimson Peak's" weakest moments, they're conspicuously present — no matter what anyone says.
Still, that doesn't detract from just how accomplished "Crimson Peak" is. While the plot centering on young, naïve Edith (Mia Wasikowska) and her marriage to the suspicious Thomas (Tom Hiddleston) unfurls exactly as audiences expect (a late-game twist will surprise only the least observant viewers), it's del Toro's craftsmanship and Tom Sanders' sensational set design that elevate "Crimson Peak" to classic status. What it lacks in scares and surprises, it more than makes up for in fantastic performances, meaningful ghosties, and an atmosphere dripping with classic gothicism in its purest form.
Don't Listen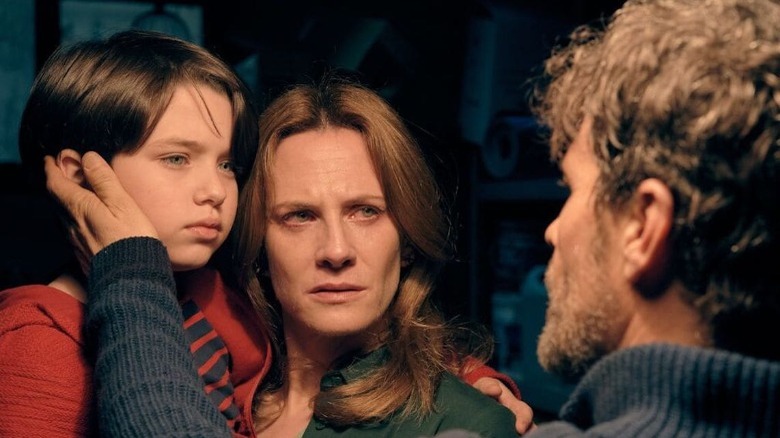 Netflix
Netflix releases a lot of movies, some of which (if they're lucky) might dominate the zeitgeist for the duration of their weekend of release. Afterward, they're bound to obscurity as titles tailor-made to be ephemeral. It's a shame since so many worthwhile films are lost in Netflix's ever-expanding library of original titles. "Don't Listen" ("Voces" in Spanish) is one such example, a lean, mean haunted house movie that amounts to "The Conjuring" in the hands of a sadist.
After the death of his son, Daniel (Rodolfo Sancho) remains in his house, suspicious that his son is reaching out from beyond the grave. It's conventional stuff, but in the hands of director Angel Gómez Hernández, things never quite play out as audiences might expect. There are plenty of shocking deaths, explicit gore, and terrifying ghosts to send chills down even the most resolute audiences' spines. While it doesn't reinvent the wheel, it's refreshing to see such a tactile, no-holds-barred approach to familiar material.
The Innkeepers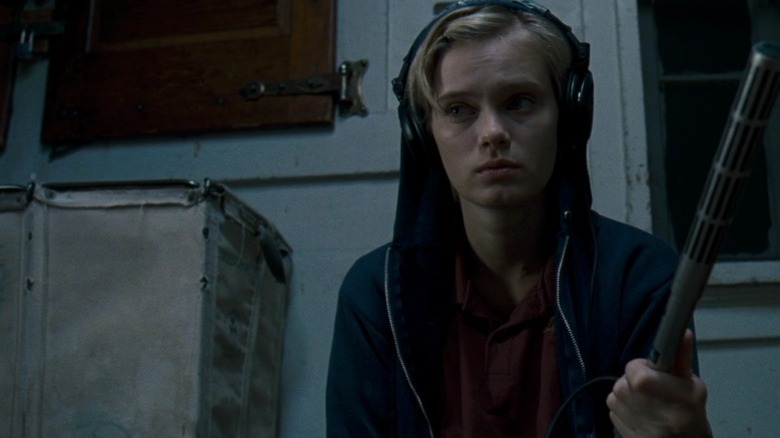 Magnet Releasing
Ti West is finally getting the credit he deserves with the release of "X." A movie destined to appeal as much to horror fans as it is to a more general audience, "X" represents longtime genre darling West's break out into the mainstream. It's a shame it took so long to accomplish because West has been delivering classically-tinged spook shows for years. "The Innkeepers," his follow-up to 2009's "The House of the Devil," is a back-to-basics haunted house movie. Sara Paxton and Pat Healy star as two employees of the Yankee Pedlar Inn during its last weekend in operation. With few guests and plenty of time, they commit themselves to ghost hunting for a lark. They seek to see if the ghostly legend of Madeline O'Malley, a bride who hanged herself in the hotel, is real.
I won't spoil what follows because West is at the top of his game here. He consistently subverts expectations, imbuing the phrase "slow burn horror" with an entirely new meaning. Despite the patient pacing, "The Innkeepers" is never boring, owing in large part to West's attention to detail and Paxton and Healy's effortless, endearing chemistry. Make no mistake. As fun as "The Innkeepers" is, West is ready to fire off some serious scares when it matters most. This inn is one worth checking into.
Satan's Slaves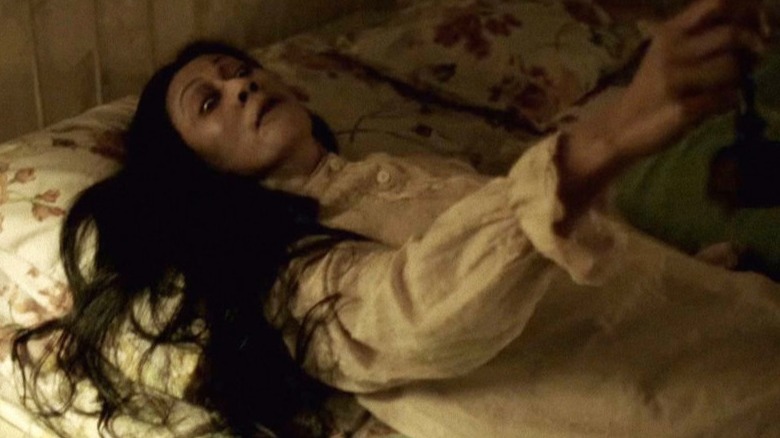 RLJE Films
"Satan's Slaves" is one of this century's best horror movies. Joko Anwar's loose remake of Sisworo Gautama Putra's 1980 "Satan's Slave" encompasses the best of what a horror remake can accomplish. It took a relatively obscure Indonesian horror film and updated it with considerable cross-cultural appeal, contemporary scares, and more polished production values thanks to a bigger budget.
Tara Basro stars as Rini, the oldest of four children living in financial uncertainty because of their father's (Bront Palarae) unemployment and their formerly famous mother's (Ayu Laksmi) illness. After their mother dies, the family begins to suspect her spirit lives on in the house, frequently visiting the younger children with unclear motivations. The rest is a gothic hodgepodge of possession, Islamic folklore, and satanic cults, and it all works sensationally. The scares deliver, the plot is propulsive, and the distinct cultural touchstones help to set it apart from Western fare such as "The Conjuring," from which it draws inspiration.
Veronica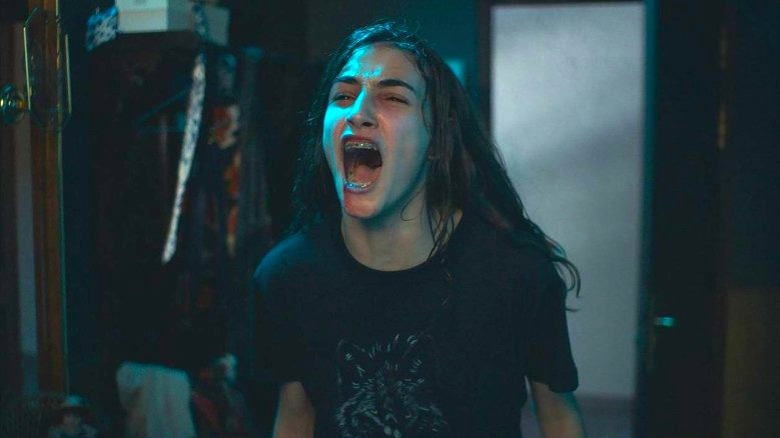 Sony Pictures Releasing International
Despite the bold claims, "Veronica" isn't Netflix's scariest movie ever, and it likely isn't inspiring large swaths of viewers to simply turn it off. However, it is still a profound return to form for director Paco Plaza, one of the co-directors of both "REC" and "REC 2." As with many contemporary ghost stories, "Veronica" takes the best elements of James Wan's "The Conjuring" (this century's haunted house mainstay) and imbues them with a spirit all its own. Abounding with religious symbolism, serious scares, and an urgency that's often neglected in the subgenre, "Veronica" is guaranteed to scare.
Sandra Escacena stars as the eponymous Veronica, a 15-year-old girl who, after an ill-advised séance with friends during a solar eclipse, suspects an otherworldly presence is living inside her home. A combination of possession yarn and haunted house tale, "Veronica" is the best of both worlds. It's grounded, deeply felt, and sensationally scary. Better still, it was recently announced that "Veronica" is finally getting a prequel.
32 Malasana Street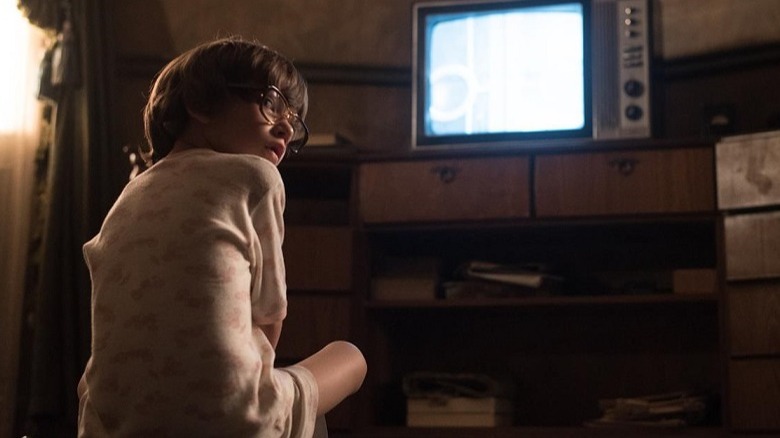 Warner Bros.
"32 Malasana Street" ("Malasaña 32" in Spanish) has one of this century's scariest early beats. Reminiscent of "Candle Cove," Syfy's first season of "Channel Zero," an early sequence with sinister puppets on a children's television show is so sensationally scary and imaginatively staged that it alone makes "32 Malasana Street" worth watching. Luckily, the rest of the movie holds up, with director Albert Pintó leaning into early Guillermo del Toro inspirations for the story of a family in Madrid living in a haunted apartment.
In a film that features genre icon Javier Botet, the merging of several subgenres, and gangbusters scares, Pintó uses an everything-but-the-kitchen-sink approach. "32 Malasana Street" has ghosts, missing children, and temporal shifts. Still, Pintó's direction is measured and assured enough to ensure that no single element detracts from the others. Criminally underrated, "32 Malasana Street" isn't to be missed, especially for fans of throwback gothic chillers.
The Autopsy of Jane Doe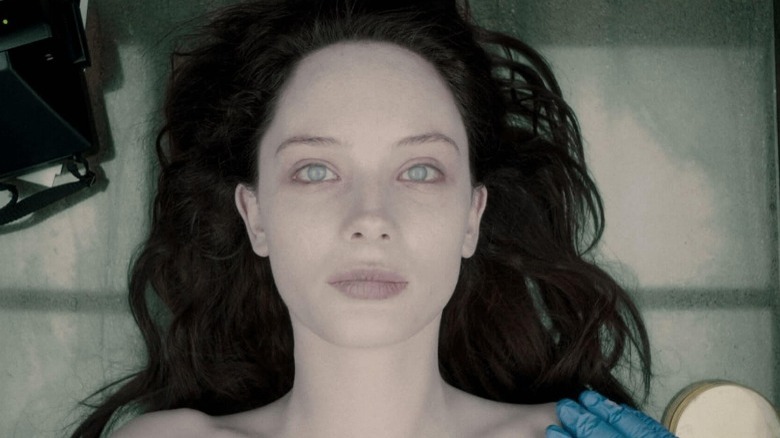 IFC Midnight
Director André Øvredal has been quietly reinventing the horror genre for years. With "Trollhunter," he reimagined the scale of what found footage horror can be, and with "Scary Stories to Tell in the Dark," Øvredal accomplished the Herculean task of adapting a famed children's series that was long considered unfilmable. Sandwiched between those is "The Autopsy of Jane Doe," a back-to-basics scare-fest with an atmosphere of dread so thick, it's positively suffocating.
Brian Cox and Emilie Hirsch star as Tommy and Austin Tilden, two morgue workers tasked with performing the autopsy of an unidentified woman found at the scene of a multiple homicide. Isolated in their claustrophobic basement late at night, they anticipate a conventional autopsy, but it soon proves to be anything but. For starters, there appear to be no visible signs of trauma, and the wounds they do identify conflict with one another with some suggesting a recent death and others indicating she's been dead for quite some time. Soon thereafter, they're assailed by strange noises, odd phenomena, and the chilling ringing of a bell tied to the other corpses downstairs. Aggressively frightening and masterfully tense, "The Autopsy of Jane Doe" is worth investigating.
The Awakening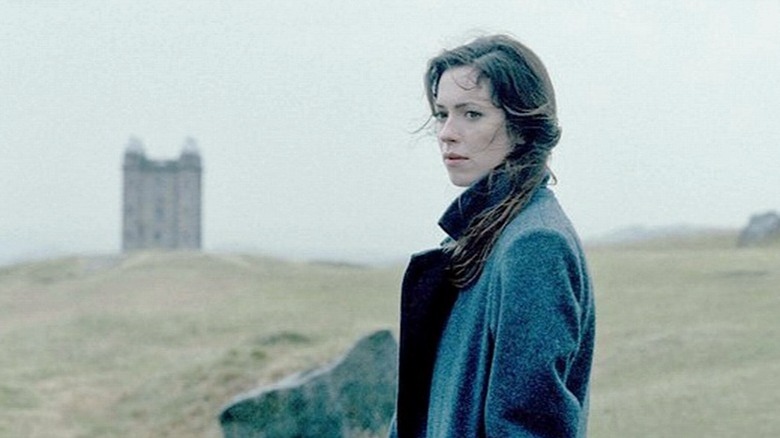 StudioCanal
Rebecca Hall has long been underrated. Despite a Golden Globe nomination for her work in 2008's "Vicky Cristina Barcelona" and stellar performances in such films as "Christine" and "The Night House," she's largely been ignored at major award ceremonies. Along with "The Night House," Hall also stars in "The Gift" and the upcoming "Resurrection," cementing her status as one of the horror genre's most reliable actors. Yet, her start was in 2011's "The Awakening," a gothic chiller that borrows from the best of the genre while managing to do something all its own.
Hall stars as Florence Cathcart, an author and self-described debunker of the supernatural. After she's summoned to a boarding school in Cumbria to investigate reports of ghostly apparitions, her skepticism is tested. These ghosts may be real after all. With all the twists one comes to expect, a fierce central performance, and scares worth their muster, "The Awakening" is an excellent entry in the canon of gothic horror.
The House at the End of Time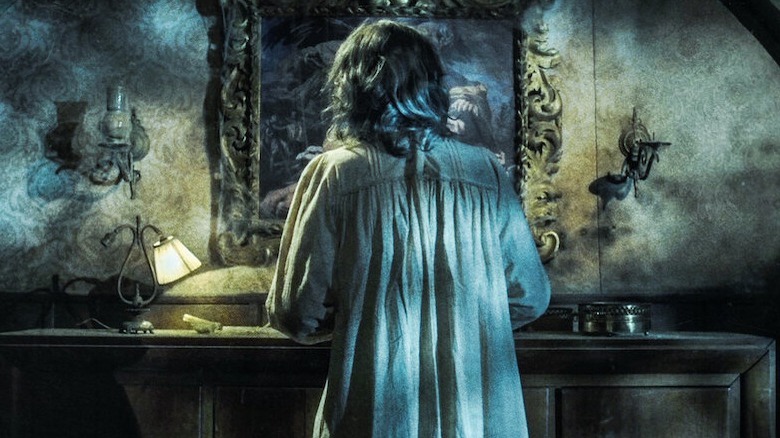 MPI Media Group
"The House at the End of Time" is the highest-grossing horror film in Venezuelan history for good reason. It is nearly perfect. A blend of Guillermo del Toro's gothic sensibilities and the unbridled scares of "The Conjuring" franchise, it's a deeply felt yet thoroughly terrifying horror and science fiction hybrid that is as liable to elicit tears as it is screams.
Set in Venezuela in 1981, "The House at the End of Time" tells the story of Dulce (Ruddy Rodríguez) who lives in an old house with her two sons, Leopoldo (Rosmel Bustamante) and Rodrigo (Hector Mercado), and her husband Juan José (Gonzalo Cubero). Strapped for cash, she nonetheless puts on a brave face. After Rodrigo is unexpectedly killed, strange occurrences plague the house, and on one particularly eventful night, Dulce finds Juan José dead in the basement, Leopoldo missing, and her fingerprints are all over the murder weapon. 
Dulce returns to the home 30 years later. Now an old woman, she sets about unraveling the mystery of that night. I won't spoil the twists, but they are deeply affecting and perfectly orchestrated, never quite going where the audience expects. "The House at the End of Time" is expertly crafted, heartbreaking, and scary. Don't miss this one!