House Of Gucci Featured A Scene Ridley Scott Said He'd Never Film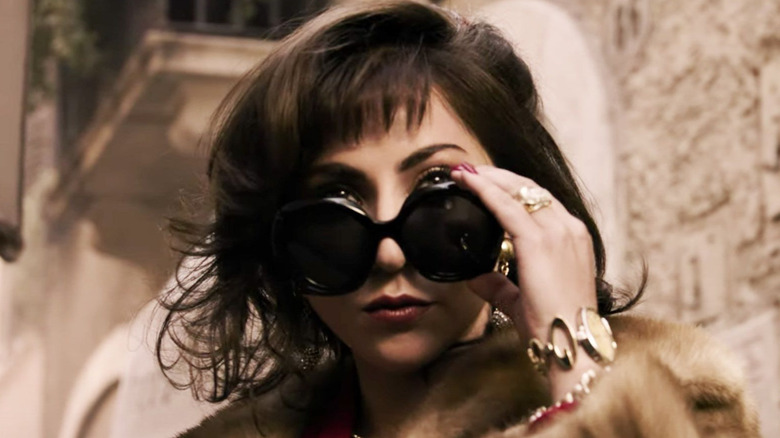 United Artists Releasing
With a film and TV career dating back to the 1960s, there's not much that Ridley Scott hasn't tried his hand at directing. Baby aliens bursting out of people's bodies in his "Alien" movies, Ray Liotta being fed pieces of his own brain in "Hannibal," Cameron Diaz dry-humping the windshield of a Ferrari California in "The Counselor" — these are but some of the many eyebrow-raising moments that Scott has brought to the screen over the decades. Yes, for as often as he seems to go out of his way to push audiences' buttons with the content of his films, there's one thing that Scott held off on shooting for a very long time: A run-of-the-mill sex scene between two consenting adult human beings.
It's not that Scott has shied away from depicting sensuality in his movies, as he notably did in the scene where Thelma (Geena Davis) hooks up with J.D. (Brad Pitt) in "Thelma & Louise." Yet, even there, the film abruptly jumps ahead in time just as the pair start to properly have sex with one another. "As an Englishman, I'm aghast at emotional intensity," the director admitted to The Guardian in 2002. If I'm being blunt (which I can only imagine Scott would be fine with), it shows in movies like "A Good Year," where wannabe romantic encounters between stars Russell Crowe and Marion Cotillard come off feeling oddly sedate and cold. That's also the case in "The Counselor," when Michael Fassbender and Penélope Cruz talk dirty to one another in bed.
By comparison, Scott's brother and fellow director, Tony Scott, was never hesitant to include sex scenes in his films (see the famous "Top Gun" sequence set to Berlin's "Take My Breath Away"). Ridley Scott talked about this, telling The Guardian:
"I find sex scenes actually – uh – embarrassing. I think I'm probably a bit prudish. I was brought up at a time where parents didn't talk about it, they just assumed you'd find out. Tony likes sex scenes. But I find when I watch sex scenes in films, it's like ho-hum or it's flapping curtains and gauzy pictures, which is kind of boring."
'I suddenly saw: it's funny'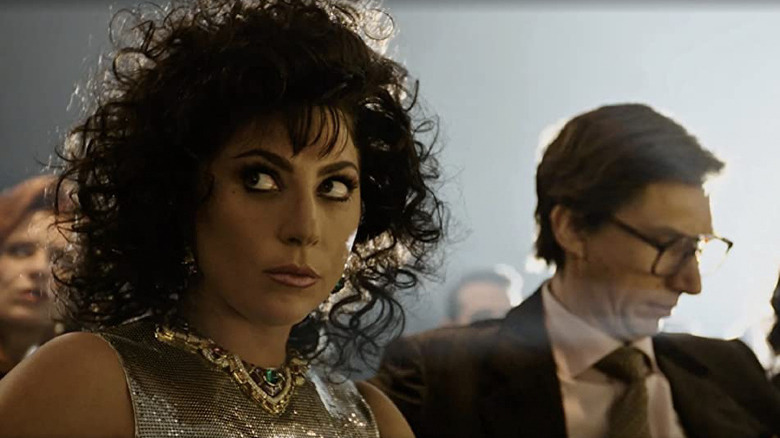 United Artists Releasing
That finally changed with the Scott-directed "House of Gucci," a film in which Adam Driver (as Maurizio Gucci) and Lady Gaga (Patrizia Reggiani) take an impromptu trip to pound-town in the middle of a work-day in the offices of the Reggiani family's trucking company. It's a sex scene that not only runs comically long but also walks the line between operatic drama and dark satire, like the rest of the film. "I didn't plan it to run so long. I think it's quite a long time," Scott told Cinema Blend. He added:
"But what I suddenly saw in the scene — because [Gaga and Driver] are fearless and formidable. I suddenly saw: it's funny. And so that's why we put in Puccini's opera over it, because [Gaga] said to me in the beginning, 'What do you want this to be?' I said, 'I want you to f*** him like a man.' She said, 'Okay.' [Laughing]

"But then going from that to — you glide across the church music without knowing it's George Michael incoming. So that's a great moment where you're going from this serious sex that will definitely bond the marriage, to church, and oh my god, as you've come to Adam, you've got George Michael clickin' in. 'You've gotta have faith.'

"So I think when I use music, I shoot the scene with music in mind, certainly. This kind of movie, you shoot it with needle drops. And the great thing about — George Michael's just f***ing brilliant, producer and songwriter. And so I thought that was a great marriage of light opera, I think the opera is quite a light opera, to George Michael is a perfect union. Including sex on the desk."
With nearly 30 feature-length films under his belt as a director, on top of all his TV and commercial work, it's encouraging to see that Scott (who will turn 85 this year) is still willing to go to places that he never has before as a storyteller. It's still very much on his own terms, of course, and it remains to be seen if he ever tackles a sex scene that's meant to be sincere, rather than one that's deliberately ridiculous and over the top. But again, if "House of Gucci" proves anything, it's never say never when it comes to what Scott will or won't include in his movies.