Pachinko Star Minha Kim On Crafting Sunja's Emotional Journey [Interview]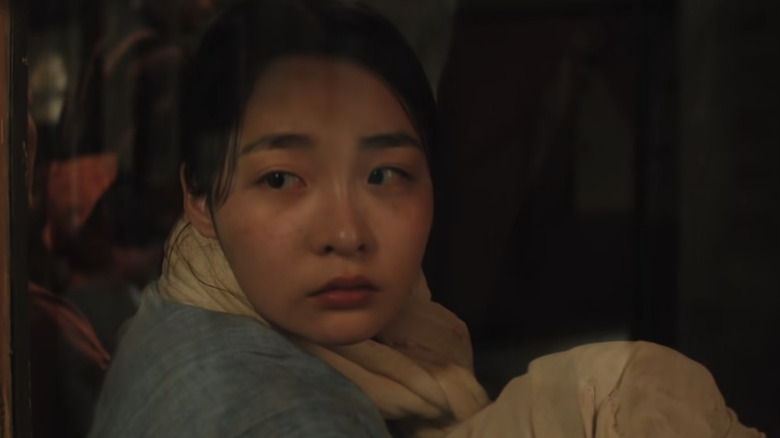 Apple TV+
This article contains spoilers for episode 4 of "Pachinko."
From afar, "Pachinko" is a sweeping epic that spans entire decades in history, soaring from the rural fields of Busan to the bustling slums of Osaka. On closer inspection, the story indeed proves itself a grand feat of storytelling, but inside that epic scope is an intimate, multi-generational saga, told through the eyes of the formidable Sunja.
Across the first season, the role of our protagonist is tackled through three breathtaking performances — the young Yu-na Jeon plays Sunja as a child, then passes the torch on to Minha Kim, who shares the role with Oscar-winner Youn Yuh-jung for the duration of the series. While Youn guides us through the flash-forwards, it's through Minha Kim that we see what Sunja endured to build a comfortable life for her family. We watch her work alongside her mother in Japanese-occupied Korea, quietly running a boarding house until a complex love affair leaves her pregnant and searching for options. Married in a hurry, Sunja ends up leaving her home behind for a new life in Japan. In our conversation with Minha Kim, the actress discusses the many layers of her character and the way the smallest textural details help build the world of "Pachinko."

This interview has been edited for clarity and brevity.
'This whole beautiful journey, and how she survived in this hard world, drew me to this project'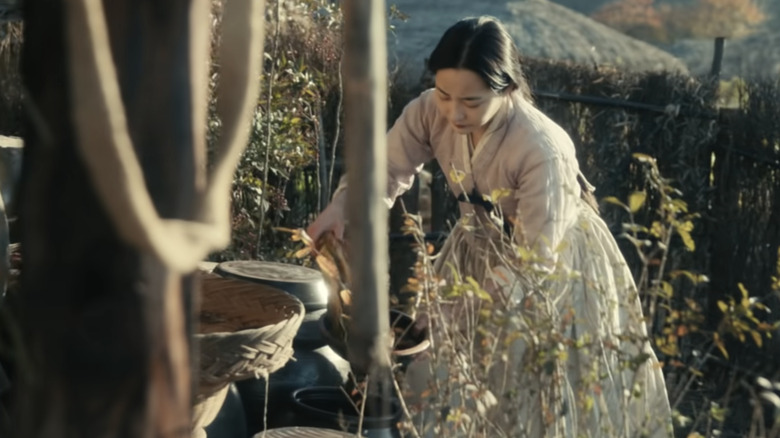 Apple TV+
What was it about Sunja that drew you to "Pachinko?"
The novel itself was really beautiful and I had a lot of connections to Sunja. This whole beautiful journey, and how she survived in this hard world, drew me to this project.
Because of that massive weight on her shoulders? When she's introduced to us, they call her the person who will carry on her family's legacy.
There's a lot of variations as she grows during the story. She confronts all these obstacles when she's growing up — she had a baby and she had a lot of tragedies in her life. So it shows a lot of differentiation, even though she's really young.
Was Sunja a collaboration between you and the other two actors playing her?
Yeah, it is a beautiful collaboration with Yu-na and YJ, because we were portraying the same character, just at a different age. We had very little chance to meet each other on the set. So I had a lot of conversations with the writers, or [showrunner] Soo [Hugh], and our directors. So it was not only my thoughts that portrayed Sunja.
One of her biggest emotional moments comes from just a scene with her mother and a bowl of rice, and I'm guessing that moment will bring everyone to tears. What was it like reading that scene on the page?
Every time I read that scenes, I cried so much. So on the set, I tried not to cry a lot. I don't know why, but that's why the food itself has a great energy. Like, it's not only the food, it's about the message. So every time I looked at the rice on the set, I couldn't stop crying.
What did you think of the way food factored into the story?
It takes up a lot of percentage, the food itself, because in our country, food is kind of like a language and it contains a lot of culture. So it's not only about eating things. It's about conveying our feelings, and our affection to each other. So it takes a great role in our show, too.
'While I was doing the performance, really I tried to be a butterfly'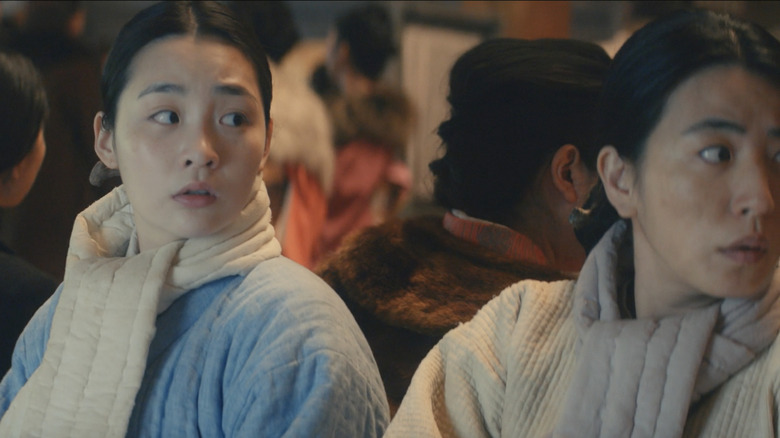 Apple TV+
Another big moment in this fourth episode comes when Sunja has to say goodbye to her mother.
Yeah. Saying goodbye to my mother. It was quite an emotional scene, too. I always kept thinking about my mom and my grandmother while I was filming it. So again, I tried not to cry so much, but also, the one person I felt really, really comfortable with was Yangjin [Jeong In-ji], my mother. So every time I really wanted to hold my tears, I couldn't help it, in front of my mom. So yeah, that's what I felt on the set.
Sunja makes this big move to Japan. I don't know if the episodes were filmed in order, but did it also feel like a shift for you to move locations as she enters a new environment?
Yes, because we had a lot of locations, and we had to move to Vancouver for a few months. I felt a kind of similar way with Sunja, that we are shifting places a lot.
And did that help the emotional journey that she's on? Were you on a similar path?
Oh, yes. Because every time I was in a different location, I felt like it was a whole new world for me.
There's also the detail of her costume changing over time, as she moves through those different stages of her life. Can you talk about those changes?
Like food, costumes contain a lot of stories, and it shows our status, right? So every time, the wardrobe and the clothes were very different compared to ... like before marriage and after marriage, and when I become a parent. It's all different. And I really love our wardrobe as well — it contains a lot of differentiation in the costumes. There was a quote [Sunja's] father [Lee Dae-ho] says: "Be like a butterfly." And while I was doing the performance, really I tried to be a butterfly and that creature was my motivation.
The first four episodes of Pachinko are available to stream on Apple TV+, with new episodes arriving weekly on Fridays.