Rian Johnson Had Some Wild Ideas For Daniel Craig's Knives Out Character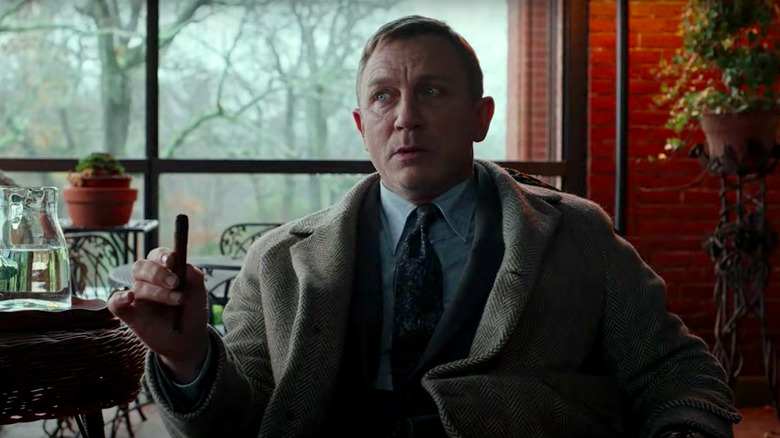 Lionsgate
Rian Johnson's "Knives Out" is nothing but pure fun. If you're like me and love the playful cleverness of quirky whodunits, then you likely also enjoyed watching Daniel Craig's savvy private investigator Benoit Blanc stir things up as he tries to uncover the murderer of famous mystery novel writer Harlan Thrombey (Christopher Plummer). Those who are most familiar with Craig as the sleek, sexy James Bond will no doubt still be enchanted with his quirkier, less deadly version of a man on the hunt. Benoit Blanc is simply delightful to watch as he carefully questions and observes everything in his quest for answers. 
Still, despite being admittedly less stoic than his Bond persona would have you believe, Craig's southern sleuth isn't even as wild as director Rian Johnson originally wanted him to be. Sure, his southern drawl makes him stand out amongst the wealthy Thrombey family, but his quirkiness in the finished film had potential to be dialed up even higher, and to be honest, I kind of wish that it was. 
The donut within a donut of Benoit Blanc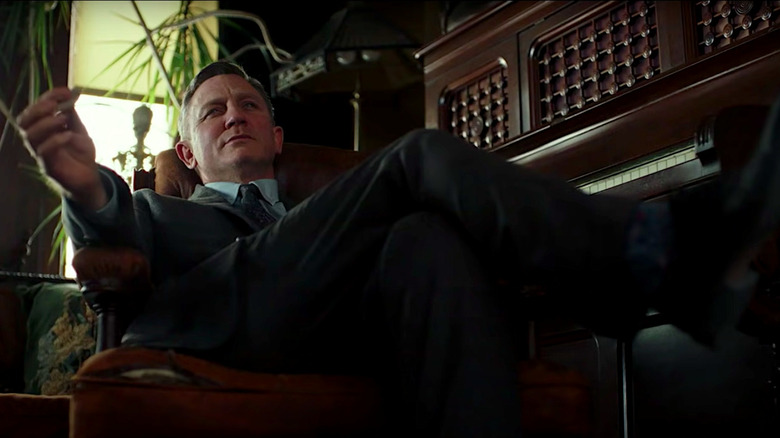 Lionsgate
The character of Benoit Blanc is eccentric and endearing. In one of his best moments, he performs a brilliant monologue that would give Christopher Walken's "Pulp Fiction" watch monologue a run for its money. In the scene, Blanc rambles almost incoherently about donuts and donut holes in his attempt to make a metaphor between donuts and the case at hand. "We see that the donut hole has a hole in its center. It is not a donut hole, but a smaller donut with its own hole, and our donut is not whole at all!" he shouts to a very confused Marta (Ana de Armas) and Detective Lieutenant Elliot (LaKeith Stanfeld). Craig delivers the lines perfectly, making the monologue at once both funny and serious, which seems to only elevate his donuts to another donut plane entirely. Yes, Blanc is a quirky man, but there are reasons for his quirks and reasons why he is a truly exceptional detective. 
In an article for The Guardian, director Rian Johnson talks about how he originally wanted Blanc to be even weirder. Johnson explained:
"Hercule Poirot, Miss Marple and Columbo all have an eccentricity of some kind. The problem was that, while I was writing, I wanted too many layers of eccentricity. It got ridiculous, like Poirot karaoke." 
While Johnson doesn't elaborate too much on every single thing he originally wanted the character of Blanc to do, he does give us one glimpse of the Blanc that almost was. "Benoit [had] an eyepatch at one point," he explained. While this does sound like it might have been a bit too much, I still can't help but yearn for a few minutes of footage of Craig in an eye patch performing that donut hole monologue, a moment so ridiculous that it seems almost impossible that the audience wouldn't want to take just one more little bite.