Robert Eggers' The Northman Will Be Fighting A Major Uphill Battle At The Box Office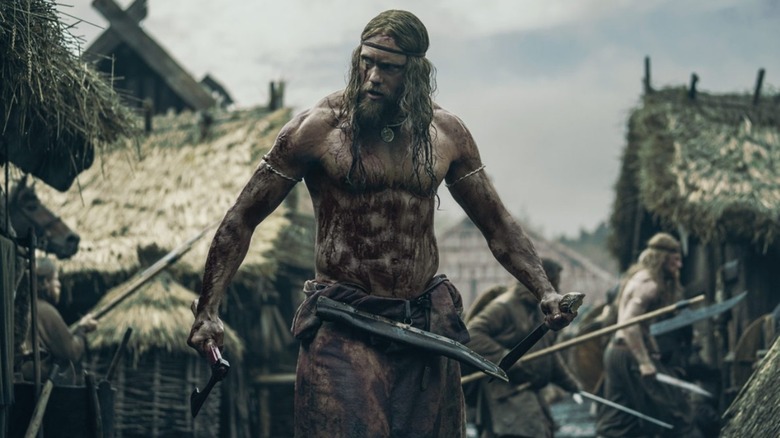 Focus Features
April isn't quite summertime for Hollywood, but in some ways, it's almost like an extension of the summer moviegoing season. Many big movies get released in April, as there are only so many weeks on the calendar in the actual summer. To that end, April of 2022 will see several big popcorn flicks hitting theaters in the form of "Morbius," "Sonic the Hedgehog 2," Michael Bay's "Ambulance," and "Fantastic Beasts: The Crimes of Grindelwald." But we're also going to get "The Northman," the Viking epic from director Robert Eggers, the man behind "The Witch" and "The Lighthouse." Unlike those films, however, this Viking epic is going to be epic in every sense of the word, including its surprisingly huge budget.
In a recent profile on Eggers in The New Yorker in anticipation of the movie's release, it was revealed that "The Northman" originally had an already pretty large budget for an artsy Viking epic — $65 million, to be exact. But the pandemic and other factors have seen that figure inflate to $90 million. And that's before marketing. Mind you, that's more than "Ghostbusters: Afterlife" ($75 million) and nearly as much as "Shazam!" ($100 million). And, though it pains me to say it, this is going to put a tremendous burden on the movie as it now faces a steep uphill battle at the box office. This is something even Eggers himself acknowledged in that very same profile.
"We had kind of an expensive, arty—but commercial—but arty, but commercial, like, Viking movie... Now everyone is kind of, like, 'If this isn't "Gladiator" or "Braveheart," we're f****d.' And the thing is: it isn't. It has aspects of that, for sure. But my best intention of doing 'Gladiator' or 'Braveheart' is still . . . weirder."
The realities of a budget that big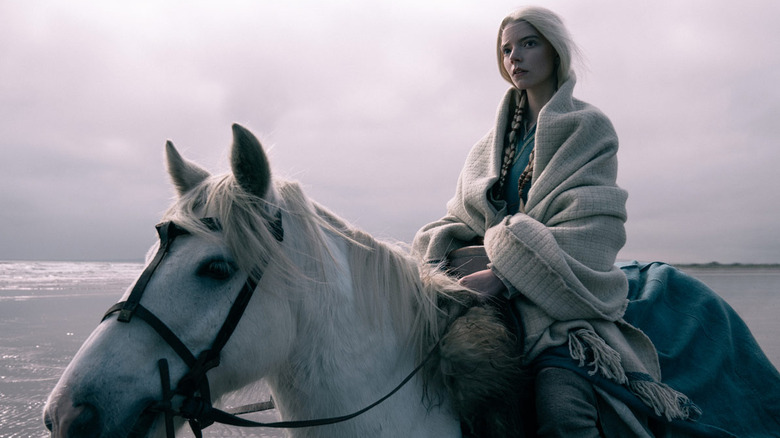 Focus Features
The fact of the matter is, a studio (in this case, Regency and distributor Focus Features) expects a big return when a budget gets that big. A rule of thumb is to double the production budget to account for marketing. Let's be generous and say they can market the film for the original $65 million budget, that still makes this a $155 million investment (at least) before anyone makes a dime. And studios generally only get about half of what is made at the box office (again, rough math) meaning that, if we're being nice, "The Northman" probably has to make around $300 million to break even. That is a very tall order.
And yeah, that does mean the studio is hoping this performs like a Best Picture winner like "Gladiator" ($465 million), or perhaps even a more artsy yet still commercially huge historical epic like "The Revenant" ($532 million). Yet, Eggers is a very artistic, visionary director, and even by his own admission, he didn't make a movie that is as crowd-pleasing as movies that can generally make that kind of money. Not to mention that he doesn't have Leonardo DiCaprio. The stacked cast for "The Northman" does include the likes of Alexander Skarsgard, Nicole Kidman, Anya Taylor-Joy, Ethan Hawke, and, interestingly enough, Bjork. But is that enough to get audiences out en masse around the globe?
Recent history suggests that it may well not be. Audiences are incredibly selective about what they will go to theaters for in the pandemic era, and artsy films disguised as blockbusters haven't performed all that well. Look at Ridley Scott's $100 million epic "The Last Duel," which topped out at just $30 million. Or perhaps we look at A24's acclaimed "The Green Knight," which made $18 million against a $15 million budget. The prospects are not great, and it brings me no joy to say that.
The problem for the future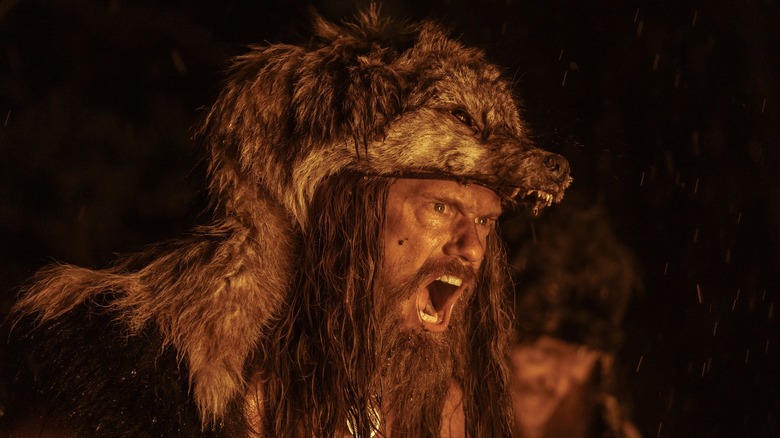 Focus Features
Here's the real problem. Sure, "The Northman" may well be another artistic achievement, the kind that we as lovers of cinema are lucky to have. Eggers is a guy people are rooting for, and for good reason. It's, in a way, very cool that he got this much money to make a big, artsy Viking revenge tale. That having been said, if this movie flops (and it is very tough to imagine it will make the money it needs to make), there will be consequences that the industry can ill-afford right now.
In the era of streaming, and with the box office on such uncertain ground, studios are going to be far more selective about what they green light and how they allocate production budgets. Several risky artistic movies from acclaimed filmmakers have already failed over the past year or so. Focus Features even suffered a misfire with Edgar Wright's "Last Night In Soho," as another example. If this movie fails, it is going to impact other movies in the future, particularly ones that will be made with theaters in mind. Therein lies the problem.
As I've argued in the past looking at movies like "Blade Runner 2049," we as moviegoers should want these movies to exist, it's just not great when they are seemingly set up to fail with an unreasonable financial burden. Am I personally happy I get to see a bloody, wild, $90 million Viking movie from the guy who made "The Witch" in a few weeks? You bet! Do I think it is a sound business decision? I most definitely do not, and unfortunately, the movie business is primarily a business, and it needs to function as such. Just let the record state that I hope I'm wrong and people do show up turning this into one of the year's surprise hits.
"The Northman" is set to hit theaters on April 22, 2022.
From visionary director Robert Eggers comes The Northman, an action-filled epic that follows a young Viking prince on his quest to avenge his father's murder.