The Daily Stream: Pedro Almodovar Finds The Humor And Horror Of Stockholm Syndrome In Tie Me Up! Tie Me Down!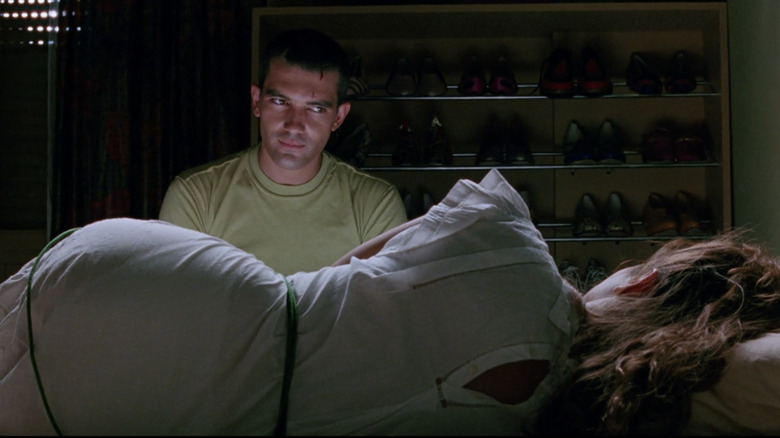 Miramax
(Welcome to The Daily Stream, an ongoing series in which the /Film team shares what they've been watching, why it's worth checking out, and where you can stream it.)
Movie: Tie Me Up! Tie Me Down!
Where You Can Stream It: HBO Max, Criterion Channel
The Pitch: Pedro Almodóvar has become one of the most acclaimed filmmakers in the world over the course of his four-decade career helming motion pictures, earning all sorts of rave reviews and awards in the process. With his most recent film nailing a couple of Oscar nominations, and an English language debut on the way, one may easily forget that at his core, Almodóvar is a punk rock provocateur who is completely unafraid to tackle so truly messy subject matter. It may not get messier than his darkly comic Stockholm syndrome masterpiece "Tie Me Up! Tie Me Down!" Through Almodóvar's bold lens, it expertly blows up the line between love and obsession, creating something overwhelmingly absurd, deeply terrifying, and all-around fascinating. If this film, one of the first to officially earn the NC-17 rating, were released today, it would be think-pieced into oblivion because of all the problematic tropes it plays with, but Almodóvar sees every single eggshell he has to avoid to make his way to the finishing line.
Why it's essential viewing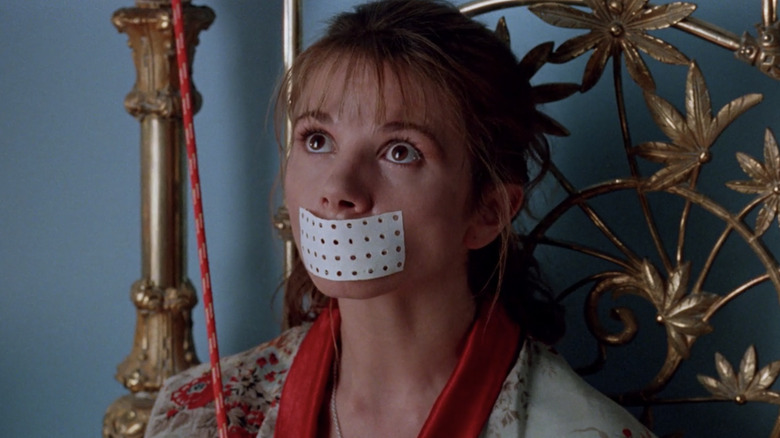 Miramax
Coming off the heels of his international breakthrough film "Women on the Verge of a Nervous Breakdown," Pedro Almodóvar took the goodwill he made from that exuberant, madcap picture and turned it into the darkness. "Tie Me Up! Tie Me Down!" stars Antonio Banderas as Ricky, a man recently released from a mental institution. He tells the doctor (who he has had an affair with) before leaving the hospital that what he wants to do is get married and have a family. What that actually means to him is kidnapping Victoria Abril's Marina, an actress he had a one-night stand with a year earlier, because he is convinced that he is madly in love and wants to spend the rest of his life with her. What follows is a riff on the "Beauty and the Beast" story, a push and pull dark love story between the captive and captor.
Some will understandably be turned away from "Tie Me Up! Tie Me Down!" based on the premise alone. There are far too many romantic movies that play out the scenario of a woman falling in love with her kidnapper completely in earnest, where how much the man obsesses over the woman is meant to be charming and a show of love. Almodóvar is too smart for that though. Banderas, one of Almodóvar's many muses, plays Ricky like someone who has seen all of these kinds of movies before and believes them to be an instructional manual for love and romance. He knows he has to be in control and tie her up to not let her go, but he would rather be making Marina breakfast and fixing her kitchen sink, playing house in the most screwed up way possible. Everything is done with a sly smile and a wink, knowing how naughty the whole situation is.
Predators come in all forms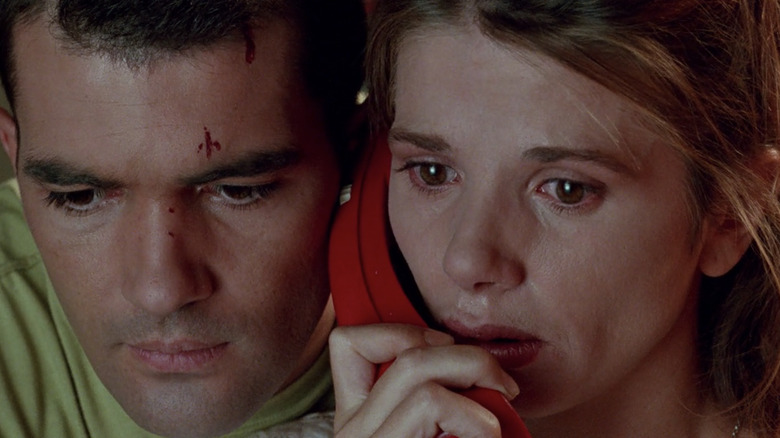 Miramax
Victoria Abril's Marina is making her first mainstream film. She had previously been an adult performer who caught the eye of Máximo (Francisco Rabal), the film's director. While Ricky's predatory behavior comes from a place of wanting love and a family, Máximo is all about sex. When she decides not to wear underwear for a scene to get rid of lines, all he can do is leer at her crotch. He openly watches her porn in front of his wife, calling her out of the blue, and constantly saying to people that he needs to see her. He is just as obsessed as Ricky but purely from the want to objectify her. Conversely, when Marina undresses in front of Ricky and asks him to turn his head, he obliges, never even trying to sneak a peek (which is such a common trope in movie scenes). The lurid Máximo would not be as accommodating.
The film Máximo is making is a horror film, one in which Marina's character is supposed to die. He cannot bear to do that, changing her fate and having her overcome the monster after her. As the film develops, he realizes his movie is transforming from a horror film into a love story, just as "Tie Me Up! Tie Me Down!" does. Pedro Almodóvar's ability to swerve between tricky tones and material truly is unparalleled. He has empathy for people of all stripes and knows human relationships never are exceptionally complicated. For a film like this, everything you find problematic is meant to be there, wanting you to engage beyond your initial shock. Laughing along with it is good too. "Tie Me Up! Tie Me Down!" as a title is a joke in and of itself. You have the image of literal captivity juxtaposed against the language of a serious relationship or marital bond. A story like this could only make perfect sense in the heightened world of Pedro Almodóvar.