Ralph Fiennes Paid A Big Price While Preparing For His Schindler's List Role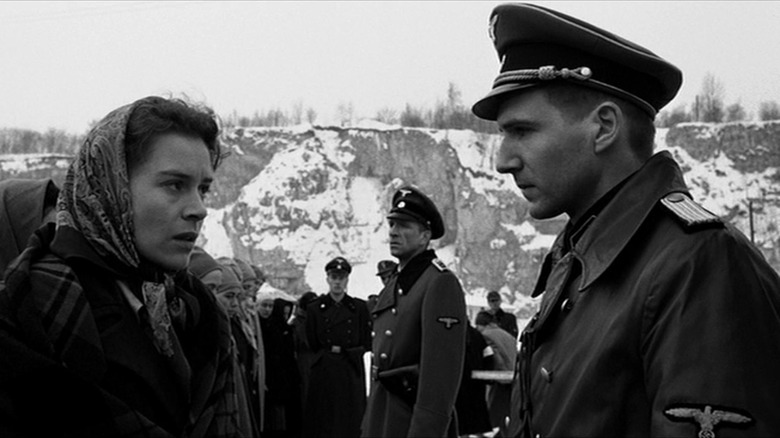 Universal Pictures
When it comes to preparing for roles, actors have historically gone to extreme lengths. Commonly called "the method," actors often find themselves diving so deep into a role that it comes at a physical or emotional cost. Brad Pitt chipped his front teeth for his role in "Fight Club," Robert Pattinson channeled his inner-chiropterologist (that's someone who studies bats) to become Batman, and Isabelle Fuhrman trained until her hands bled for the role of Alex in "The Novice." Some actors say the process changes them forever.
But where does one begin to prepare to play the leader of a Nazi concentration work camp? That's what Ralph Fiennes had to discover for himself once he was cast in a prominent role for the Steven Spielberg's World War II drama "Schindler's List." Fiennes has said that he went so deep down the rabbit hole that he began to sympathize with the Nazi leader.
He understood the appeal of Nazi recruitment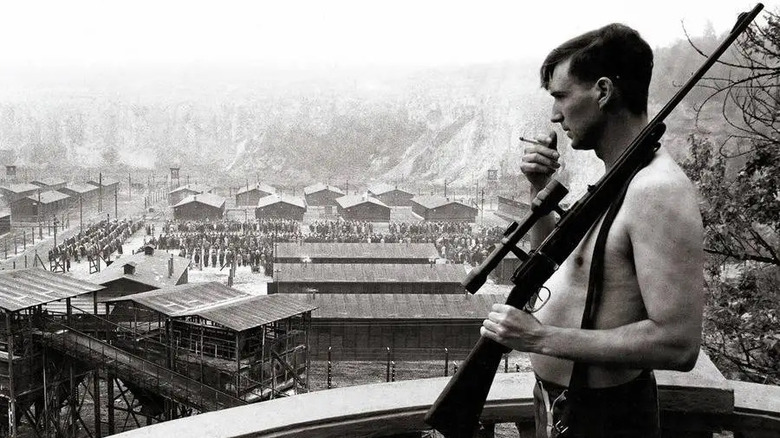 Universal Pictures
"Schindler's List" is the true story of Oskar Schindler (Liam Neeson), a businessman and member of the Nazi party who saved more than 1,000 Jews during the Holocaust by employing them in his factories. Spielberg's film won seven Academy Awards, including Best Picture. Ralph Fiennes was nominated for Best Supporting Actor for his portrayal of SS officer Amon Göth.
According to the New York Times, Fiennes had to immerse himself in Nazi material to get a sense of the Amon Göth character. This included watching Nazi propaganda films such as "Triumph of the Will" and recruitment movies. Fiennes said he came to understand the draw to the sense of "power, the order and hierarchy, and the patriotism" that the recruitment literature and films were meant to evoke.
When it came to becoming Göth physically, Fiennes packed on 26 pounds, believing that the Nazi leader turned to food and alcohol because of the atrocious acts he would commit. The L.A. Times reported that Fiennes' regimen included three full meals a day, plenty of Guinness, and a weight-gainer made of vegetable fat. The physical transformation was necessary as the script featured scenes with Göth appearing shirtless as he oversaw the Nazi work camp.
Playing such a barbarous character so rooted in reality makes you wonder: what kind of toll does it take on an actor?
Fiennes found himself relating to the character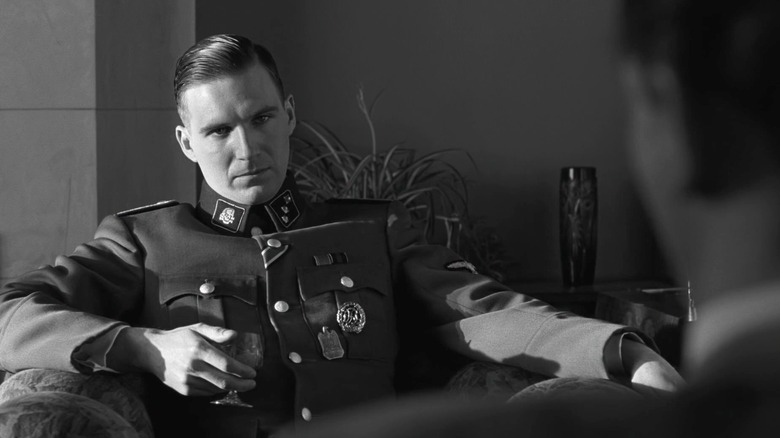 Universal Pictures
Fiennes understands the psychology behind the process of becoming someone as nasty as Amon Göth and knows that it's all but impossible to avoid any lingering effects from the role. He ruminated:
"I think there was a price to pay for this one. When you're investigating behavior that is that negative so intensely for three months, then you feel sort of peculiar because you might have at moments enjoyed it and at the same time you feel slightly soiled by it. It just throws up all kinds of question marks, about acting, about human behavior, about how all of that is probably a lot closer to the surface than we like to think."
The preparation was followed by a harrowing five-month shoot in Poland. According to Entertainment Weekly, the production was miserable on multiple levels. Temperatures would dip as low as 15-below zero. The cast and crew were met with anti-Semitic messaging on billboards. All the while, director Steven Spielberg was waging a silent war with the studio for the film's authenticity, including battles to shoot in black and white and film outside the Auschwitz concentration camp.
The reality of the production led to the unlikely situation of Fiennes relating to the despicable character he portrayed. "If you are playing a role, you are immersing yourself in thinking about that character, how he moves, how he thinks," Fiennes said. "In the end, he becomes an extension of your own self. You like him." A heavy price to pay for an important role in such a poignant movie.