How To Watch Mystery Science Theater 3000 Season 13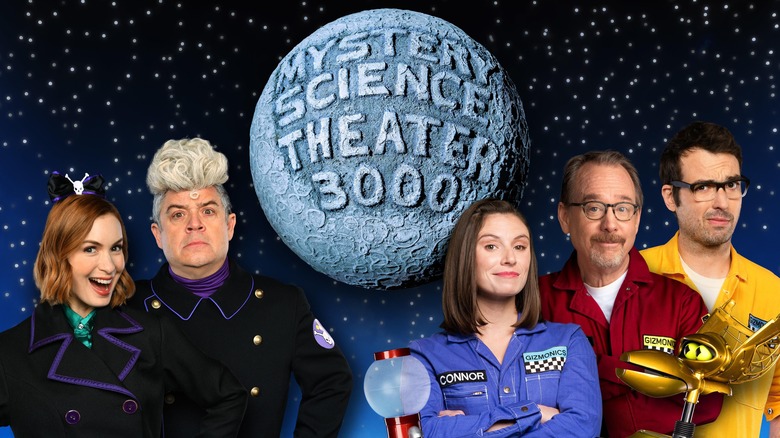 The Gizmoplex
"Mystery Science Theater 3000" is back at it again, this time with a lucky 13th season for its dedicated fanbase to enjoy. First airing in 1988 on KTMA-TV (now WUCW) in Minneapolis, Minnesota, the show was an underground oddity for a while until Comedy Central picked it up from 1989 through 1996, after which point it was canceled to immense fan uproar. This caused Sci-Fi to pick it up, for it only to be canceled again after a two-year run concluding in 1999. It would appear that the show, dubbed "MST3K" for short, would forever remain a late-20th century anomaly, garnering a cult following of cinephiles who can't get enough of bad B-movies and the hilarious commentary the show's human and robot hosts offer as the films play. Flicks ranging from "Manos: The Hands of Fate" to "Danger: Diabolik" were lampooned to great effect, which actually resulted in an increased interest in these otherwise obscure films that may have simply been lost to time.
While Netflix revived the show for the 21st century in 2017, giving audiences an 11th and 12th season of the show, it became clear that the creators desired a way to independently deliver "MST3K" episodes to viewers. With the show's forthcoming 13th season, they were able to do just that thanks to a successful Kickstarter campaign. So let's step onto the Satellite of Love and gaze at what's coming our way on this season of "Mystery Science Theater 3000".
Get ready to launch The Gizmoplex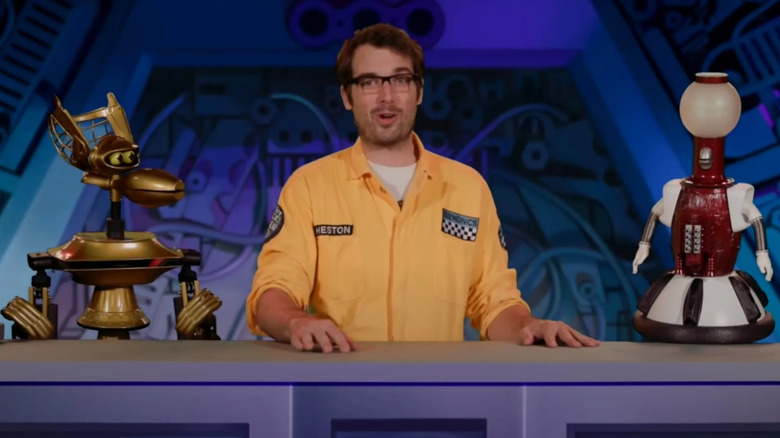 The Gizmoplex
That's right, "MST3K" will now be available to stream through its very own service called The Gizmoplex, which will exclusively run new episodes every other week for the next year. It took 218 episodes and a feature film to get here, but it's amazing that a show with such low-budget roots has been able to sustain a fanbase that fervently supports the best practices for the team behind the content. 
For the inaugural weekend of The Gizmoplex, a weekend-long lineup of new "MST3K" episodes will air. "Santo in The Treasure of Dracula" will kick things off on May 6, followed by "Robot Wars" on May 7, and "Beyond Atlantis" on May 8. For those curious as to how to navigate this new streaming service and the new episodes it'll be producing, here's a handy excerpt from the new season's official press release:
"To see the new season, visitors will be able to buy tickets to livestream events ($10 each), rent the new episodes ($8 each), or get a 'Season Pass' ($135) that includes tickets to over 25 livestream events and a digital copy of the new season to keep!

Plus, to celebrate the launch of the Gizmoplex, all visitors will be able to stream every available classic episode of MST3K for free – on demand and without commercials – for a limited time! The Gizmoplex will be available via a web portal and also on a wide variety of OTT platforms, including apps for both iOS and Android devices, Roku, Amazon Fire TV, and more."
What can we expect from season 13?
While the first weekend of films has already been announced, there's certainly a trove of cinematic trash/treasure that awaits viewers, with the official trailer featuring a slew of titles to be tackled in the forthcoming season, including "Munchie" and "Demon Squad." For a full run-down of what's to come, the jam-packed trailer is just a click away.
If you want something a bit more in-depth to satisfy your curiosity ahead of the season's May release, here's a synopsis hot off of the official press release:
"For the first time, not one, but three humans will be subjected to the bittersweet agony of watching the world's cheesiest movies, as returning test subject Jonah Heston (Jonah Ray) shares hosting duties with the newest kidnapped Gizmonic technician, Emily Connor (Emily Marsh) and original host Joel Robinson (show creator Joel Hodgson).

Accompanied by wisecracking robot pals Crow T. Robot (Hampton Yount / Kelsey Ann Brady), Tom Servo (Baron Vaughn / Conor McGiffin) and GPC (Rebecca Hanson / Yvonne Freese), our heroes will have to survive 13 new movies, 12 new shorts, and the unveiling of Kinga's newest scheme for world domination: THE GIZMOPLEX, the First Cineplex on the Moon. Will they finish the season with their sanity intact?"
Also re-joining the cast will be Felicia Day as Kinga Forrester, Patton Oswalt as Max, and Mary Jo Pehl as grandmother Pearl Forrester. Stacked in every possible way, it appears that 13 really might be the show's lucky number after all.