Will Smith Has Been Chasing That Oscar For A Long Time
Last night at the 94th Academy Awards, Will Smith finally got the Oscar that he's been hunting for so long. The win came after some drama that threatens to overshadow a momentous occasion for Smith, but it remains a major moment regardless. Smith won Best Actor for his portrayal of Richard Williams, the father of tennis superstars Venus and Serena Williams, in the film "King Richard."
With the honor, Smith becomes the fifth Black man to win a lead actor Oscar in the Academy's long history. His name goes up alongside Sidney Poitier (who won for "Lilies in the Field"), Denzel Washington ("Training Day"), Jamie Foxx ("Ray"), and Forest Whitaker ("The Last King of Scotland").
Smith already lost to two of those actors in that list. Washington's win for "Training Day" won over Smith's nomination for "Ali", and Whitaker's win for "The Last King in Scotland" shut out Smith, nominated for "The Pursuit of Happyness." Even this year, Smith was up against Washington, who was nominated in the category for his work in "The Tragedy of Macbeth."
Six degrees away from an Oscar
Smith has been angling for an Oscar since his star began to rise with "The Fresh Prince of Bel-Air" on television. The rapper-turner-actor set his sights high from the very beginning. His first major Hollywood role was in "Six Degrees of Separation," an adaptation of the play of the same name, based on a true story. Smith played a young man who cons New York socialites into thinking he's the son of actor Sidney Poiter, opposite veterans actors like Donald Sutherland, Stockard Channing, and Ian McKellan.
It was a role that was somewhat beneath Smith's potential pay grade at the time, but it was one well-placed to show Hollywood that he could act. Smith played a gay black man conning his way into white high society — a far cry from his comedic persona on "Fresh Prince of Bel-Air," and that was on purpose. In fact, the role came from advice Smith gained from his long-time manager, James Lassiter.
"People are not taking you seriously yet as an actor," Lassiter told Smith, in recollections from Thrillist. "We gotta go against stereotypical roles. We need to make people forget they're watching a rapper." Smith dove headfirst into the role, learning more about the acting craft from Sutherland and Channing.
Float like a butterfly, sting like an Oscar winner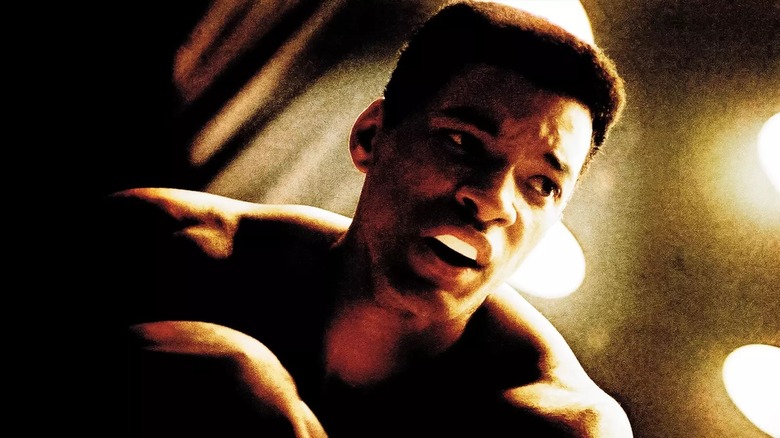 Sony
Smith immediately followed "Six Degrees of Separation" with "Bad Boys" two years later, a role that made him a blockbuster action star. He never stopped chasing that trophy though. If you look through his filmography, you can see Smith doing an Oscar contender every few blockbusters.
1999's "Wild Wild West" was followed by two dramas, "The Legend of Bagger Vance" and "Ali," the latter of which nabbed him his first Best Actor nomination. The animated film "Shark Tale" and the crowd-pleasing rom-com "Hitch" were immediately followed by "The Pursuit of Happyness," where Smith portrayed a poor single father trying to find success and raise his son. Once again, Smith got the nomination, but not the win.
There are a number of misses over the years though. "Concussion" was a film where Smith played a doctor trying to blow the whistle on the excess of cases of chronic traumatic encephalopathy (CTE) in the NFL. Smith got a Golden Globe nomination for Best Actor, but no Oscar chance. Likewise, there's the drama "Collateral Beauty," where despite starring in the film, Smith was outshone by Naomie Harris. (Harris would also end up being nominated for Best Supporting Actress that same year for "Moonlight".) And let's not even get into the full duds in his career, like "After Earth" and "Bright". "Fairy lives don't matter," indeed.
Finally taking the trophy
Leading up to this year's Academy Awards, Smith won a Golden Globe for Best Actor and Screen Actors Guild awards for Outstanding Performance by a Male Actor in a Leading Role. He also released an autobiography covering his early life and lengthy acting career. It felt like Smith knew this year was his chance at the win. His Oscar campaign was in full swing.
"This one is really different. It's one thing to be singularly nominated. And it's another thing when it's the entire group, the film," he told the LA Times. "This could have been a much smaller story. But the audience recognizing the universal gifts and power of the ideas in this film, it is beautifully uplifting and inspiring for me."
With the Oscar win behind him, it's likely time for Smith to swing back towards the blockbuster side of things. 2021's "King Richard" followed big-budget crowd-pleasers like "Bad Boys for Life" in 2020 and "Aladdin" in 2019, for example. On his immediate docket we do see a mix of films however, including a sequel to "Aladdin", a follow-up to Netflix' "Bright," and "Emancipation," a drama from Antoine Fuqua that'll see Smith playing a runaway slave. That last one is likely Smith looking ahead to his next Oscar nomination.