Only Murders In The Building Season 2 Premieres In June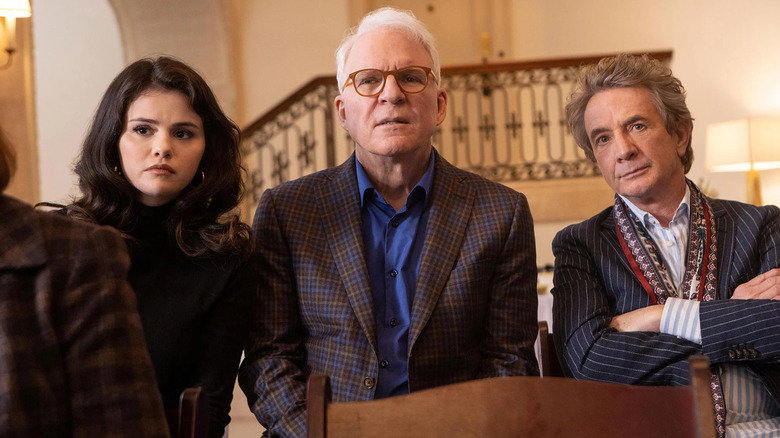 Hulu
UPDATE: Hulu has gone ahead and solved this mystery, revealing that "Only Murders in the Building" season 2 will premiere on June 28, 2022. There's a new synopsis, too:
Following the shocking death of Arconia Board President Bunny Folger, Charles, Oliver & Mabel race to unmask her killer. However, three (unfortunate) complications ensue – the trio is publicly implicated in Bunny's homicide, they are now the subjects of a competing podcast, and they have to deal with a bunch of New York neighbors who all think they committed murder.
The original story continues below. 
It's just mysteries on top of mysteries with "Only Murders in the Building," folks — and they've brought us another one in the form of a new image to decipher on the show's official social media accounts. To be honest, it feels like a potential season 2 release date announcement, but it's certainly a mystery to unravel. Hulu shared a photo of an elevator button panel via the series' Twitter account on Thursday, March 24. The panel included the show's logo up top and the network's logo on the bottom, as well as three illuminated floors: floor 2, floor 6, and floor 8 out of 14 floors.
Obviously, the meaning of the numbers is up in the air — but them having something to do with a season 2 release date is likely. So let's break this down a bit more: If the 2 corresponds to season 2, then the 6 and 8 give us two potential dates: Wednesday, June 8, and Saturday, August 6. Hulu tends to release their original series on Tuesdays, Wednesdays, or Fridays, which makes the August 6 date less likely than June 8. There's also another option: If the number 2 factors into the potential date rather than signifying the season itself, that gives us two more potential dates: Tuesday, June 28, and Friday, August 26. 
At this point, however, what the numbers really mean is anyone's guess.
What does it all mean?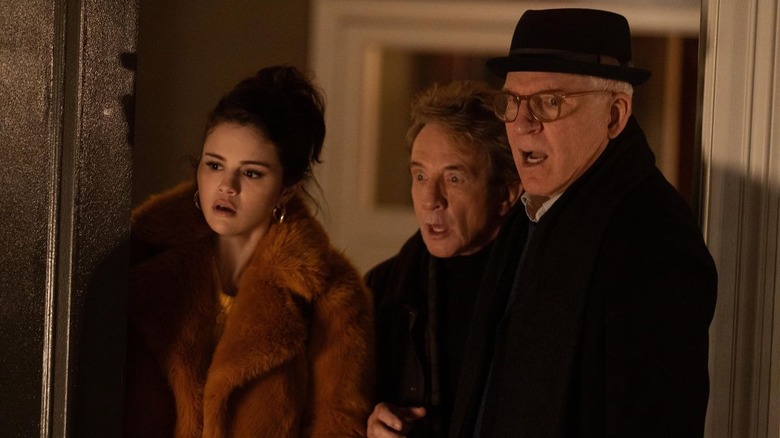 Hulu
Fans will probably deduce that since Charles, Oliver, and Mabel — our leads Steve Martin, Martin Short, and Selena Gomez respectively — live in Apts. 14C, 10D, and 12E, it rules out the idea that the 2, 6, and 8 correspond to their individual floors. Another note for the sleuths out there: most New York City apartment buildings do not have a 13th floor — and yes, that is solely out of superstition — so the absence of a 13th floor button isn't a hidden clue in and of itself.
Season 1 of "Only Murders in the Building" concluded in August 2021, and by the following month, the streaming platform had ordered a second season of the true crime comedy.
Hulu previously announced exciting cast additions for season 2, including "Carnival Row" star Cara Delevingne, "Evil" star Andrea Martin, "Life & Beth" star Amy Schumer, "Atypical" star Michael Rapaport, Oscar winner Shirley MacLaine, and "Fear the Walking Dead" star Zoe Colletti. Delevingne will take on a new series regular role, while Rapaport is joining in a recurring role. MacLaine and Schumer will join in guest-starring roles.
Production began on Season 2 on December 1, 2021, so the team behind the series had been hard at work for a while. However, it seems like they're leaving it up to us to decipher when the show returns — at least for the moment.