Clips Round-Up: Boon Intimidates, So Cold The River Washes You In Fear, & More! [Exclusive]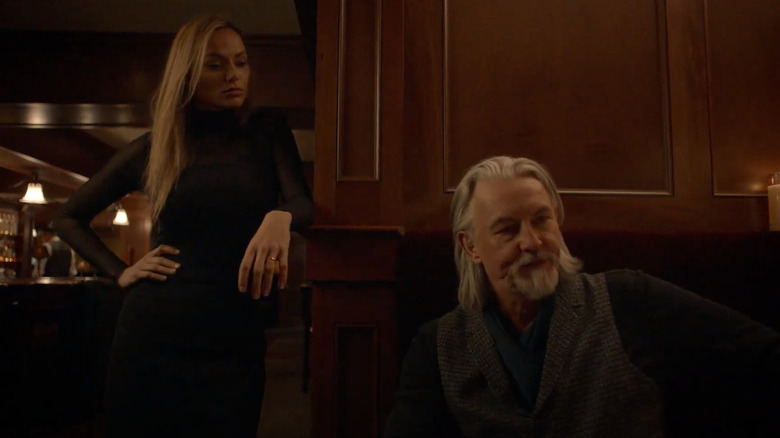 Cinedigm
(Welcome to SlashClips, a series where we bring you exclusive clips from hot new Digital, Blu-ray and theatrical releases you won't see anywhere else!)
In this edition:
"Boon"
"So Cold the River"
"Godforsaken"
"The Institute"
Boon
First up we have Tommy Flanagan and Gabrielle Carteris having a confrontational moment at a restaurant in an exclusive clip from the new action flick "Boon." Also starring Neal McDonough, Christiane Seidel, Jason Scott Lee, James Madio, Demetrius Grosse, and Christina Ochoa, the film is set to arrive in theaters, on demand, and digital April 1, 2022. 
Here is the official synopsis:
Mercenary Nick Boon (McDonough) is trying to atone for his life as an enforcer for a ruthless syndicate. Running from his past, Boon moves to a remote area in the pacific northwest where he meets a struggling widow (Seidel) and her son. When he finds the pair living in fear of a criminal kingpin (Flanagan), Boon realizes the only way to protect them is to do what he does best: Kill.
So Cold the River
Next, we have an exclusive clip from Lionsgate's psychological thriller "So Cold the River," starring Bethany Joy Lenz from "One Tree Hill." The film will be available in theaters on March 25, 2022.
Here is the official synopsis:
A chilling, suspenseful adaptation of The New York Times bestseller, SO COLD THE RIVER by Michael Koryta. Acclaimed documentary filmmaker Erica Shaw (Bethany Joy Lenz, "Dexter") is hired by Alyssa Bradford-Cohen (Alysia Reiner, "Orange is the New Black") to profile her dying father-in-law, the enigmatic millionaire Campbell Bradford. Erica is presented with a substantial sum of money and a relic, an antique bottle filled with water from a local spring, one of the few clues connecting Bradford to the town he once dominated. While researching Bradford as a guest of a massive, opulent resort with a dark past, Erica meets unofficial town historian Anne McKinney (Tony Award-winner Deanna Dunagan), fanatical intern Kellyn (Katie Sarife, "Annabelle Comes Home") and hotel maintenance worker Josiah (Andrew J. West, "The Walking Dead"), a descendant of Bradford's who reveals the familial curse of mysterious deaths and suicides. Seemingly possessed by the relic, Erica begins drinking from the antique bottle, experiencing terrifying visions and, ultimately, unleashing unspeakable evil. Can Erica make her way through the darkness or is Campbell's evil undercurrent too strong?
Godforsaken
Here's Terror Films' latest horror offering "Godforsaken," which will premiere on the Terror Films Channel on March 25, 2022, followed by a worldwide digital release on April 8. The film stars Chad Tailor, Mélie B Rondeau, Katie Fleming, Chris Kelly, Domenic Derose, Nicole Fairbairn, JoAnn Bundock, and Flora Burke.
Here is the official synopsis:
An indie filmmaker visits his hometown to attend a childhood friend's funeral. When she seemingly rises from the dead during her wake with mysterious abilities, he and a group of friends begin to investigate and record the town's experience as they try to get to the truth. Some claim she is God; some claim she is pure evil. They soon learn that not all miracles are holy.
The Institute
Finally, we have an exclusive clip from the acclaimed horror-thriller "The Institute" from director Hamza Zaman and starring Grammy award-winner John Easterlin, which is now available on DVD, Blu-ray and digital from Gravitas Ventures. Playwright Hamza Zaman's feature directorial debut stars Ignacyo Matynia ("A Good Cop"), Victorya Brandart ("The Bay"), Mark Lobene, Joy Donze, Claire McClain, Louisa Bradshaw, and Jarred Harper.
Here is the official synopsis:
The film tells of a young couple, desperate to have a child, that begin treatment at a renowned doctor's secluded facility. The couple becomes suspicious when the medical regimen brings on psychological side effects and try to learn the truth about The Institute.