Roar Trailer: Nicole Kidman, Alison Brie, And More Star In Anthology Series From GLOW Creators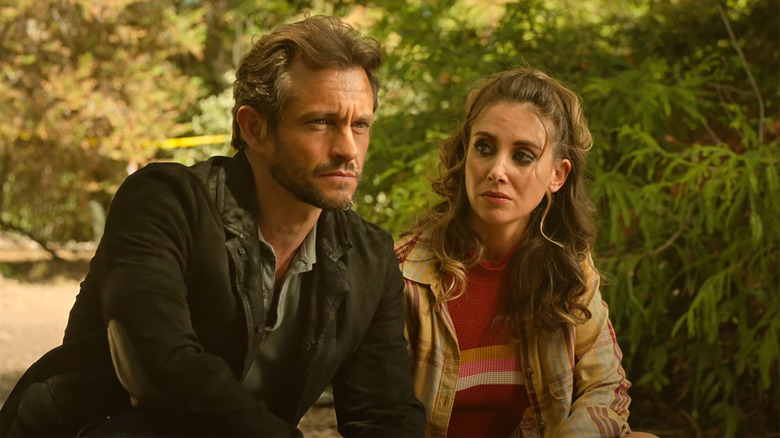 Apple TV+
Being a woman can be enough to make you want to roar, and that's what the ladies of the latest Apple TV+ anthology series are doing. In the aptly titled "Roar," we'll see eight feminine fables that follow a different woman in a bizarre circumstance. There's a woman who sits on a shelf, a woman who eats photographs, and a woman who solves her own murder, and that's just for starters. The series is the latest from the talented team behind the canceled-too-soon perfection of "GLOW," so it's sure to be razor-sharp satire with just the right amount of heart. The trailer for the series has dropped, giving each woman's story a quick introduction in order to grab our attention. Each of the stories looks interesting, but Alison Brie trying to solve her own murder when she was killed by the insanely attractive Hugh Dancy? This series just went from having my interest to having my rapt attention. 
Hear them roar
The eight half-hour episodes are described as "genre-bending" and "told from a uniquely female point of view." The series is executive produced by Nicole Kidman (who also stars in one of the episodes, as the woman who eats photographs), and was created by Liz Flahive and Carly Mensch. It's based on a book of 30 short stories of the same name by Cecelia Ahern, which means that if it does well, there could potentially be more seasons with additional stories. 
The cast for this series is incredible: "GLOW" alumni Brie and Betty Gilpin each star in their own episode, along with Kidman, Cynthia Erivo, Meera Syal, Fivel Stewart, Kara Hayward, Issa Rae, and Merritt Weaver. Dancy hasn't been announced in any official capacity, but that jawline is impossible to mistake for anyone else's. Even Brie's character recognizes the chisel, commenting that "it's annoying" that he's actually "kind of attractive," stating what fans of NBC's "Hannibal" have known for years. 
So who are the women of "Roar"? Kidman is the previously mentioned "woman who eats photographs" and Brie is "the woman who solves her own murder," but what about the rest of the cast? Gilpin is "the woman who was kept on a shelf," Rae is "the woman who disappeared," Syal is "the woman who returned her husband," Stewart is "the woman who loved horses," Wever is "the woman who was fed by a duck," and Erivo is "the woman who found bite marks on her skin." Each of these stories feels like something out of a feminist version of "The Twilight Zone," with a funny twist. 
All eight episodes of "Roar" will drop on Apple TV+ on Friday, April 15, 2022.