Did You Catch The Frozen Easter Egg In Encanto?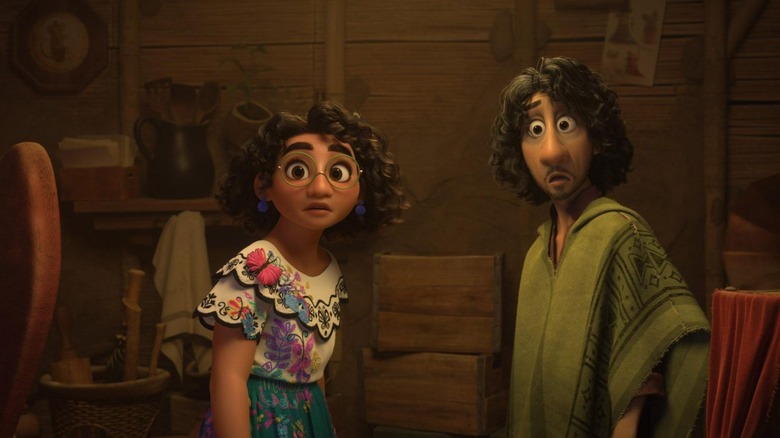 Walt Disney Animation Studios
Disney's "Encanto" is among its most charming offerings in recent years, and it's also a heart-warming story about family, forgiveness, and strength. Helmed by Lin-Manuel Miranda, the film is musically vibrant, reminiscent of Miranda's award-winning work as a lyricist in "Hamilton" and "In The Heights," and it features impressive, immersive animation, making it a devastatingly beautiful film to look at. "Encanto" has something for everyone — it paints a colorful cultural portrait while capturing viewers' hearts with its endearing characters. It also has a cool blink-and-you-miss-it easter egg that would charm any enthusiastic Disney fan with a keen eye.
Before "Encanto," Disney crafted a certified hit in the form of "Frozen," which became the highest-grossing film of all time upon its release in 2013. Since then, the film has become a massive pop culture phenomenon, the bane of every parent's life, and a brand new story to inspire Easter eggs in Disney's new movies. From "Moana" to "Tangled," fans have discovered several "Frozen" easter eggs in Disney's newest slew of animated films. "Encanto" has joined the pack with a nod to the movie's most famous song, even if the film's climate in the mountains of Colombia doesn't exactly lend itself to snow. 
Note: There are spoilers for the ending of "Encanto" below.
The Madrigals love Frozen, too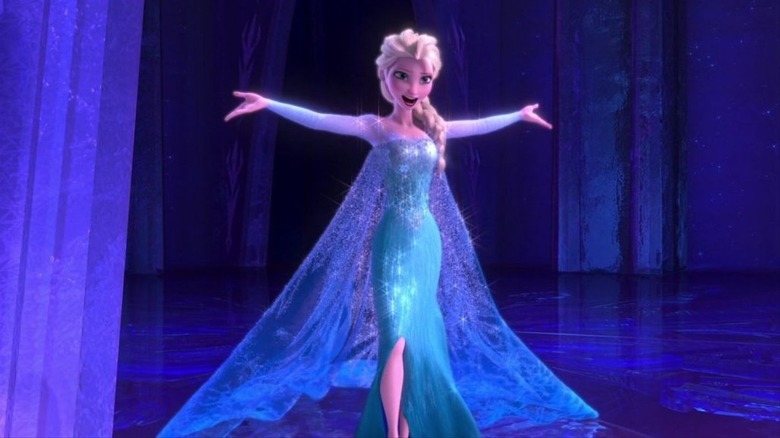 Walt Disney Animation Studios
"Encanto" includes many easter eggs referencing popular Disney films such as "WALL-E," "Hercules," "Mary Poppins," and there's even a nod to the British sci-fi series "Doctor Who." For instance, Bruno's secret room has a boot with a plant growing from it, and a character says the phrase, "It's bigger on the inside!" while running into Antonio's new room — the exact phrase repeated by multiple "Doctor Who" characters when they enter the TARDIS for the first time. People fly using umbrellas much like "Mary Poppins," and "Encanto" also features a direct reference to "Frozen" and the movie's most famous song — "Let It Go."
At the end of the film, after the Madrigal family has endured a worrisome threat to their magical legacy, the outcast family member Bruno makes amends with his siblings Pepa and Julieta. He hopes to encourage his sister Pepa to feel her emotions and harness her powers fearlessly instead of worrying about its consequences. Bruno sings the words "let it snow, let it go," referencing Elsa's popular song "Let It Go," penned by Kristen Anderson-Lopez and Robert Lopez.
Bruno's use of "let it snow, let it go" is a sweet way to compare the two films and the two characters of Pepa and Elsa, who were both gifted with powers connected to their emotions, making them distraught over being able to use them freely. Where Elsa can control ice, Pepa has control over the weather. Bruno singing the song is a lovely reminder of how Pepa and Elsa are connected by the same emotions and powers despite being in two alternate universes. Plus, it might insight some debate about whether "Frozen" or "Encanto" is the better Disney musical. For what it's worth, the "Encanto" song "We Don't Talk About Bruno" has surpassed "Let It Go" as the biggest Disney song ever.