The Morning Watch: Behind The Scenes Of The Adam Project, The 2022 Oscars Honest Trailer & More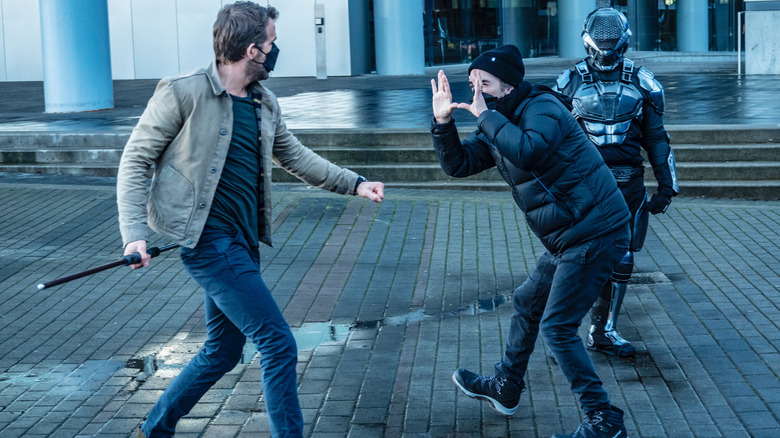 Netflix
(The Morning Watch is a recurring feature that highlights a handful of noteworthy videos from around the web. They could be video essays, fan-made productions, featurettes, short films, hilarious sketches, or just anything that has to do with our favorite movies and TV shows.)
In this edition, go behind-the-scenes of "The Adam Project" with star Ryan Reynolds, director Shawn Levy, and the rest of the film's cast and crew. Plus, Honest Trailers delivers its humorous commentary on Steven Spielberg's "West Side Story" remake, Denis Villeneuve's "Dune" movie, and the other eight nominees for the Best Picture Oscar at the 2022 Academy Awards. And finally, How to Drink host and creator Greg makes a Peace Train, the beverage that Leota Adebayo (Danielle Brooks) describes as a "feces drink" in the first season of James Gunn's "Peacemaker."
Netflix goes behind the scenes of The Adam Project
First up, the Netflix Film Club has released a video that goes behind the scenes of "The Adam Project," a time-travel adventure that reunites Ryan Reynolds with his "Free Guy" director Shawn Levy. The featurette is composed of clips that show Levy, Reynolds, and the rest of their crew shooting the movie's many action-driven scenes, juxtaposing them with the final versions as they appear in the film itself. Reynolds notably does a lot of his character Adam's close-quarter fighting and stunts himself, which had the benefit of allowing Levy and his crew to capture these brawls in fluid, steady takes, rather than having to chop them up in editing to better hide when Reynolds' stunt-double, Alex Kyshkovych, subbed in for the actor. While there aren't too many bloopers (you can see those elsewhere), there is a funny moment where Reynolds' co-star, Mark Ruffalo, realizes he's still got his Covid face mask on mid-scene.
Honest Trailers takes on the 2022 Best Picture Oscar nominees
Next, Screen Junkies has unveiled its Honest Trailer for the 10 films nominated for the Best Picture Oscar at the 94th annual Academy Awards, starting with Steven Spielberg's "West Side Story" (a movie "from the one director your grandma can name," as the Epic Voice Guy puts it). Most of the video's segments engage in the type of comedic criticism that Honest Trailers is known for, taking potshots at everything from Apple TV+'s lack of big-name franchises to the fact that both "Belfast" and "Cats" end with Judi Dench speaking directly to the camera. However, it mixes things up a little for "Nightmare Alley," delivering the jokes in the style of a fast-talking carnival worker hyping the show's latest attraction. What's more, rather than repeating any of the gags from the "Dune" (2022) Honest Trailer, it teases Screen Junkies' upcoming video for "Euphoria" featuring "Dune" star Zendaya (so there is, in fact, a direct link).
How to Drink makes the Peace Train from Peacemaker
Finally, How to Drink wraps things up by demonstrating how to make a Peace Train from "Peacemaker" season 1. For those who've yet to watch James Gunn's "The Suicide Squad" spinoff series or could use a quick refresher, this is the drink that Christopher Smith (John Cena) makes for Leota Adebayo (Danielle Brooks) when she's over at his place. A mix of "gin, vermouth, vinegar, peppercorn, a little maple syrup, and some yak butter" (though Chris admits he had to use normal butter), Leota quickly spits it out after a single sip, calling it a "feces drink." On top of mixing this beverage for real, How to Drink host and creator Greg puts together what he dubs a "mid-century drink" that's also known as the Peace Train, admitting it's far less interesting (for better or for worse) than Peacemaker's concoction of the same name.