John Wayne Almost Walked Away From One Of His Most Beloved Roles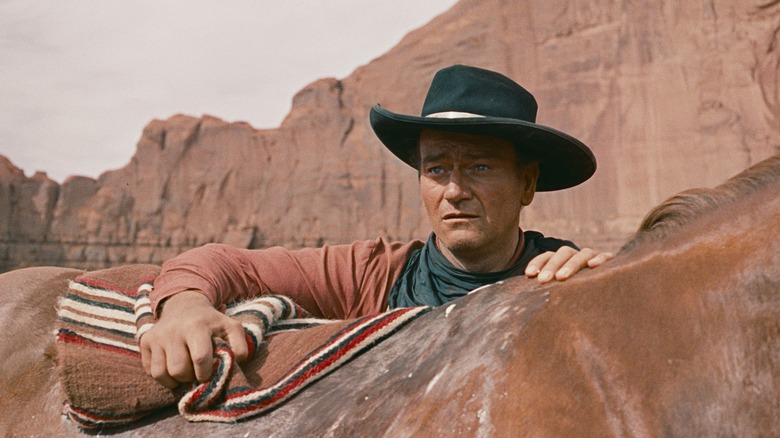 Warner Bros.
Early Hollywood Westerns, a staple of the classical film era, largely stereotyped Native Americans as bloodthirsty savages. The growing popularity of post-World War II social problem films had the film industry reflecting on its portrayals of minorities, including Native Americans. The man synonymous with the Western introduced a film in 1956 that sent ripples throughout all of Hollywood and reinvented the genre.
John Ford's 1956 film "The Searchers" looked like a typical western. It pitted "Cowboys vs. Indians" in a familiar landscape, the wide-open desert plains of the Monument Valley area of Arizona and Utah. But its content was vastly different than any Western we'd seen before.
In "The Searchers," Ford presents complex themes and a racist protagonist played by an actor that audiences had become programmed to root for — "The Duke" himself, John Wayne. The role became career-defining for Wayne — not that he needed it –— because of the depth of the film. It begs the question: How much of an impact would "The Searchers" have had without "The Duke" involved? We almost found out.
The legacy of The Searchers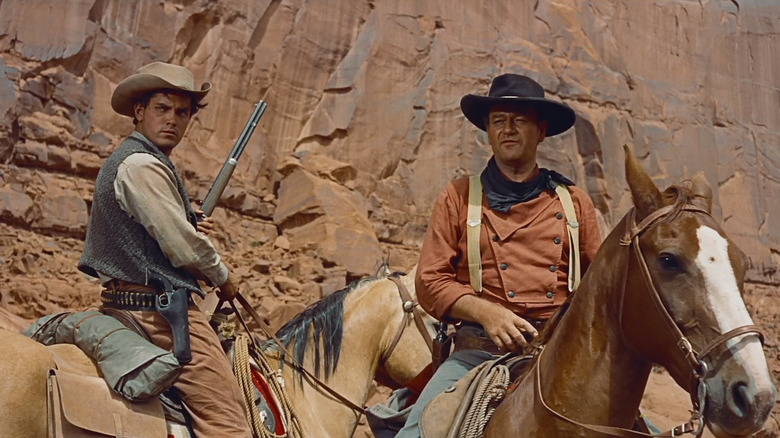 Warner Bros.
The legacy of "The Searchers" is that it is a social problem film as much as it is a Western, exploring the inherent racism of Western heroes. The film turns a mirror towards its own stubborn, racist characters, mostly though Ethan Edwards, played by Wayne. Edwards is an explicitly racist former Confederate soldier, motivated by killing Comanches while searching for his kidnapped niece. When he learns she is living among the Comanche, he threatens to kill her, justifying it with, "Livin' with Comanches ain't being alive."
Ford presents a version of John Wayne that challenges masculinity rather than defines it. The typically strong, stoic hero portrayed by Wayne instead slips into a baneful, obsessive hunter intent on killing not only his enemy but his own kin. Ethan Edwards' hatred for "the other" is greater than the love of his family, something even the staunchest Wayne fan surely struggles with.
The impact of "The Searchers" has permeated throughout Hollywood masculinity. It inspired a new wave of adult-themed Westerns that would continue to challenge social conventions, including Ford's own 1962 film "The Man Who Shot Liberty Valance." The narrative of Martin Scorsese's "Taxi Driver" heavily echoes "The Searchers." And Edwards' redeeming line, "Let's go home, Debbie" precedes Rocky Balboa's "If I can change, and you can change, we all can change!" plea for foreign relations harmony in "Rocky IV" by nearly thirty years.
It's hard to believe that John Wayne's portrayal of Ethan Edwards, called by Martin Scorsese in THR as "the greatest performance of a great American actor," almost didn't happen.
Wayne almost wasn't in the film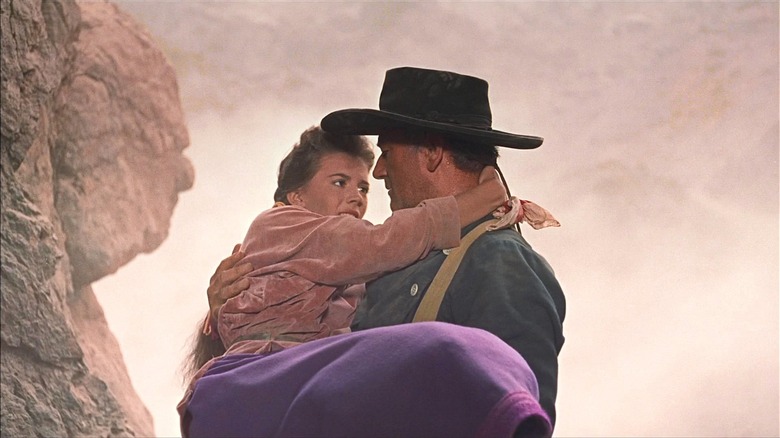 Warner Bros.
On the film's 60th anniversary, Newsweek revealed that John Wayne almost wasn't in "The Searchers." After being cast in the film he was offered the starring role in the Western "Seven Men from Now." Because Ford and Wayne had such a close relationship — the two collaborated on more than a dozen films — Ford gave Wayne the chance to back out of "The Searchers." Wayne kept his obligation and turned down the other film.
Randolph Scott was ultimately cast as the lead in "Seven Men from Now" and though the film opened to positive reviews, Newsweek points out, "It doesn't come close to the legendary stats of 'The Searchers.'"
Film critic Roger Ebert described Ethan Edwards as one of the most compelling character Ford and Wayne ever created. Ebert writes:
Did they know how vile Ethan's attitudes were? I would argue that they did, because Wayne was in his personal life notably free of racial prejudice, and because Ford made films with more sympathetic views of Indians ... I think it took a certain amount of courage to cast Wayne as a character whose heroism was tainted. Ethan's redemption is intended to be shown in that dramatic shot of reunion with Debbie, where he takes her in his broad hands, lifts her up to the sky, drops her down into his arms, and says, 'Let's go home, Debbie.'"
The film made such an impact that the American Film Institute ranks it as the 12th ranked film of all time and it was selected for preservation in the National Film Registry by the Library of Congress. And we got the performance of a lifetime out of John Wayne because he stuck to his guns and stayed loyal to a friend like only "The Duke" could do.