Paramount Wants To Remake 'The Man Who Shot Liberty Valance'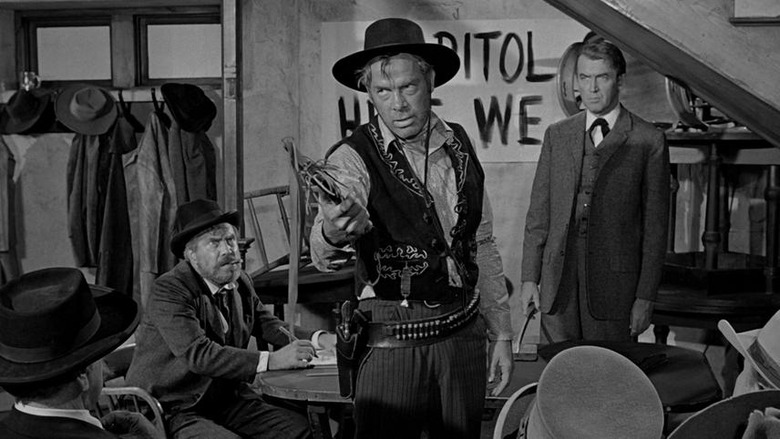 Paramount is making moves to remake one of the classic westerns. John Ford's The Man Who Shot Liberty Valance starred Jimmy Stewart, John Wayne, and Lee Marvin in a story about a naive lawyer (Stewart) new to a small town who gets help from a local rancher (Wayne) when he stands up to a controlling outlaw — the title character Liberty Valance (Marvin).
The movie plays with moral shades of grey and plays with some well-established western character archetypes. Considered one of the last great classic westerns, it has become a staple of the film canon, and is included in class courses and the United States National Film Registry at the Library of Congress.
So, naturally, Paramount is looking into the creation of a Liberty Valance remake.
Variety reports that Terence Winter (Boardwalk Empire, The Sopranos) was originally involved as a writer, but that a new writer is being sought now. The remake will be produced by Matt Jackson of IM Global, and in all likelihood it will not be a strict remake of the western setting featured in John Ford's film.
This Liberty Valance remake could be set "in a relatively contemporary period, such as 1980s Western Pennsylvania amid the retrenchment of the steel and auto industries," says Variety.
The Tracking Board also reports on the remake effort, saying that the outlaws of the original could be replaced with Polish gangsters, and that the remake will be "an urban crime/thriller in the vein of The Departed, The Town, and Mystic River."
The original film begins 30 years after the primary action in the film, soon flashing back to the meat of the story three decades earlier. We can probably expect the remake to be structured in similar fashion, with modern bookend scenes and most of the action set, as mentioned, in the 1980s.
The Man Who Shot Liberty Valance is, by the way, the first film where John Wayne calls someone "pilgrim." Despite the fact that was dialogue Wayne had in only a couple of movies (primarily this one, and also in 1963's McLintock!) using the word pilgrim became part of most of the John Wayne impersonations you hear even now.
Here's a trailer for the original 1962 version of the film.