The Best TV Shows And Movies Leaving Netflix In April 2022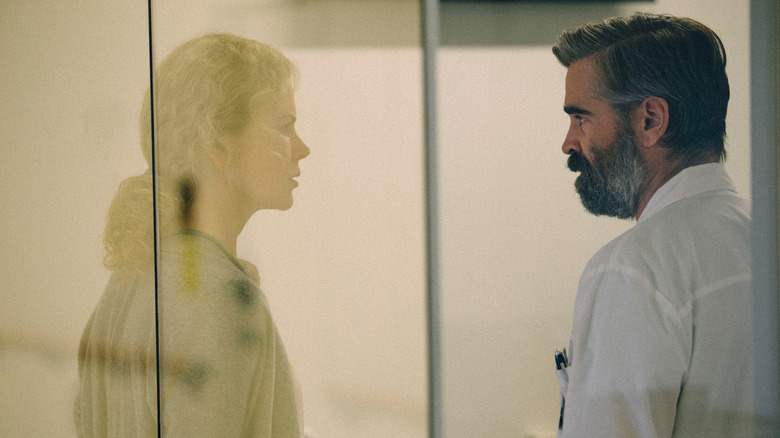 A24
Happy spring, folks! March is almost in the rearview mirror, which can only mean one thing: a monthlong celebration and global holiday to recognize my birthday in April. Okay, maybe not. But alternately, it also means that about a week from now we'll be inundated with 24 hours of the most painfully unfunny attempts at April Fools "jokes" so, uh, brace yourself for a bunch of, "They're actually restoring the Zack Snyder DC universe!" tweets and, embarrassingly, probably some outlets actually publishing articles about how "Avatar 2" has been delayed by another decade or something. I don't know, don't shoot the messenger. I dread this day every year.
On a somewhat brighter note, the calendar flipping over to yet another month comes with a whole host of movies and shows going through their usual streaming service cycles. The bad news, of course, is that the clock has started ticking on all that media (not content!) temporarily disappearing from platforms like Netflix. The good news, at least, is that we're providing ample warning time so that you'll be able to catch them in the weeks ahead. We're playing into the algorithm's hands and justifying this unending shuffle every single month gaming the system here, folks! Here's all the best TV shows and movies leaving Netflix in April.
Star Trek: The Next Generation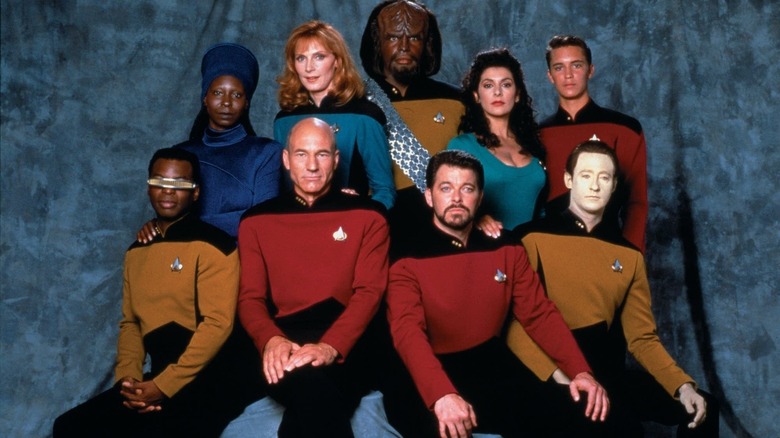 Paramount
Dun, dun dun dun, dun dun duuuuuuuuuun! Look, if the classic opening theme music for "Star Trek: The Next Generation" doesn't get you pumped up and fully in the mood for adventuring and exploration, then nothing will. I won't lie to you, though. Did it take a little while for this new and upstart (at the time, at least) "Trek" series to get over its growing pains and find solid footing? Yep, no doubt about it. But once it did, the Gene Roddenberry-created series would go on to deliver, among many other joys, a beloved crew of fresh and unique characters, all of whom successfully managed to be interesting, well-written, and complicated enough to define themselves apart from the lengthy shadows cast by the cast and crew of "The Original Series."
Running from 1987 to 1994 (and with a few feature films thrown into the mix, as well), "The Next Generation" embraced the heavily serialized style as passed on by "The Original Series," though with a more modern sensibility that gave some much-needed representation in the form of Michael Dorn's Klingon Worf, Marina Sirtis as ship's counselor Deanna Troi, LeVar Burton as engineer Geordi La Forge, Gates McFadden as Dr. Beverly Crusher, and Denise Crosby as Tasha Yar. "Star Trek" simply wouldn't be the same without Patrick Stewart's Jean-Luc Picard or the many, many other lasting contributions laid down by "The Next Generation." You might not have enough time to binge all seven seasons before it leaves Netflix, but that shouldn't stop you from looking up some of the best episodes and enjoying the highlights of the popular series anyway.
Miss Sloane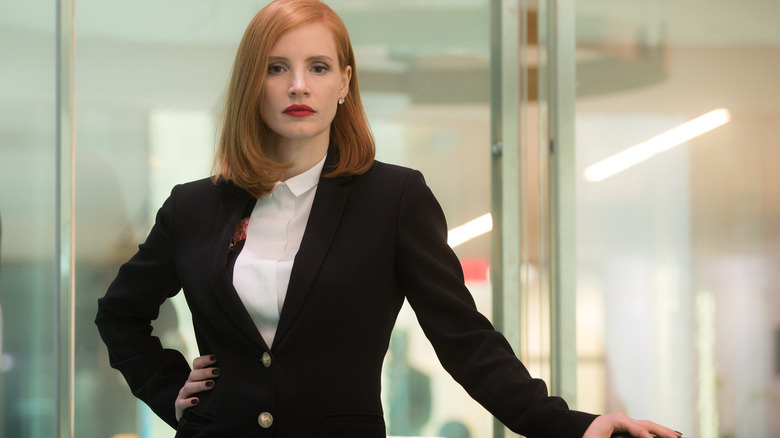 Relativity
Messy and complicated politics, an absolute powerhouse of a performance, and some incredibly slick directing that helps set this political thriller/drama from the rest of the pack? Yeah, "Miss Sloane" would easily land at the top of my list of most overlooked movies in the last few years. Starring Jessica Chastain in one of her best roles and directed by John Madden (who previously directed the similarly compelling Chastain-starring film, "The Debt"), "Miss Sloane" uses the sadly still-relevant issue of gun control in America as a jumping-off point to explore a singularly morally ambiguous woman doing everything and anything she can to forward her lobbying agenda — even if it happens to be on the losing side of the fierce debate.
The fact that the film held its world premiere in the wake of Donald Trump's election likely did it no favors, even if the story charts Chastain's Madeline Sloane making an outright enemy of America's right wing in brutally fascinating (and, yes, unethical) ways. It's not entirely possible to remove a film from the context of its release, but some time removed from the United States' previous disaster of an administration can only help a movie like "Miss Sloane" finally get the attention it deserves.
The Florida Project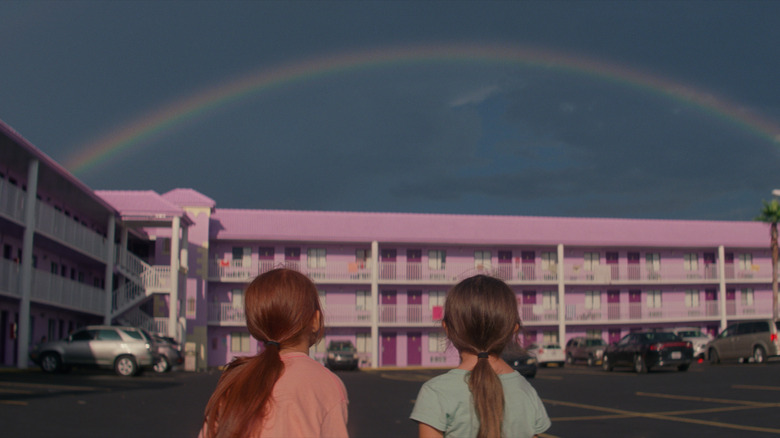 A24
Director Sean Baker has always took an interest in some of the most marginalized and "outsider" portions of communities. Whether that's an example of a privileged filmmaker exploiting others and wallowing in so-called "poverty porn" or exactly the kind of empathetic storytelling outside of one's own perspective that we claim to want from filmmakers is, of course, up to each individual. For my part, however, movies like "Tangerine" and "The Florida Project" (and also "Red Rocket," according to /Film's review) have helped create a rich tapestry of fully-realized characters that many of the most comfortable segments of the population would be more than happy to pretend don't even exist. "The Florida Project" feels like Baker's most focused and impassioned attempt yet at shining a light on very real circumstances in America, purposefully setting the events of the film in the shadow of Florida's Disney World theme park.
And just in case that above description makes this sound like a preachy and dour slog of a film, may I direct you to perhaps one of my favorite dad jokes in all of cinema?
King Arthur: Legend of the Sword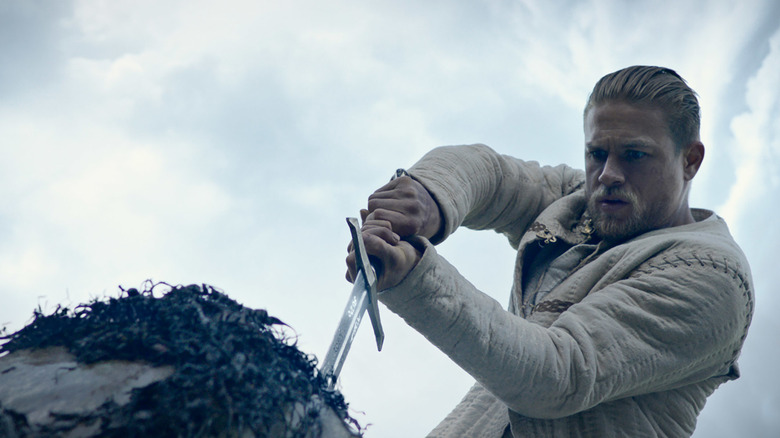 Warner Bros.
Okay, I realize the title of this article focuses on the "Best" movie and shows leaving Netflix, so this is the part where I admit that I'm brazenly flaunting the rules here. Because, no, under no circumstances can Guy Ritchie's manic fever dream of a "King Arthur" adaptation ever be considered "good" by any reasonable definition of the word. I honestly can't even say I'm able to recommend this movie in good faith, given how much of a slog it is and how bad of a job it does with doing any proper justice whatsoever to such a rich and meaningful myth. All that said, you absolutely need to watch this at least once in your life if you haven't yet. There are giant war elephants present for no conceivable reason, one of the most off-putting attempts at marrying speed-ramping effects with material that simply doesn't call for it, Jude Law at his most sinister and flamboyant, and a third act that goes so off the rails that you simply need to see it to believe it. Who says streaming recommendations have to be highbrow all the time! Turn your brain off, divorce yourself from the very concept of "good taste," maybe consume an edible or two, and watch the madness unfold in front of your eyes.
Moneyball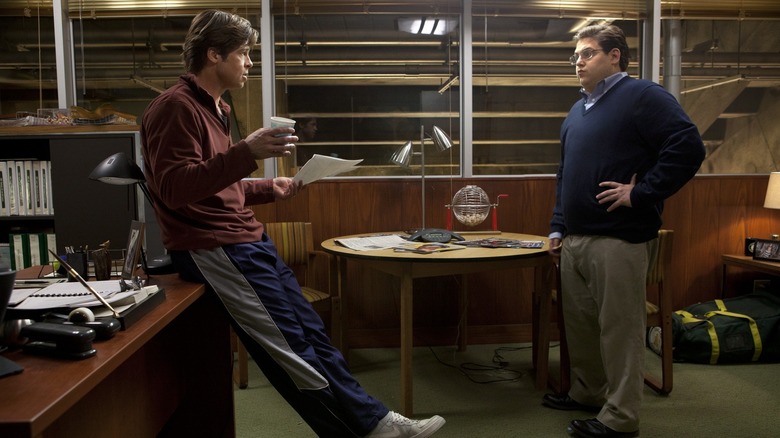 Sony Pictures
I have most definitely singled out and written about "Moneyball" for one of these columns on /Film in the past and you better believe that I'm about to do so again. As a movie junkie and a baseball fanatic, it isn't every day that I get to combine my two passions and get paid for it. But in addition to reflecting some impressively accurate realities about the business side of baseball at the time (well, mostly accurate, at least), this also has the distinction of simply being a very, very well-made and genuinely entertaining film. You need not be a baseball nerd (I prefer the word "savant," but let's face it — baseball is absolutely the nerdiest major sport) to enjoy the underdog story of a small team of people attempting to overturn the way an entire industry functions by using smarts and ingenuity and math to beat the richest and most powerful teams at their own game. Sure, that ingenious strategy never actually paid off for the team that essentially pioneered it ... but that's why real-life is always more disappointing than fiction.
Movies and TV shows leaving Netflix In April 2022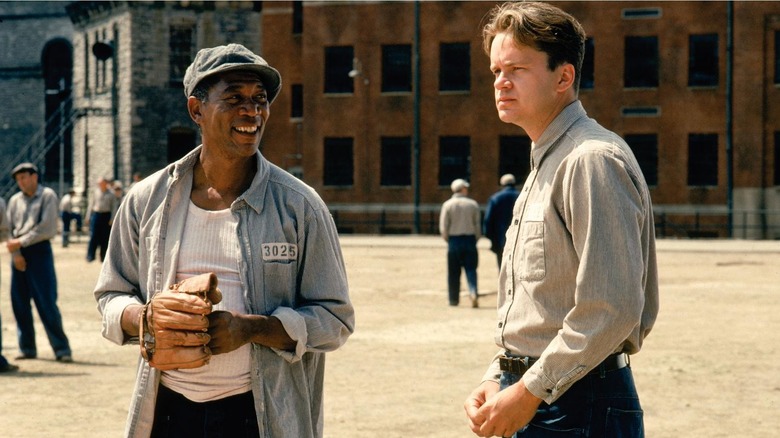 Columbia Pictures
April 1
Star Trek: The Next Generation: Seasons 1-7
April 2
Truth or Dare
April 4
The Killing of a Sacred Deer
April 5
The Florida Project
April 8
House of the Witch
April 15
About Time
April 18
Miss Sloane
April 24
King Arthur: Legend of the Sword
April 25
The Artist
April 26
August: Osage County
April 29
El señor de los Cielos: Seasons 1-7
Hostel
April 30
Dawson's Creek: Seasons 1-6
Dear John
First Knight
Léon: The Professional
Moneyball
Snakes on a Plane
Snatch
Stripes
Superman Returns
The Shawshank Redemption
The Town