Luke Skywalker's First Star Wars Costume Had A Surprisingly Simple Piece Of Clothing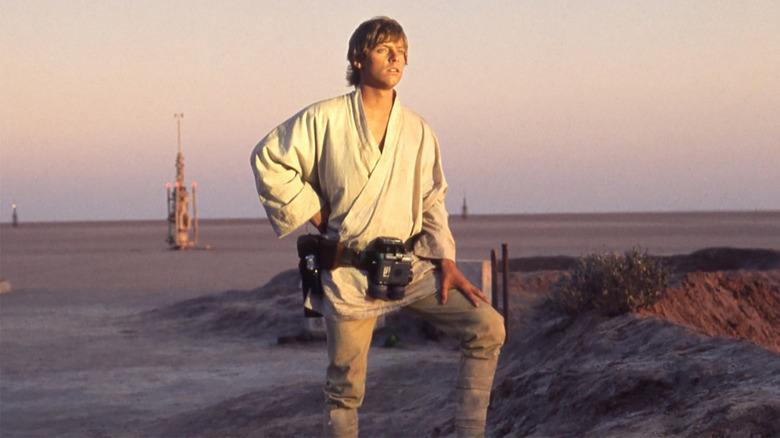 Lucasfilm
Costume design is an indispensable — though typically inconspicuous — aspect of storytelling through film. Like production design, costuming helps to immerse the audience in the world of a film, offering a sense of place, time, and most of all: who the characters are. In some cases, it's necessary for a character's costume to blend seamlessly into the background — but in the case of a world like "Star Wars," it's hard to extricate the wardrobe from the characters who inhabit them.
"Star Wars" was an instant hit when it first premiered 40 years ago. Though its unforgettable characters and storybook battle between good and evil have since made the franchise a pop culture staple, its success wasn't always such a sure thing. George Lucas has since called his very first foray his very first foray into the franchise — now known as "Star Wars: A New Hope" — the "most expensive low budget movie ever made." Production began with a budget of $7.5 million, and according to Mark Hamill, it eventually increased to $9 million. With most recent "Star Wars" projects clocking in at the threshold of $300 million, this made "A New Hope" the most economical, in hindsight, and it gave Lucas considerably less freedom than he'd have in the years to come. Every bit of the budget needed to be stretched to accommodate the demands of a sci-fi production, with special effects taking precedence over departments like casting and (surprise!) costumes.
Costume designer John Mollo worked closely with Lucas and concept artist Ralph McQuarrie to ensure that, though the wardrobe wouldn't break the bank, it'd fit perfectly into the world they were creating. Though Mollo looked to medieval European knights, samurai from feudal Japan, and even Mexican revolutionaries for inspiration, he wasn't afraid to execute his ideas frugally, or even — in the case of Luke Skywalker's very first ensemble — grab a piece from a department store or two.
Luke, these are your Levi's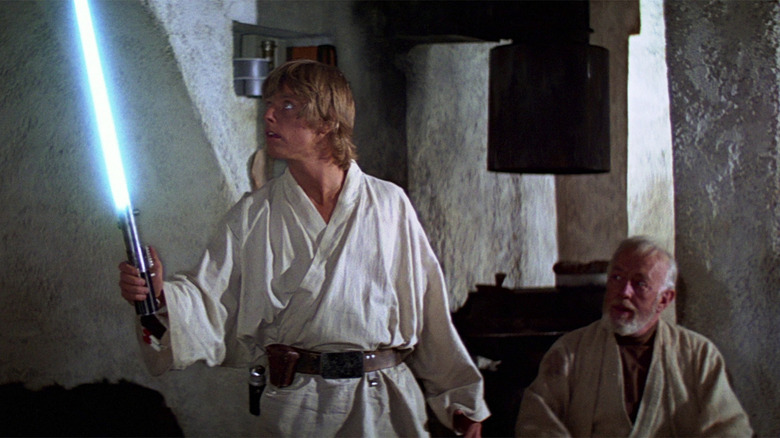 Lucasfilm
When we first meet Luke Skywalker, he's a far cry from the self-assured Jedi Knight rocking the space-equivalent of Chanel riding boots in "Episode VI — Return of the Jedi." His outfit in "A New Hope" — comprised of a white, robe-like overshirt, some beat-up tan pants, and an equally-sandy pair of boots — was much more understated, built to accommodate his lifestyle as a begrudging farmer. Still, it's a pretty iconic look, one that "Star Wars" fans have gone to painstaking lengths to recreate themselves. Because of this, the details of Luke's homestead threads have also been under debate for some time — but Hamill himself has confirmed the origins of those aforementioned pants.
Hamill is known for his genial online presence, especially on Twitter, where the actor will engage with fans and answer their burning questions about his time on "Star Wars." In 2021, one fan inquired about Hamill's outfit in "A New Hope," and the trousers that seemed to resemble the popular Levi's 501s. While they weren't exactly 501s, Hamill confirmed that they were Levi's pants: 
Those WERE bleached-out Levi's in the 1st movie. After that, all wardrobe was made to order. One of my favorite George Lucas quotes about the original #StarWars was when he called it: "The most expensive low-budget movie ever made." 😆 #TrueStory https://t.co/LJ2iSmJBqf

— Mark Hamill (@HamillHimself) May 28, 2021
Hamill confirmed this detail again in another tweet from 2019. "The pants I wore in the 1st film were just Levi blue jeans," he wrote, "bleached-out, with the back pockets removed." Given the crease down the center of the leg, it's likely that the jeans were Levi's STA-PREST trousers.
Some of Luke's wardrobe might have been pulled right off the rack, but quite a bit of work went into getting the look camera-ready. When the pants were auctioned by Nate D. Sanders in 2013, the listing confirmed they had been "purposely distressed to display wear, with dirt to back right pocket and in spots to front of pant legs." Its deliberate distressing only adds to the charm of the pants, apparently: the memorabilia sold for a jaw-dropping $36,100 that year. That's certainly a lot more than what the "Star Wars" costume department must have paid for them in the '70s.