Star Wars Bits: J.J. Abrams Promises 'Episode VII' Easter Egg, George Lucas Talks Prequels In 1981, Lego X-Wing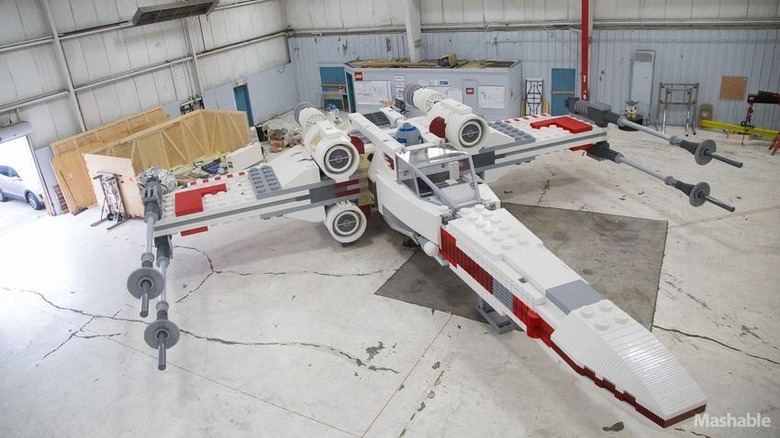 There's lots of Star Wars trivia, jokes and crazy fandom in this edition of Star Wars Bits. Below, read about the following:
A conversation from July 1981 where George Lucas described the prequels, with a few differences.
Electronic Arts plans to reveal their new Star Wars games at E3.
Luke Skywalker's pants from A New Hope sold for $36,000.
J.J. Abrams promises include a Conan O'Brien Easter Egg in Star Wars Episode VII.
The world's largest Lego creation has been revealed, and it's an X-Wing Fighter.
A fake J.J. Abrams Star Wars Episode VII trailer plays with the mystery box.
Awesome new Star Wars art is out next week from Acme Archives.
The Huffington Post got an exclusive look at J.W. Rinzler's book The Making of Star Wars: Return of the Jedi, and chose a very interesting excerpt to run. It's of a "story conference" in July 1981 between George Lucas, writer Lawrence Kasdan, director Richard Marquand and producer Howard Kazanjian. In the discussion, Lucas describes the prequels in pretty great detail. However, he had some ideas at the time that changed radically two decades later when he actually made the films. Read the full excerpt at the above link, but here's one small sample:Lucas: Anakin Skywalker starting hanging out with the Emperor, who at this point nobody knew was that bad, because he was an elected official.Kasdan: Was he a Jedi?Lucas: No, he was a politician. Richard M. Nixon was his name. He subverted the senate and finally took over and became an imperial guy and he was really evil. But he pretended to be a really nice guy. He sucked Luke's father into the dark side.Kasdan: The Force was available to anyone who could hook into it?Lucas: Yes, everybody can do it.Kasdan: Not just the Jedi?Lucas: It's just the Jedi who take the time to do it.Marquand: They use it as a technique.Lucas: Like yoga. If you want to take the time to do it, you can do it; but the ones that really want to do it are the ones who are into that kind of thing. Also like karate. Also another misconception is that Yoda teaches Jedi, but he is like a guru; he doesn't go out and fight anybody.Kasdan: A Jedi Master is a Jedi isn't he?Lucas: Well, he is a teacher, not a real Jedi. Understand that?Kasdan: I understand what you're saying, but I can't believe it; I am in shock.
Read the rest over at HuffPo; the full book comes out October 1.
Authentic, screen-used, Star Wars props are among the most sought-after movie collectibles. So when the pants Mark Hamill wore on Tattoine in the original 1977 Star Wars hit the auction block, you knew the sale was going to be big. The pants ended up selling for $36,000. Hamill himself said they are, basically, just Levis. Thanks to Wired for the heads up.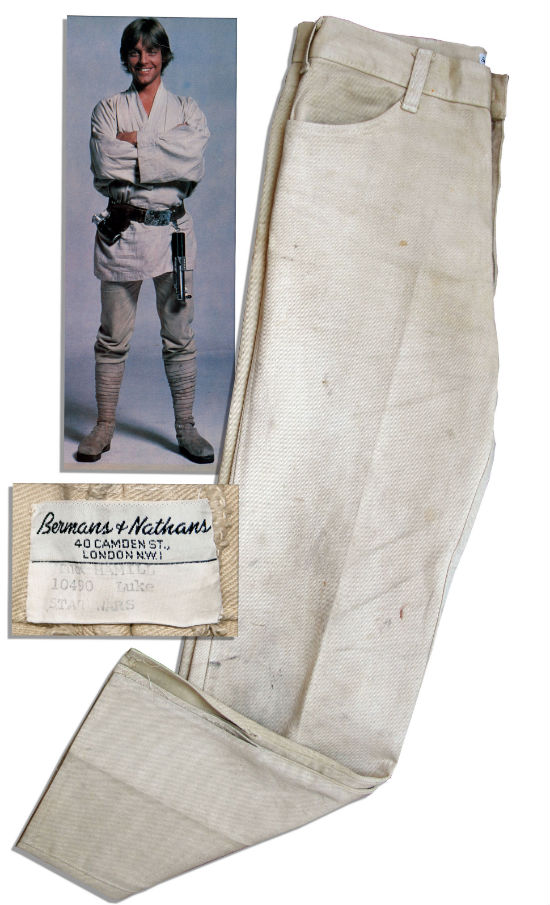 Electronic Arts (via ScreenCrush) has announced that, at the Electronic Entertainment Expo beginning June 11, they'll first reveal some of their Star Wars plans now that they have the exclusive license to make games. There's no hint of exactly what they have (though Battlefield is a possibility) but the world of games will be keeping an eye on that.J.J. Abrams was on Conan earlier this week and, obviously, the host brought up Star Wars Episode VII. ComicBook.com has the info, where O'Brien asked Abrams to include an Easter Egg in the film:
Conan O'Brien said, "Years ago when I worked for The Simpsons, I put Jub Jub into a Simpsons' episode. And so I know that if I ask you, because we're very close, I think you're closer to me than anyone in the world, I know that if I ask you, you'll put Jub Jub into a Star Wars movie. I know you'll get it in somehow."
J.J. Abrams interrupted, "Done." He even shook Conan O'Brien's hand to seal the deal. Conan O'Brien added, "What's going to happen is people are going to see that. You're a nice guy, you're going to say 'Yes,' and then the Star Wars movies will make no sense." J.J. Abrams confirmed, "If and when I'm directing Star Wars, Jub Jub will somehow find its way in."
The world's largest Lego construct has been revealed and it's an X-Wing Fighter. Mashable has the full story on the life-size plane made of 5 million-plus pieces. It'll be on display in New York for a little bit before making its trip to Legoland. Here's one image, head to the above link for the full story and more pics.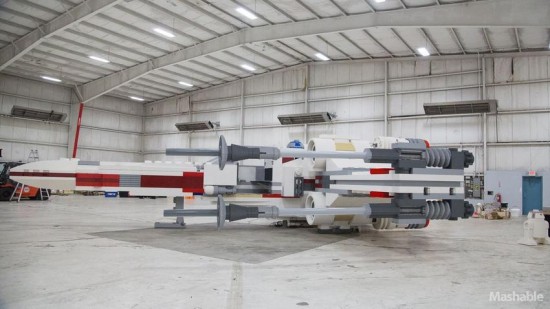 Bleeding Cool linked to this parody of a possible J.J. Abrams Star Wars Episode VII teaser trailer. The tease is, Abrams wouldn't want to actually reveal what he's teasing. Kind of clever, doesn't exactly work 100% but I like the idea.
Finally, three sick new pieces of Star Wars art by Gris Grimly will be released by Acme Archives at Downtown Disney's D Street store on June 1. They'll then be online June 3. Read more about the images and sales at this link, but here are the three pieces.