The Daily Stream: Together Together Is A Rare Platonic Love Story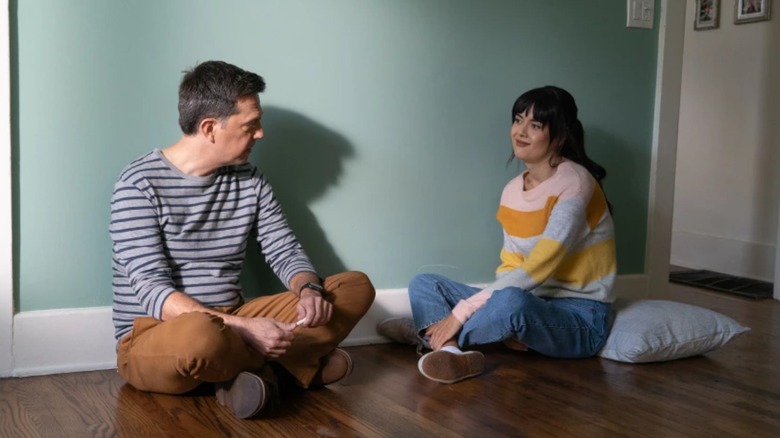 Bleecker Street
(Welcome to The Daily Stream, an ongoing series in which the /Film team shares what they've been watching, why it's worth checking out, and where you can stream it.)
The Movie: "Together Together"
Where You Can Stream It: Hulu, Kanopy
The Pitch: Successful forty-something Matt (Ed Helms) has decided to have a baby, but he doesn't have a partner. Twenty-something Anna (Patti Harrison) is a barista who's estranged from her family. She applies to be Matt's surrogate, and when she successfully gets pregnant, the two begin a delicate, convention-defying relationship. This tender comedic drama from writer-director Nikole Beckwith takes place across the course of Anna's pregnancy, as the pair navigate the boundaries of a partnership that's rooted in a transaction but grows into something organic and vital. This is not a rom-com, but a rare platonic love story.
Why it's essential viewing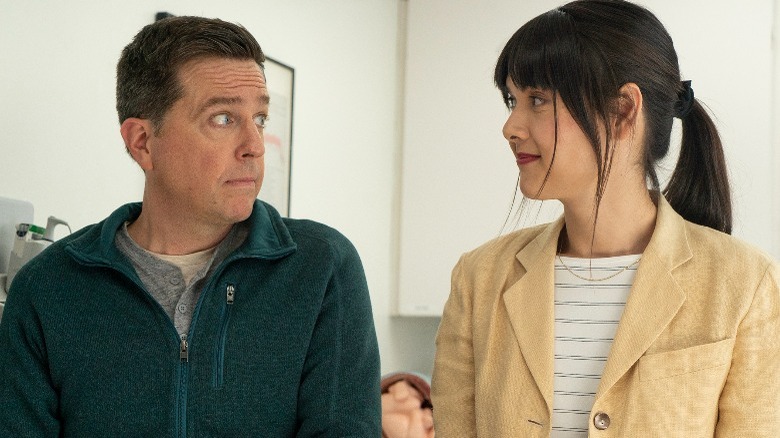 Bleecker Street
"Together Together" is an ode to all the types of love that stubbornly grow outside the places they've been planted. No matter how often Matt and Anna re-draw the lines of their relationship — which they do, often and at length — they still find unexpected comfort and companionship in one another. So many of our best relationships are the ones that don't fit easily into a box. The refreshing messiness of "Together Together" inadvertently shines a light on a major blind spot in modern cinema: the abysmal lack of on-screen narratives that dare to imagine a sort of love that is more than friendship, but not quite romance.
Matt and Anna aren't perfect, or even perfect for each other. She's evasive, he's invasive, and for the first third of the movie, their dynamic is borderline painful to watch. But as they get to know each other, "Together Together" relaxes into a story that's charming and lovely, if never uncomplicated. The film is quietly defiant in a half-dozen different ways, from casting a transgender actress as a pregnant cisgender character to explicitly examining the tropes associated with its central dynamic (hello, Woody Allen) before throwing them by the wayside. Harrison, best known before this for hilarious and jarring comedic guest spots, is a natural in a lead role that often sees Anna saying one thing and feeling another.
In the end, "Together Together" is less about what actually happens on screen — it's not particularly plot-heavy — and more about how it makes you feel. It's a bittersweet viewing experience for anyone who has chosen a life outside the confines of long-term monogamy, in part because Beckwith is much more compassionate for her status quo-defying characters than the real world might be. By the film's end, the lack of comparable stories about surrogacy, platonic love, family estrangement, and purposeful singleness starts to feel like a void. The movie also raises thorny questions it leaves us to answer, like, what happens when a new life starts to also feel like an expiration date?
On paper, "Together Together" may seem like a slight movie, but like its central relationship, it's actually a bit more complicated. Lovely and slyly powerful, it feels like a much-needed antidote to a long tradition of oversimplified on-screen love.