Ethan Hawke Describes His Moon Knight Villain As A 'Sane Lunatic'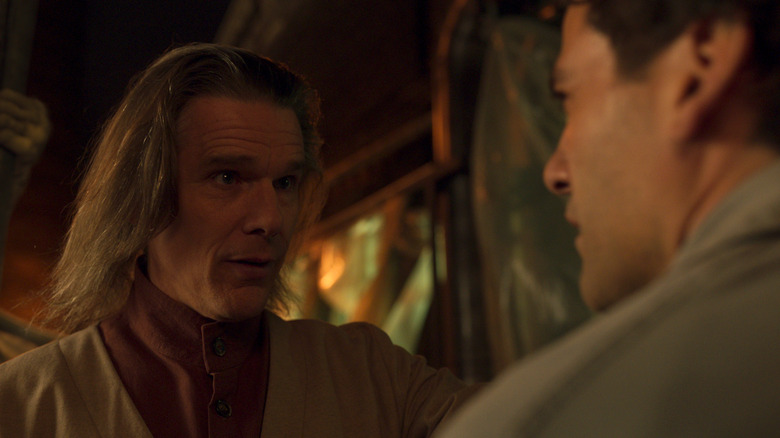 Marvel Studios
One criticism often made about the Marvel Cinematic Universe is that many of its villains leave much to be desired. The ones that have managed to break through, including Loki and Thanos, did so by being built up over years and multiple projects, as opposed to one-and-done. Now, Ethan Hawke looks to buck the trend in the upcoming "Moon Knight" series by turning the whole superhero/villain dynamic on its head. Specifically, he is looking to play a "sane lunatic," as he calls it, in bringing the villain Arthur Harrow to life.
The actor recently spoke during a press conference in anticipation of the show's release on Disney+ later this month. During the chat, Hawke explained that Oscar Isaac's title hero being mentally ill flipped the script and forced Hawke to try and craft a different type of villain. 
Here's what he had to say about it:
"The histories of movies are paved with storytellers using mental illness as a building block for the villain. There's countless mentally ill villains, and we have a mentally ill hero, and that's fascinating because we've now inverted the whole process. Now, as the antagonist, I can't be crazy because the hero is crazy. So I have to find a sane lunatic, or a sane malevolent force."
Reality is not what it seems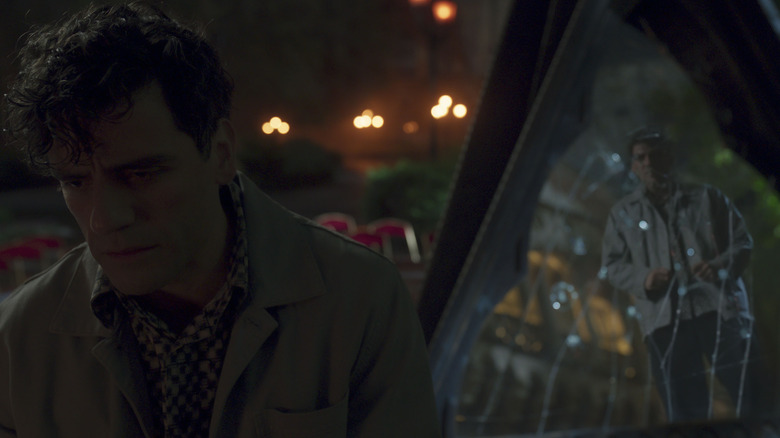 Marvel Studios
A big part of "Moon Knight" will center on the fact that Isaac's character has multiple personalities and, as we've seen in the trailers, that is going to result in a reality-bending tale. Speaking further, Hawke explained how this will also impact his take on Arthur Harrow, as the whole notion of having an unreliable narrator will potentially skew the audience's perspective on the show's antagonist.
"That was an interesting riddle for me, to figure out how to be in dynamics with what Oscar [Isaac] was doing. [Director] Mohamed [Diab] was really embracing his mental illness as a way to create an unreliable narrator. Once you've broken the prism of reality, everything that the audience is seeing is from a skewed point of view, and that's really interesting for the villain because am I even being seen as I am? That was our riddle and we came up with somebody who was trying to save the world. In his mind, he's 'Saint Harrow.' He thinks he's going to be part of the great solution."
Hawke certainly makes this sound compelling and like he might be able to change up the MCU villain formula as we've come to know it over the last decade or so.
Mohamed Diab, Just Benson, and Aaron Moorhead directed the series, with May Calamawy and F. Murray Abraham co-starring.
"Moon Knight" debuts on Disney+ on March 30.
Moon Knight follows Steven Grant, a mild-mannered gift-shop employee, who becomes plagued with blackouts and memories of another life. Steven discovers he has dissociative identity disorder and shares a body with mercenary Marc Spector. As Steven/Marc's enemies converge upon them, they must navigate their complex identities while thrust into a deadly mystery among the powerful gods of Egypt.