Here's When You Can Watch Jackass Forever At Home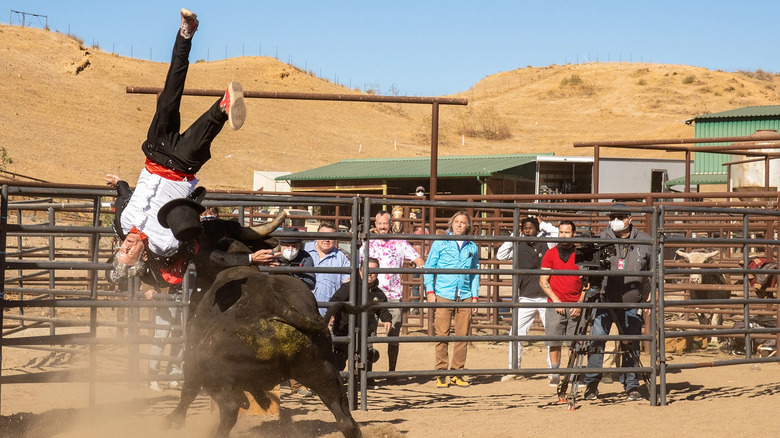 Paramount Pictures
Fortunately for "Jackass Forever" fans, the wait to watch this movie at home will be far less excruciating than its initial delay in theatrical release. Finally bestowed upon audiences during the first wintry days of February, the latest of the Johnny Knoxville and gang-starring "Jackass" film series will now grace our own personal screens just in time for spring. Released over a decade after the last installment, 2010's "Jackass 3D," there was a palpable air of anticipation ahead of "Jackass Forever," which was originally set to be released March 5, 2021. Due to the pandemic, the film's premiere was pushed back a grand total of four times before it finally had its debut at the Chinese Theatre in Hollywood on February 2, 2022.
A lot has changed among the titular Jackasses since the first episode of the show aired in 2000, which was followed by the release of "Jackass: The Movie" in 2002 shortly after the series concluded. Twenty years and several more film installments later, the cast finds themselves "older and grayer but not wiser," getting up to their old hijinks (many of them involving genitals and blunt-force trauma) all while finding the bandwidth to add new cast members and inventive new pranks to their repertoire. This doesn't mean "Jackass Forever" doesn't also take the time to address nostalgic memories of the gang's old ways, with some of their dirty tricks acting as homages to the work they pioneered as a bunch of vulgar young dudes, with their zest for homoerotic sadomasochism no worse for ware along the way.
If you're looking to gather your buddies for an evening of wince-worthy stunts and spectacles, it would appear that it's high-time to start planning — and perhaps even order a cup ahead of time, you know, just in case.
Jackass Forever on streaming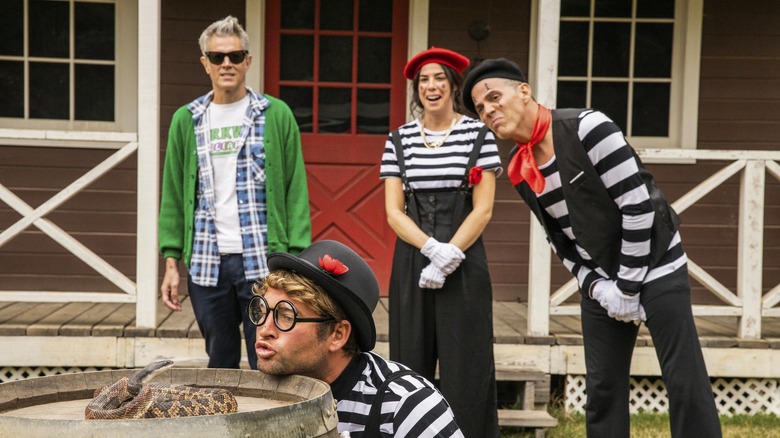 Paramount Pictures
"Jackass Forever" is streaming on Paramount+ as of March 22, 2022. Late Monday night, the streamer announced that the latest "Jackass" installment was available on their service, for all your rewatch needs. Here's the announcement video. 
Psst! The Jackass crew has a surprise for you... #jackassforever is now streaming on #ParamountPlus pic.twitter.com/rl0PUXaB9z

— Paramount+ (@paramountplus) March 22, 2022
Jackass Forever digital release date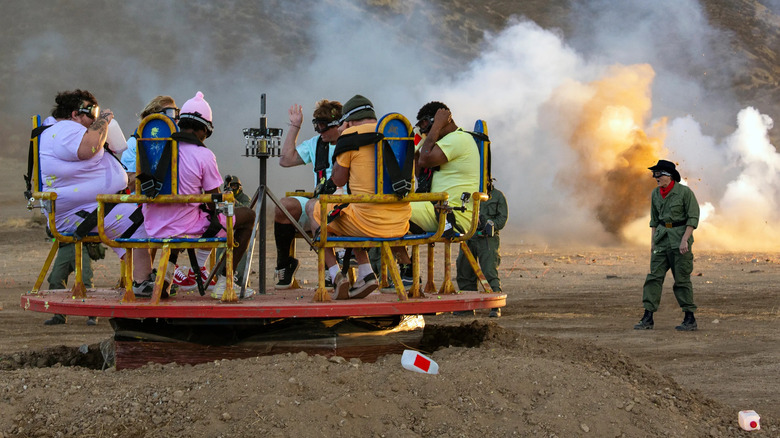 Paramount Pictures
"Jackass Forever" will be available for digital purchase beginning on March 29, 2022. The digital edition also includes a "butt-load" of stunts that were not included in the film's theatrical version, totaling up to about 40 minutes of extra footage. Additionally, a collection including the four main "Jackass" films ("Jackass: The Movie," "Jackass: Number Two," "Jackass 3D," "Jackass Forever") will be available to purchase digitally for a discounted bundle price.
Jackass Forever DVD & Blu-ray release date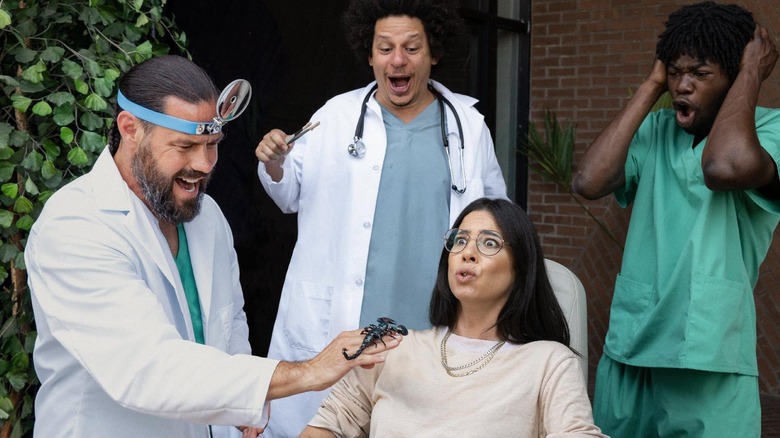 Paramount Pictures
To own this (literally) seminal piece of media physically, you'll have to wait (but not too long!) until April 19, when the film gets its official Blu-ray and DVD release from Paramount Home Entertainment. However, it's important to note that only the Blu-ray edition will feature the additional 40 minutes of bonus footage similarly included with the digital release, promising the following enticingly-named stunts:
Tarantula Bite

Face Your Rear

Dark Shark & The Bear

Fire In The Hole

Broke Zach Mountain

Virtual Reality

Plug And Arrow

The Breakaway

Soccer Ball Surprise

Poopies Only Wipes Twice

Fire Extinguisher

Wee Man Throws Zach Under The Bus

Toilet Geyser

Telephone Pole (Susan)

Telephone Pole (Millie)

Telephone Pole (A.D.)
As for the DVD, it solely includes "Jackass Forever" in standard definition, which by the sounds of its plot synopsis sounds like an equally amazing bargain:
Older and grayer but not wiser, Johnny Knoxville and the gang are back for another outrageous round of stunts and bad ideas. With new friends and loads of celebrity guest stars, the crew take pranks to ridiculous lengths where absolutely no one is safe and all senses are frayed. From exploding port-a-potties to hockey pucks to the nuts and performing magic for an unamused bull, "Jackass Forever" is a hilarious roller coaster ride like you've never experienced before.
So there you have it, folks! For those of you who've never seen the official dudes rock filmic manifesto, it's now officially time to dig in. And for those who've stuck with the lewd legacy of "Jackass," let's not forget to pour one out for the late, great Ryan Dunn from the comfort of our own homes.