Star Wars Bits: Damon Lindelof, Mace Windu, Black Krrsantan, Obi-Wan Kenobi, And More!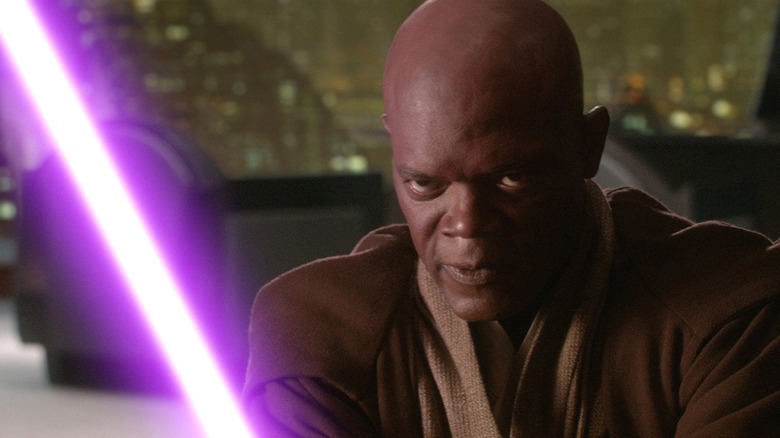 Lucasfilm
In this edition of Star Wars Bits:
A Damon Lindelof "Star Wars" project?
Will Mace Windu return?
Marvel's ppcoming "Star Wars" comics 
And more!
A Damon Lindelof Star Wars project?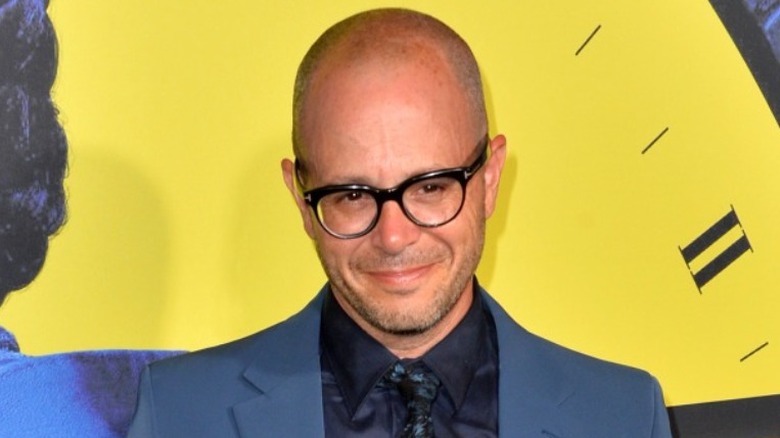 Featureflash Photo Agency/Shutterstock
A recent report indicated that writer/producer Damon Lindelof is working on a new "Star Wars" movie.
EXCLUSIVE via @TheAnkler: I'm hearing that Damon Lindelof, the creator of WATCHMEN and the co-creator of LOST and THE LEFTOVERS, is working on a new STAR WARS movie.

SUBSCRIBE NOW!

— Jeff Sneider (@TheInSneider) March 14, 2022
Lindelof is best known as the creator and showrunner of numerous hit television series, including ABC's "Lost" (2004–2010), the HBO supernatural drama "The Leftovers" (2014–2017), and the HBO limited series "Watchmen" (2019). He's also co-written films such as "Cowboys & Aliens" (2011), "Prometheus" (2012), "Star Trek Into Darkness" (2013), "World War Z" (2013), and "Tomorrowland" (2015).
If Lindelof is indeed working on a new "Star Wars" movie, it would be the fourth (that we know about) currently in development. As our friend Bespin Bulletin points out:
"Lucasfilm currently have three films dated and in some form of development. Patty Jenkins ('Wonder Woman,' 'Wonder Woman 1984') is directing and co-writing 'Star Wars: Rogue Squadron' with Matthew Robinson ('Love and Monsters,' 'Dora and the Lost City of Gold') for a December 2023 release. Taika Waititi ('Thor: Ragnarok,' 'Jojo Rabbit') is directing and co-writing an untitled film with Krysty Wilson-Cairns ('1917,' 'Last Night in Soho') which is slated for December 2025. Lastly we have Michael Waldron ('Loki', 'Doctor Strange in The Multiverse of Madness') writing an untitled film for 2027, which is being produced by Kevin Feige."
Will Mace Windu return?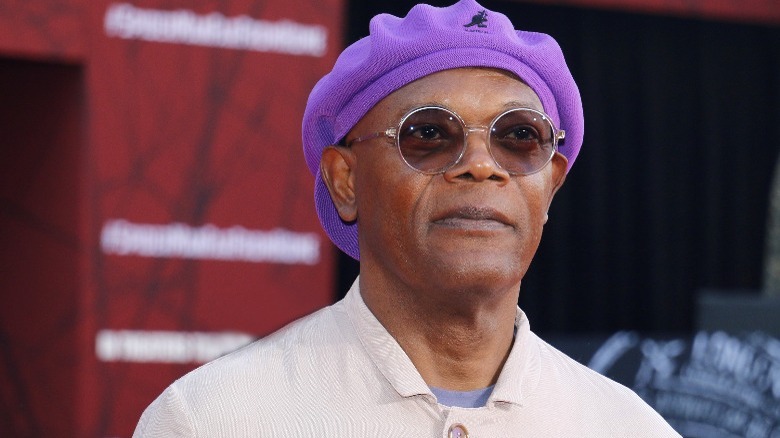 Tinseltown/Shutterstock
During an interview with Josh Horowitz on the Happy Sad Confused podcast, Samuel L. Jackson mentioned that he's lobbied for the return of Mace Windu, the purple lightsaber-wielding Jedi he portrayed in the Prequel Trilogy. The last time we saw Windu was in 2005's "Star Wars: Revenge of the Sith." After confronting Darth Sidious, the Jedi Master was betrayed by Anakin Skywalker, losing his hand before Sidious finished the job with Force lightning, presumably killing him off-screen.
"There's a huge history of people with one hand returning in 'Star Wars,'" Jackson said in the interview. While he hasn't had any official conversations about returning to the galaxy far, far away, he did bring up the idea to "The Mandalorian" and "The Book of Boba Fett" director Bryce Dallas Howard.
"The only person I've ever said that to about coming back was Bryce Dallas Howard. I just did a movie with her, and she directs episodes of 'The Mandalorian.' So, I go, 'So, you think you might be able to hook a brother up? I mean, you like me, right?' And she's like 'I love you, you're amazing.' So put me back in, I'm ready. Put me in, coach. I'll learn lightsaber left-handed."
Marvel's upcoming Star Wars comics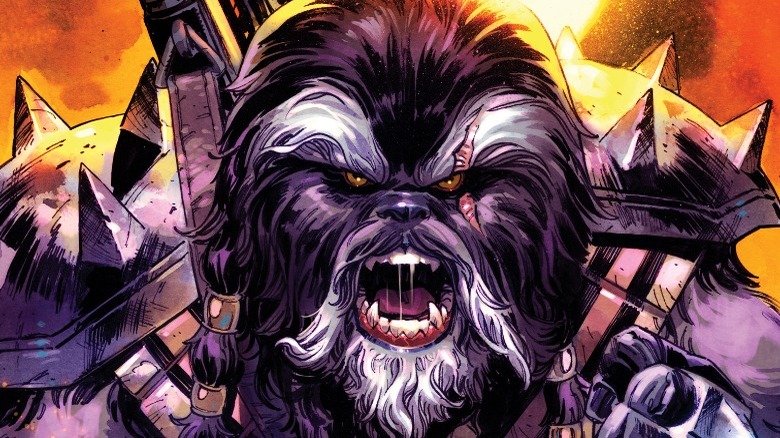 Marvel
In "Star Wars: Han Solo & Chewbacca" #4, written by Marc Guggenheim and illustrated by David Messina with a cover by Phil Noto and a variant cover by Nic Klein (pictured above), Han and Chewie go toe-to-toe with the mighty Wookiee gladiator Black Krrsantan.
StarWars.com has an exclusive first look at the upcoming issue as well June's other releases, including "Star Wars: The Mandalorian" #1, "Star Wars: Obi-Wan" #2, "Star Wars: The Halcyon Legacy" #5, "Star Wars" #25, "Star Wars: Bounty Hunters" #24, "Star Wars: Doctor Aphra" #22, and "Star Wars: Darth Vader" #24.
Designing The Mandalorian season 2
Nucleus has a 90-minute panel discussion with the artists behind "The Mandalorian" Season 2, including concept design supervisor Christian Alzmann, senior concept artist Brian Matyas, and creative art manager & author Phil Szostak.
LEGO Star Wars: The Skywalker Saga featurette
WB Games has released a new behind-the-scenes featurette on the planets featured in "LEGO Star Wars: The Skywalker Saga," which is set to arrive on April 5, 2022 for the Xbox One family of devices, Xbox Series X/S, PlayStation 5, PlayStation 4, Nintendo Switch, and PC.
LEGO Boba Fett's Throne Room review
Obi-Wan Kenobi teaser trailer reaction
Our friends Ralph and James over at Live Action Star Wars have a new episode dedicated to the "Obi-Wan Kenobi" teaser trailer.
The High Republic: Phase One breakdown
Alex at Star Wars Explained has a new video detailing everything he loves about Phase One of "Star Wars: The High Republic."
Rey's Speeder 1/6 Scale Vehicle by Jazz Inc.
Justin's Collection has an unboxing and review video for the "Star Wars: The Force Awakens" Rey's Speeder 1/6 scale vehicle by Jazz Inc. Dioramas
The 12 best Han Solo moments ever
This Week! in Star Wars
And finally, on This Week! in Star Wars, host Kristin Baver gives us the lowdown on all the latest news from that galaxy far, far away.

This week in Star Wars, we meet the Maori artist behind the carved Boba Fett helmet gifted to actor Temuera Morrison and get a preview of some Marvel comics coming in June. Plus, we get a peek at how your datapad keeps you connected during your stay at Star Wars: Galactic Starcruiser.