Everything Everywhere All At Once TV Spots Showcase A Mind-Melting Good Time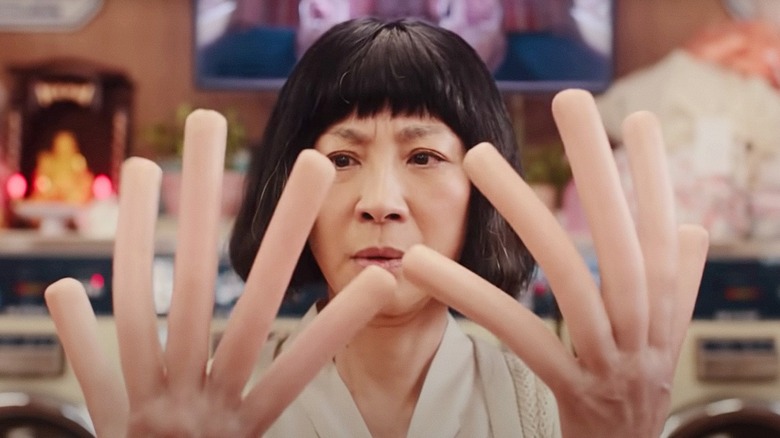 A24
There are few trailers that have intrigued me as much as the one for "Everything Everywhere All At Once." Multiverses are very hot right now, with multiple realities breaking open in the DC and Marvel film universes. I mentioned the trailer to my significant other, and he said, "Oh, more multiverse stuff?" with a sigh. Then I showed it to him, and he was as hooked as I was. 
Today we have two new TV spots for "Everything Everywhere All At Once," and if you haven't heard about this film yet, I would pretty much guarantee you'll want to see it right this second. Our own Jacob Hall watched this and reviewed it for /Film at the SXSW festival and loved it. He called it a "mind melting masterpiece," and gave it some major praise as well as a 10/10. You may notice quotes from his review in the TV spots and oh my gosh, I need to see this immediately! 
Googly eyes
Michelle Yeoh stars in "Everything Everywhere All At Once" as Evelyn Wang, a Chinese-American woman whose family runs a laundry, discovering her existence in multiple universes in this wild ride of a film. You get a glimpse of what she's seeing and the different versions of her, which include a chef, a martial artist, a movie star, and thousands of other identities. I'm not sure how the googly eyes come in to this film, but as I tend to put them on everything, everywhere all over my house anyway, I full accept them as part of the multiversal mystery. 
What the review points out is how funny and deeply touching the film is, despite its fast pace and a scene with hot dog fingers. Daniel Kwan and Daniel Scheinert (credited as Daniels) who are responsible for "Swiss Army Man," directed this story of a destructive force in the multiverse that requires the help of Evelyn to shut it down.
Verse jumping
Evelyn is told that they've found a way to connect her to who she is in any universe out there, which is called Verse-jumping. This will allow her to access her memories and skills in other worlds. I wonder if another version of me is better at math, and if so, can we make this happen for me? My accountant would be very happy. 
The film stars Yeoh, Ke Huy Quan as her husband (and more than that) Waymond, Stephanie Hsu as her daughter Joy, James Hong as her father Gong Gong, and Jamie Lee Curtis as an IRS inspector. Jenny Slate and Harry Shum Jr. also appear. 
"Everything Everywhere All At Once" will hit theaters on March 25, 2022, and this is one I'm willing to brave a theater for. Please be careful and safe if you go. Right now this is the only universe we've got.