The Boys Star Karen Fukuhara Is Recovering From A Hate Crime Attack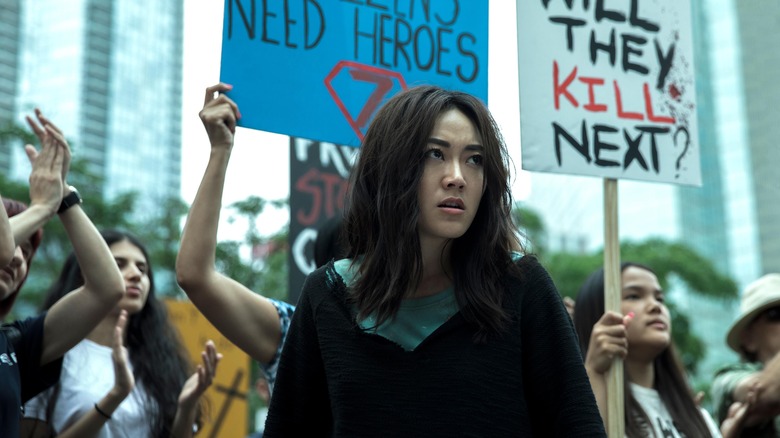 Prime Video
I am horrified as I write this, and I'm losing any tiny scrap of belief in the human race that still lingered after these past few years. Karen Fukuhara, who plays Kimiko Miyashiro in the Prime Video series "The Boys" and appeared as Katana in "Suicide Squad," says that she has been assaulted in a hate crime attack. Fukuhara posted about the vile act on Instagram with a text statement about what happened (via Variety). She said that she is "physically fine," but called for the public for help in the ongoing attacks against Asians, particularly women and the elderly. 
The attack happened on the street, though Fukuhara doesn't say where. She explained that he came up behind her and hit the back of her head, though there was no interaction between them before that. He then yelled at her and finally left. She says it made her want to take self defense classes, but asked why the victims are the ones who have to think about things like this when it's the perpetrators who should be held accountable. She then replied to her post with the hashtag #stopasianhate.
I'm putting the full text in here in case you can't read it on Instagram because it matters that the word is spread about this. 
Karen Fukuhara shines a light on anti-Asian hate crimes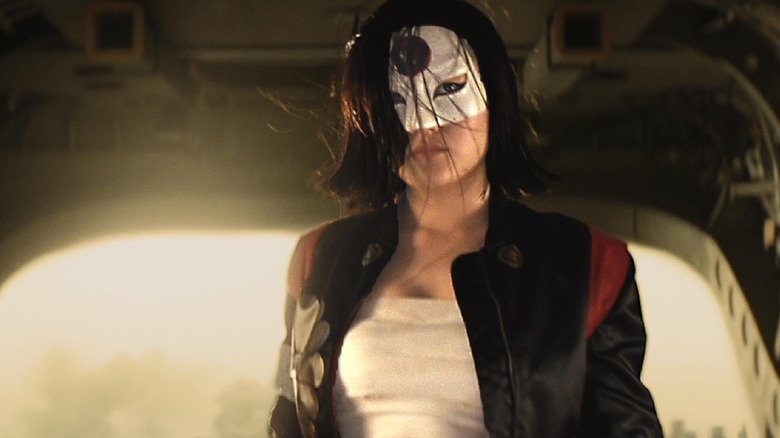 Prime Video
Here's Karen Fukuhara's statement in full:
Today I was struck in the head by a man (I'm physically fine) & this s*** needs to stop. Us women, Asians, the elderly need your help. I rarely share about my private life but something happened today that I thought was important.

I was walking to a cafe for some coffee and a man struck me in the back of my head. It came out of nowhere. We made no eye contact before, I wasn't doing anything out of the ordinary. It came to my surprise and my hat flew off. By the time I looked back, he was a few feet away from me (he must have kept walking after hitting me). I thought about confronting him first but he started coming towards me and I didn't think it was worth the risk. After a few seconds of staring at each other, and him yelling at me, he eventually walked away.

This is the first time I've been harmed physically, although racial slurs and hurtful actions have been directed to me in the past. I write this, because I've had conversations with multi-racial friends of mine that had no idea these hate crimes happen to everyday, regular people — people that they share meals with. I felt it was important to raise awareness.

Ultimately I know I got lucky. He could have come back to hit me again. He could have carried a weapon. The shock of this experience has me thinking about taking self defense classes. But why is this something we as "victims" have to think about? What satisfaction are these perpetrators getting from hitting women, Asians, the ELDERLY? They need to be held accountable. What can we do as a community to prevent these horrible crimes?
#StopAsianHate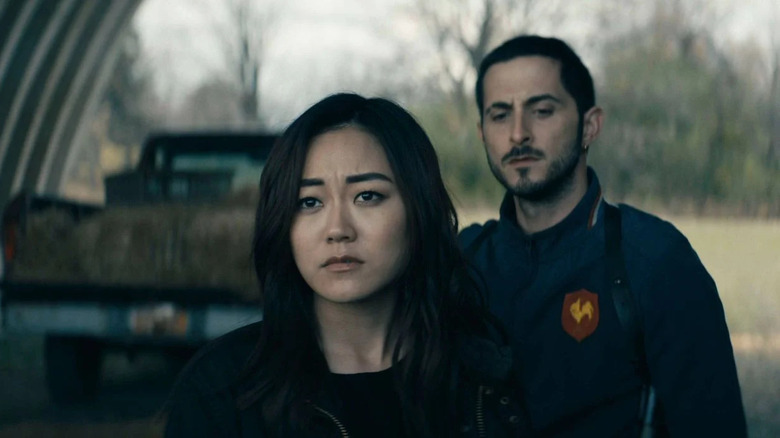 Prime Video
Some of Fukuhara's co-stars from "The Boys" posted messages of support including (at the time of this writing) one from Chace Crawford saying, "F this person!! Hope you're okay this is awful," and one from Jack Quaid who said, "Karen thank you for sharing your experience. I'm sorry that happened to you. Love you. Here if you need anything." Laz Alonso said, "This pisses me off. Wish I was there...." So many people have posted with encouragement and outrage at what happened, and I'm glad to see that at least. 
You want to know how often this happens? Less than a week ago, the New York Times reported that a woman who was hit in the head 125 times simply because she's Asian, and earlier this year a report by the Center for the Study of Hate and Extremism (via NBC) found that anti-Asian hate crimes increased 339 percent nationwide last year. Yesterday was exactly one year since a spree shooter targeted Atlanta-area spas and killed eight people, six of whom were Asian women. This latest attack on Fukuhara is unacceptable, as all hate crimes are.