How Lock, Stock & Two Smoking Barrels Led To Brad Pitt's Snatch Role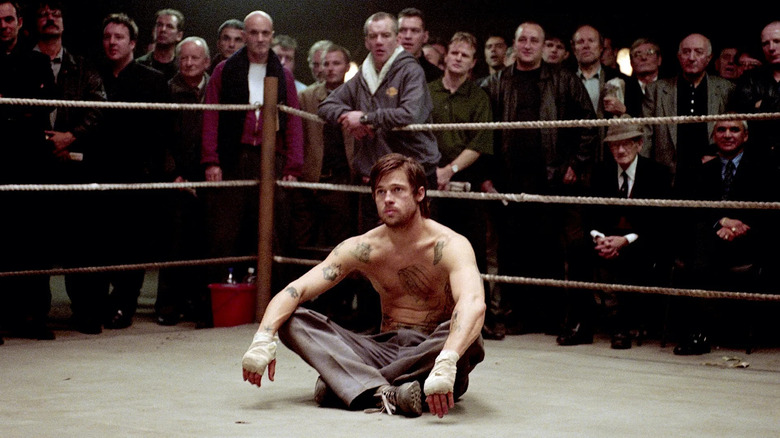 Sony Pictures Releasing
There have been plenty of dodgy British accents by American actors down the years, from Dick van Dyke's Cockney chimney sweep in "Mary Poppins" to Robert Downey Jr's bizarre take on Welsh in "Dolittle." Brad Pitt chipped in with his attempt at a Norn Iron accent in "The Devil's Own," which the Belfast Telegraph ranked among the worst Irish accents in film history. We all know Pitt loves an accent — that was the same year he also hinted at Austrian in "Seven Years in Tibet," convincing absolutely nobody.
Pitt fared better a few years later in Guy Ritchie's "Snatch," where he played a showy role as Irish traveler and bare-knuckle boxer Mickey "One Punch" O'Neil. To be fair, he had it a little easier because Mickey is almost completely unintelligible. As Jason Statham's character Turkish says, using a slang term that reflects the British public's general aversion to travelers:
"Now there is a problem with pikeys or gypsies. You can't really understand much of what is being said. It's not Irish, it's not English. It's just, well... it's just pikey."
"Snatch" was Guy Ritchie's follow up to "Lock, Stock, and Two Smoking Barrels," a right royal Cockney barrel of monkeys that came out of nowhere in '98 and became an instant cult favorite. It was around this time that Brad Pitt was establishing himself as a major Hollywood star, after a high profile starring role in "Seven" and a zany Oscar-nominated supporting turn in "12 Monkeys." So how did he end up playing the "pikey" in Ritchie's next caper?
How Guy Ritchie landed Brad Pitt for Snatch...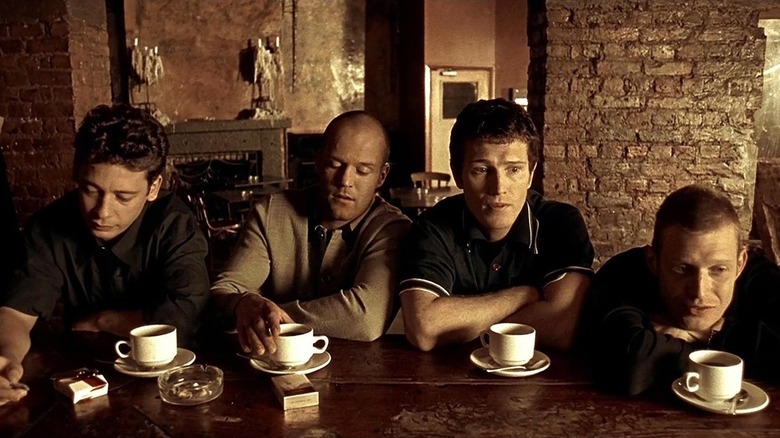 Colombia Tristar
I guess most fledgeling directors can only dream about a big Hollywood star calling up asking for a part in their next movie, but that's just what happened to Guy Ritchie after the success of "Lock, Stock." As the director told Esquire:
"He called me and told me that he wanted to be part of whatever I was doing next."
Pitt elaborated on the story (via Landmark Cinemas):
"At that time, I did something that I felt was very commercial, and I was really interested to see what new directors were doing and what was coming out. So, I was viewing everything of first-time directors, and I saw this movie, 'Lock, Stock, and Two Smoking Barrels,' by this cat named Guy Ritchie. And so, I called him up and said, 'Hey, I really like what you're doing, and if there's anything that I could fit in, then let's talk."
Needless to say, Guy Ritchie found a part for him as Mickey in "Snatch." Pitt didn't just treat it as a jape; with both his iconic role as Tyler Durden in "Fight Club" and a bare-knuckle boxer in Ritchie's movie coming up, he turned to boxing coach Joe Goossen for assistance, who helped him get his physique in the right shape and learn how to throw a punch or two. Goossen, who trained fighters like Amir Khan and Riddick Bowe, praised the actor's work ethic (via Men's Journal):
"I asked him if he'd ever done sports or boxed in high school, and I was shocked when he said he hadn't. The way he's put together, he looks like someone who's been on a playing field or in a ring before. Brad showed up to work every day of those five weeks. The sessions were at least two hours every time... He put himself through the grinder to get where he ended up. I really put him through his paces."
A gamble that paid off...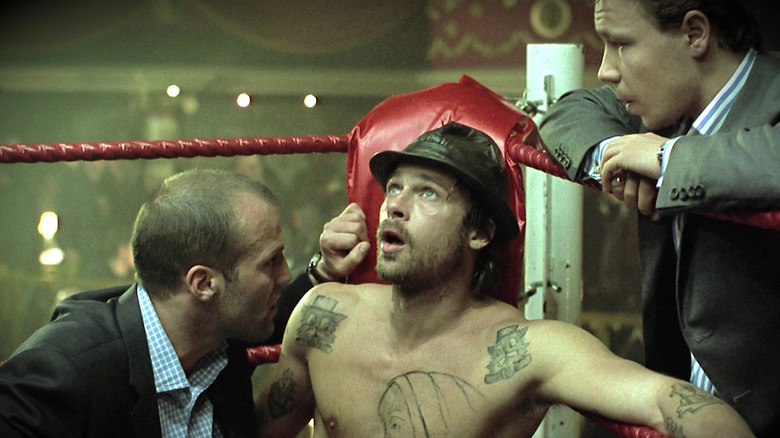 Sony Pictures Releasing
Casting one of Hollywood's hottest stars as an Irish traveler in "Snatch" might seem like stunt casting, but Ritchie had history in that respect. In "Lock, Stock, and Two Smoking Barrels," he cast Sting as a pub landlord, real-life villain Lenny McLean as a henchman named Barry the Baptist, and former football hardman Vinnie Jones in a significant role as debt collector Big Chris. Two out of three weren't bad ... sorry, Sting!
The success of "Lock, Stock" enabled Ritchie to attract even more familiar faces, and Pitt certainly didn't look out of place among a colorful cast that also included Statham, Stephen Graham, Benicio del Toro, Dennis Farina, and Alan Ford. Pitt brought a sprightly, mischievous energy to the part of Mickey, not to mention a few laughs, too, mostly courtesy of that fast-paced mumbling accent. Pitt later said that he based it on the minor character Tom, Craggy Island's resident nutter in "Father Ted."
Nailing that accent caused Pitt a few sleepless nights, however. After he accepted the role, he said he panicked until the moment they were shooting (via Landmark Cinemas):
"I play this Irish gypsy, and the dialect is unintelligible, contrary to being trained to be clear and understood. And so, I was working on the accent and trying to be clear and understood, and it wasn't working. I went to him [Ritchie] the day before and I said, 'Guy, I'm gonna f**k up your movie..."
Luckily, a conversation with a friend helped him find the right approach:
"My friend kept saying, 'You can't understand it.' Literally, at midnight, that clicked in, and I called and woke Guy up and I said, 'Are you okay if you can't understand your beautifully written dialogue?' And he said, 'Yep.'"
Making Mickey so hard to understand was a gamble that paid off and, as far as I can tell, Pitt's choices made it one of the better received Irish accents by an American actor. Although the Belfast Telegraph still wasn't impressed.