Tony Hawk: Until The Wheels Fall Off Review: It's Skate Or Die In This Revealing Portrait Of The Skateboarding Icon [SXSW]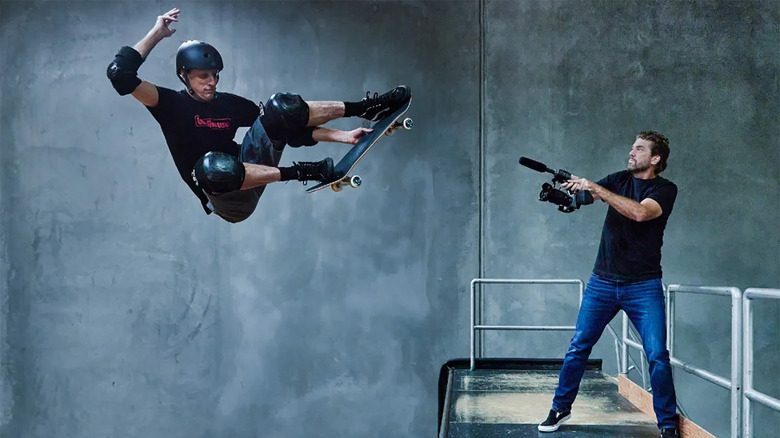 HBO
"Tony Hawk: Until the Wheels Fall Off" begins in a surprisingly brutal fashion. The skateboarding icon drops into a halfpipe, trying to pull off his most famous, notoriously difficult trick, but he just can't do it. He loses grip of his board, which occasionally bounces off somewhere behind the halfpipe, and he slides down the drop in defeat. He stumbles off his board just as he swoops down the curve. He slams to the ground, screaming mostly in frustration, but likely in pain, too. This happens a bunch of times. After one of his many wipeouts, he simply lays on the floor, his skateboard landing upside down nearby, the wheels still spinning furiously. It's a masterful shot captured on the fly, and it ends with Hawk doing what he's always done: picking himself up and grabbing his board for another run. 
Much like this documentary as a whole, this opening is a superb encapsulation of Tony Hawk's life and career. For decades, Hawk has continually gotten back on the board, no matter how much it hurt to fall off. However, with the unfathomable success and fame that made him an integral part of sports history, there's also a price to pay in Hawk's personal life. "Tony Hawk: Until the Wheels Fall Off" doesn't just confirm that Hawk is the greatest skateboarder to ever live, but proves that his life was and is skateboarding, for better and for worse. 
A meteoric rise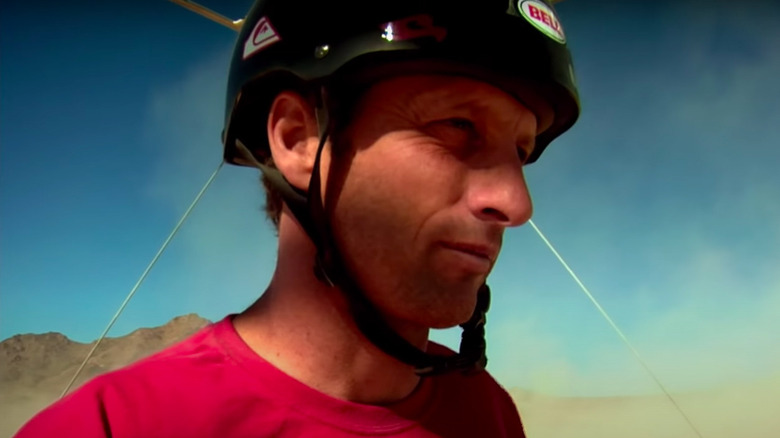 HBO
This is the definitive chronicle of Tony Hawk's incredible rise to become the face of modern skateboarding. Yes, there were professional skateboarders before Hawk, but none of them ever saw such a meteoric rise and worldwide recognition for their dedication to the sport, which includes Hawk creating over 100 innovative tricks himself. But would you expect anything less from a kid who became a professional skateboarder at age 14? Hawk raked in so much money from skateboarding as a teen that he was able to purchase his own house when he was a senior in high school. His first skateboard is now in the Smithsonian. That's pretty wild.
"Until the Wheels Fall Off" begins in the 1980s when skateboarding was enjoying one of several peaks in its popularity in the past 40 years. Even Hawk's father got in on the action by creating the National Skateboarding Association to regulate competitions. But despite Hawk's success, to those skateboarders who came before him, he was a nuisance. His lanky figure and unique approach to pool bowl boarding put a target on his back, especially when he started winning competitions and signaling the beginning of the end for the old guard of skaters. Despite finally finding something that he loved, he was an outcast in his own sport. 
Since Hawk's career was rising alongside the increasing availability of camcorders and VCRs, there's an endless amount of footage of Hawk skating in his early years. Whether it's from his family's home videos or the underground tapes of The Bones Brigade, the first crew that Hawk joined as a teenager, you get to see this lanky kid pissing off older pros with his upward ollie, which he pioneered only because he was too skinny for inertia to give himself enough height above the bowls to properly do tricks. In fact, there might be a little too much skating footage. That might sound like a weird complaint for a documentary about the world's greatest skateboarder, but with a 135-minute runtime, you start to feel the length after seeing so much sick skateboarding. Thankfully, it's all fueled by a killer soundtrack, featuring a cavalcade of rock from The Clash, The Sex Pistols, Echo and The Bunnymen, Joy Division, Pavement, Oingo Boingo, New Order, and more, so there's plenty of energy to spare.
Perhaps the most engrossing part of the documentary comes from the talking heads of Tony Hawk and his fellow professional skaters. Stacy Peralta, Rodney Mullen, Mike McGill, Lance Mountain, Steve Caballero, Neil Blender, Andy MacDonald, Duane Peters, Sean Mortimer, and Christian Hosoi take you back in time with endless memories about their heydays spent skating, and it's wild to see how these pros have aged without ever really ditching their skateboarder style. Skull caps, t-shirts, bowling shirts, shorts, and more are still worn by this crew, but they've (almost) all certainly done some growing up. Rodney Mullen is the standout, with his soft-spoken, dreamlike voice offering some beautiful insights and philosophies on skateboarding, not just as a sport but as an artistic outlet. Meanwhile, Duane Peters brings the profane, rough-around-the-edges recollections as one of the pros whose skateboarding career came to an end just as Tony Hawk's was rising.
Not just the good ole days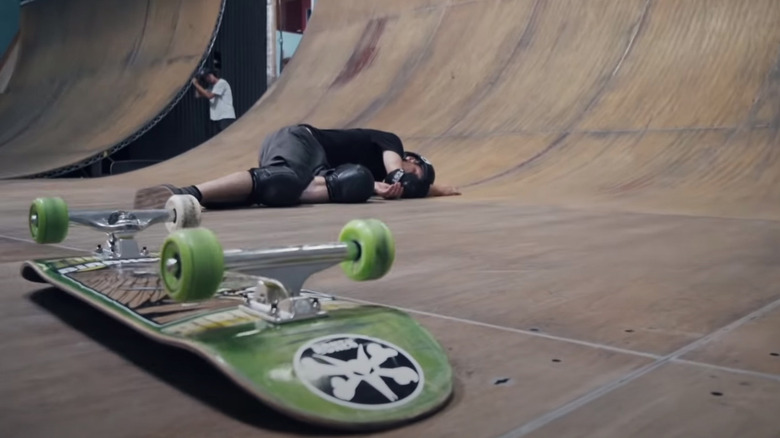 HBO
Even though the documentary spends most of its time relishing the glory days of the past, it's not all celebratory. Hawk's career in particular goes from dizzying heights to financially crunched lows as skateboarding comes in and out of fashion across his more than 40-year career. Like skateboarding itself, it's a whirlwind that lifts you up and brings you crashing down. Hawk goes from owning two houses at an early age to living with roommates and even his parents, forced to embark on a career in video editing for a time. But when skateboarding returns in the 1990s after nearly dying for good, it comes back bigger than ever, complete with Hawk's own skateboarding company, Birdhouse, and a $4.5 million paycheck Hawk received for the first quartet of skateboarding video games that rose to popularity in 1999 and through the early 2000s.
But where "Until the Wheels Fall Off" surprises is in how serious it gets about how skateboarding impacted Hawk's personal life. Alongside the glory of Hawk pulling off the extraordinarily difficult "900" trick, a 2½-revolution (or 900-degree) aerial spin, there are the woes of Hawk's failed marriages and the children that he often had to leave behind while partaking in skating competitions and traveling for extreme sports arena shows. Hawk also openly admits that fame is a hell of a drug that really threw him for a loop. But beyond that, it becomes clear that skateboarding isn't just a passion or even obsession for Hawk — it's an addiction, and it's something that he needed professional help to address.
Let's not forget that Hawk is now in his 50s, and he's still out there jumping into halfpipes. Remember that opening scene? That wasn't an archival clip. It's recent footage of Hawk as a middle-aged man trying to pull off what is easily his most challenging trick, perhaps the most difficult trick in skateboarding, period. And no matter how many times he failed, Hawk refused to stop until he landed it.
Though the documentary could have been tightened up a little bit, "Tony Hawk: Until the Wheels Fall Off" is still a thoroughly captivating film about one of the most famous figures in sports. It has the spirit of skateboarding but told through the lens of hindsight, complete with intimate reflections from Hawk and his extreme sports cohorts. Whether you're a skateboarding fan or not, this is an engrossing look back at the unquestionably remarkable career of a true legend, and his story isn't over yet.
/Film Rating: 8 out of 10