The Real Life Inspiration For Tom Cruise's Days Of Thunder Character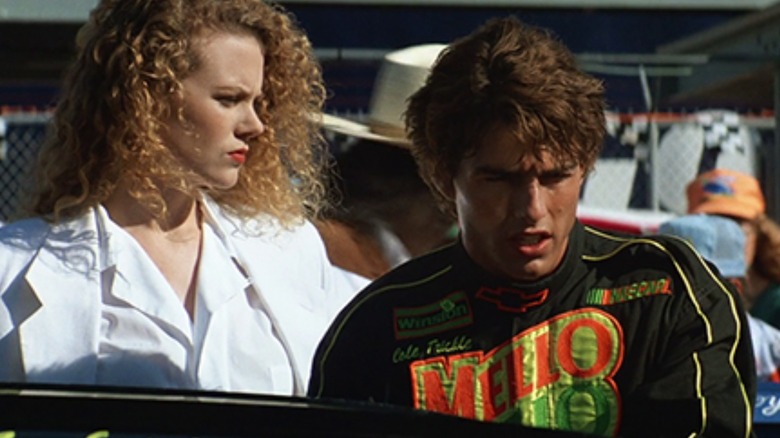 Paramount
"Top Gun" was the highest grossing movie of 1986, a massive success that gave the audience hunger for more, and the showmen behind it proudly acquiesced. Star Tom Cruise, whose ascension at the tail end of the '80's owed quite a bit to "Top Gun," would get inspired while driving practice laps in Daytona with his "Color of Money" co-star Paul Newman. When he took veteran screenwriter Robert Towne out to a race at Watkins Glen, he knew a movie could be made of it — and the men behind "Top Gun" came aboard immediately for "Days of Thunder" (which got the nickname "Top Car").
Director Tony Scott fit in well with producers Don Simpson and Jerry Bruckheimer. All three knew how to make huge, excessive action movies, and planned on doing it again. Even though it ended up a financial success and perennial cable classic, the production was a massive clash of egos between all three men. In that way, it ended up being an honest tribute to the complex figure who inspired the character of Cole Trickle (Tom Cruise): Tim Richmond, the Ohio-born racer who may not have fit in with the Southern stock car tradition of NASCAR, but had the talent, cockiness, and charisma to dominate the sport.
Practice laps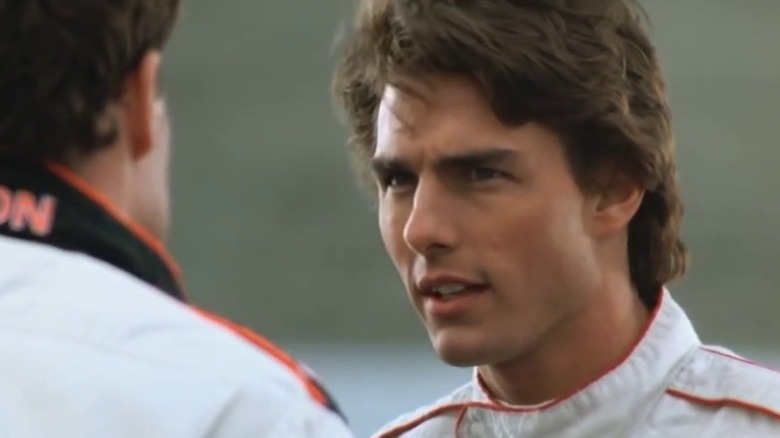 Paramount
Cruise's practice laps in Daytona led to him breaking bread with the guys who operated there, NASCAR success stories like team owner Rick Hendrick and his racer Geoff Bodine. When Cruise got out of the car, according to an ESPN "Days of Thunder" oral history, he said they had "to make a movie about this!"
The men shared stories they knew, stories of real racers whose rugged personalities and need for speed led to good times, bad times, and various injuries, and those stories formed the basis of the movie. Nearly every scene in the movie came from a real incident on the racetrack.
The connective tissue between the races is largely made of scenes between Cole and cranky crew chief Harry Hogge (Robert Duvall). In real life, Harry Hogge was Harry Hyde, who really did have a tense relationship with Tim Richmond, for many of the same reasons. Richmond's outsider status came from an affluent upbringing and a cocky demeanor that hid his lack of knowledge about cars. Incidents like Cole's early fight with Hogge about whether or not to save his tires to go faster happened in real life.
Hollywood in Hollywood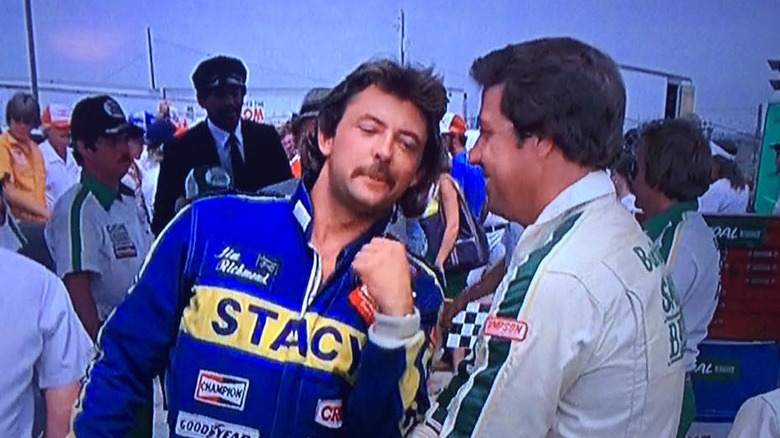 Universal
That lone wolf personality may have made for a divisive figure on the track, but it makes for a killer protagonist in a movie. When you consider that youth, brashness, and charisma were the key character traits for a Tom Cruise Movie Star performance, it makes sense that he and Towne would look to Richmond's life for inspiration. Moreover, the life of a racer is loaded with conflict on and off the track — the drama of a character's tumultuous relationships runs directly alongside the threat of accidents and crashes.
While Richmond's career began in the '70's, in the world of open wheel sprint cars, it was his move to the NASCAR stock car circuit in 1980 that gave him fame. His recklessness on the track and playboy lifestyle (and bit part in the 1983 Burt Reynolds racing flick "Stroker Ace") gave him the nickname "Hollywood." But he had difficulties, and it wasn't until his 1986 season that he was able to turn around his winless streak into a legendary run, winning more races than any other racer on the tour. That was his season with Harry Hyde and Rick Hendrick, and its triumphant conclusion made for a perfect inspirational sports movie.
"Days of Thunder" ends in victory, with Cole winning the Daytona 500 by the skin of his teeth. But Richmond's life continued beyond that good season.
'They don't go to funerals'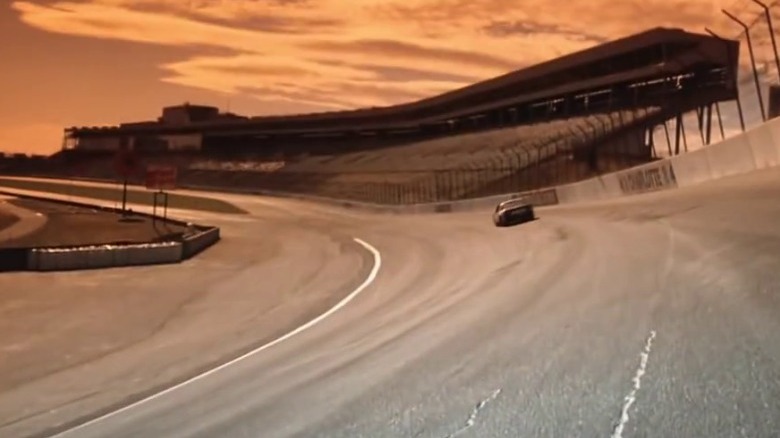 Paramount
At some point in the '80's, Richmond contracted AIDS, and the resultant pneumonia in early 1987 made him ill to the point that he couldn't race consistently anymore. He was able to make eight races that year and he won two. His final race was in August, and he broke off with Hendrick Motorsports soon after. When he attempted to enter into the '88 season, NASCAR suspended him after testing him for the abuse of illicit medication, which turned out to be Sudafed and Advil. Growing sicker and sicker, Richmond retreated to his Florida condo, eventually passing away in 1989 at the age of 34. The day he died was the same day Cruise took Robert Towne to a race at Watkins Glen to begin work on the script. NASCAR officials would go on to say the drug test was a bad one.
An ESPN retrospective, 20 years after Richmond's death, began with the claim that Cole Trickle was "a wimp and a wallflower" compared to Richmond. No matter the amount of drinking, sex, and partying in the movie, Cole couldn't quite stand up to the real thing. But he was the movie version, an immortal tribute to the racer's magic season. As Rick Hendrick would say, "These stories and the people in them, they are going to live forever thanks to this film."