Gentle Giant's New Mace Windu Statue Is A Purple Lightsaber Wielding Mother****** [Exclusive]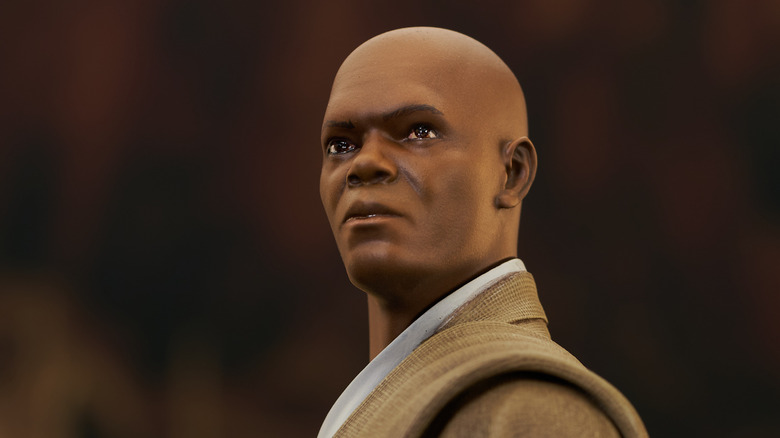 Gentle Giant Ltd.
Our friends at Diamond Select Toys have provided us with an exclusive first look at the latest 1/7 scale statue from Gentle Giant Ltd.'s Premier Collection: The "Star Wars: Attack of the Clones" Mace Windu Statue! You can take a gander at this very cool and lifelike piece below, along with all the info you need to know for pre-ordering this purple lightsaber wielding badass for your very own. 
As you may recall, the Jedi master played so memorably by Samuel L. Jackson in the Prequel Trilogy finally got to let loose his mad skills with a blade in 2002's "Star Wars: Episode II – Attack of the Clones" after a more, shall we say, stoic turn in 1999's "The Phantom Menace." The result had Mace Windu as the first on-screen Jedi with a purple lightsaber (when you absolutely, positively got to kill every trade federation battle droid in the room), where all previous models had been green, blue, or red. He managed to take down Jango Fett in the action-heavy sequel, but the question of whether Mace is still alive after his apparent death in "Revenge of the Sith" remains a point of contention among fans as well as a source of geek torture from George Lucas and Jackson himself. Whether we'll get to see Jackson in either the upcoming "Obi-Wan Kenobi" series or a potential matchup with a vengeful Boba Fett remains to be seen, but we sure as heck hope so!
Mace Windu Premier Collection exclusive reveal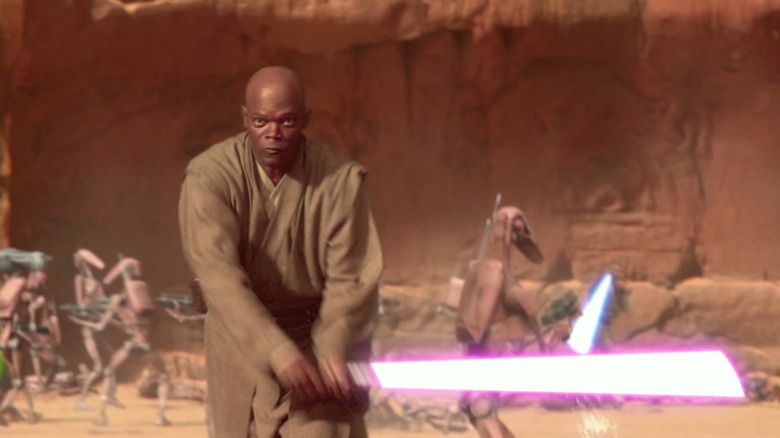 Lucasfilm
The only Jedi with a purple lightsaber, Mace Windu is now the newest 1/7 scale statue in the Premier Collection! Standing approximately 11-inches tall, this sculpture captures the Jedi during the battle of Geonosis, following his short duel with Jango Fett, with the latter's helmet resting on the ground. Take a look at the sculpture below.
Limited to only 3,000 pieces, it comes packaged with a numbered certificate of authenticity in a full-color box. It will be offered for the standard retail price of $175.00, with shipping expected in the fall of 2022. Star Wars fans can get while the getting is good by pre-ordering starting March 18, 2022 at gentlegiantltd.com.
Here is the official synopsis for "Star Wars: Episode II – Attack of the Clones", which is currently available for streaming (for the nine of you who haven't seen it yet) on Disney+:
Following an assassination attempt on Senator Padmé Amidala, Jedi Knights Anakin Skywalker and Obi-Wan Kenobi investigate a mysterious plot that could change the galaxy forever.