Cheaper By The Dozen Review: An Overstuffed Pilot Episode Pretending To Be A Movie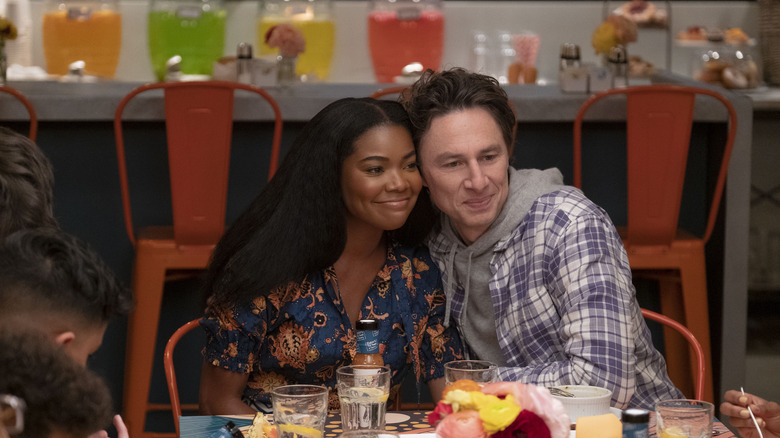 Disney
Last week was, at least in the world of public relations, decidedly not great for the Walt Disney Company. CEO Bob Chapek, in light of the anti-LGBTQ+ legislation in Florida colloquially known as the "Don't Say Gay" bill, failed to immediately and clearly denounce the legislation, considering the impact it has on not only the citizens of the state but also the company's Cast Members who feel legitimately attacked by the bill's sweeping homophobia. Perhaps the most curious aspect of Chapek's initial response, an internal email that soon leaked to the public, was his belief that films like "Encanto" and "Black Panther" serve as "...our corporate statements — and they are more powerful than any tweet or lobbying effort." That quote, as wildly tone-deaf and misguided as it was, feels like a very telling way to grasp a good chunk of the impetus that has led us to a remake of a remake, the new "Cheaper by the Dozen." Though the movie serves the basic and bland purpose of reviving so-called intellectual property and giving it some new twists, "Cheaper by the Dozen" feels very much like an executive decree for diversity without any true creativity or wit. 
Along with that, this "Cheaper by the Dozen" has the look, feel, and storytelling focus of an overstuffed pilot episode. (Considering that one of the various Disney+ original series from 2021 was a remake of "Turner and Hooch," it's easy to wonder if this film will turn into such a show should it get enough viewership numbers.) Gabrielle Union and Zach Braff star as Zoe and Tom Baker, a happily married couple who have enough children thanks to their previous marriages and their current coupling that they — along with Tom's ex-wife (Erika Christensen), who often serves as a babysitter — make up a full dozen. Though they live fairly snugly in a suburban house, the family works at Tom's own breakfast restaurant even as he attempts to turn into a modern Chef Boyardee by marketing a sauce to be a nationally sold product, leading him to uproot the family to a fancy upscale community that causes more issues than it resolves.
This "Cheaper by the Dozen" does not hesitate to name-check the concept of white privilege, or to show that this film's family is outwardly liberal (with a Black Lives Matter sign plastered on one of their windows, or pets named after former President Barack Obama and current president Joe Biden). And on the surface, this movie is trying to grapple with the challenges of being a biracial family in the 21st century, as much as possible. Though Tom is goofy and kind (and if you know Braff from his leading role on "Scrubs", you'll know these traits come easily to him), he also has inadvertent blinders on about the way he's perceived both in his current home and his new one in a McMansion. Yet for every potentially tense moment, the script quickly moves past the tension to crack an easy and dull joke or to smooth things over so Tom doesn't get too challenged.
A film full of TV subplots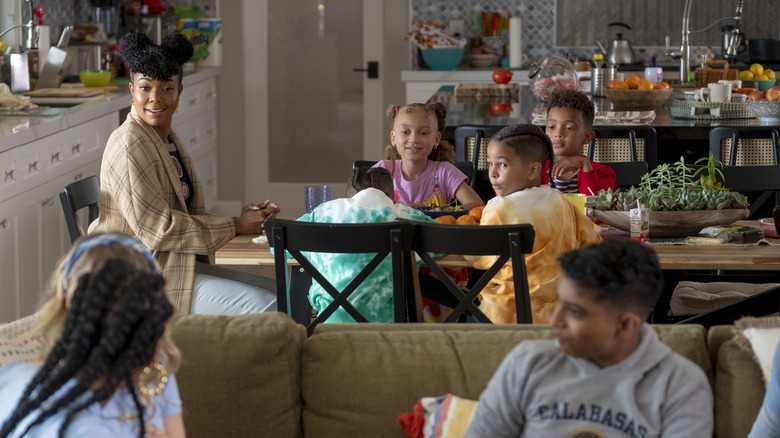 Disney
Of course, part of the issue with Tom — a well-meaning white guy, to be sure — not being too challenged for his unavoidable privilege amidst his personal allyship is the fact that "Cheaper by the Dozen" has to be as much about Tom and Zoe's many kids as it is about the two adults. The first five minutes of "Cheaper by the Dozen" make clear how challenging it is to balance so many potential characters, with a joint voiceover between Braff and Union that explains which of the kids wants to be a basketball player, who wants to be a comic-book artist, and on and on and on. It's exhausting primarily because there are just so many kids to keep track of that it's hard to ever really get a solid grip on which storyline may matter more. A good chunk of the movie feels most heavily focused on whether or not Tom's desire to become like Chef Boyardee (a comparison he makes directly, let's be clear) will mean he may have to become a corporate sellout. If that sentence felt ridiculous to read, please know that it's just as ridiculous to write, and yet the movie handles this storyline with a weirdly straight and unaware face.
None of the kids themselves, from athlete Deja (Journee Brown) to nerdy DJ (Andre Robinson) to Tom's godson Haresh (Aryan Simhadri) and late-stage addition/Tom's nephew Seth (Luke Prael), are really strong enough to make an impact. It's not that their performances are bad, but that the script is only able to shoehorn in two or three-minute bits of their tiny subplots throughout the overall 107-minute running time. It's very much like watching an expanded episode or two of TV, which not only hearkens back to some of Disney's oldest live-action films, which were basically designed to fit into the Walt Disney anthology TV series runtime, but also to the world of modern TV. And it's likely not much of a coincidence, seeing as the film's director, Gail Lerner, and its writers, Kenya Barris and Jenifer Rice-Genzuk Henry, have plenty of TV background, including having all worked on ABC's "Black-ish" and its related spin-offs, with Barris having served as creator on the flagship show. The storylines are all pat, and all are resolved in laughably Photoshopped images with superimposed captions right before the end credits. 
That's what makes one of the subplots — in which Tom struggles with feelings of inadequacy compared to Zoe's ex-husband Dom (Timon Kyle Durrett), a Hall of Fame athlete who's a world-renowned celebrity — so frustrating. At first, everything is played for laughs, with Dom teasing Tom for having a smaller shoe size and not being very athletic. But by the end, Dom gives Tom a grim wake-up call that Braff's protagonist can only ever understand the struggle of Black people from the outside in, pushing back against Tom's nice-guy arguments that his love for Dom's kids should be enough. There's a genuinely interesting way to explore this argument, and Durrett's performance helps as much as the script itself does ... until the scene cuts away and the next time we see Dom, he's with the larger extended Baker family, as if all is in the past. 
"Cheaper by the Dozen" arguably has its heart in the right place. And Braff and Union are suitably charming together, as much as you could hope for in a remake that not a whole lot of people were asking for. The good intentions the film has, though, run against the reality that it's being released by the Walt Disney Company — and unlike another Disney-owned streaming release this weekend, it's not going to be terribly adult or R-rated like "Deep Water." There's room to explore the concept of a blended family struggling to lead a life with a dozen people involved, especially if that family is multiracial in the mid-21st century. Yet "Cheaper by the Dozen," every time it tries to walk down a thornier path, seems to be guided away by executive fiat to ensure that nothing gets too dicey. There was potential here, but it goes unrealized.
/Film Rating: 3.5 out of 10