Star Trek: Discovery Took A Page From The Mandalorian's Playbook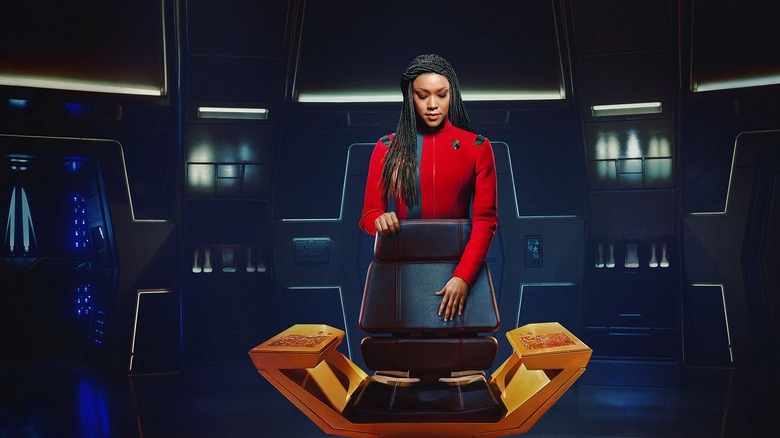 Paramount
At first glance, the worlds of "Star Trek" and "Star Wars" couldn't be more different. One franchise is a science fiction tale about mankind putting aside its petty differences and uniting to travel the stars. The other merges fantasy and sci-fi tropes, resulting in a galaxy with laser swords and space wizards. However, both franchises have found fresh life in streaming, and new technology has been used to bring each franchise's flagship show to life.
"Star Trek" alum Jonathan Frakes, who portrayed Commander Will Riker on "Star Trek: The Next Generation" and directed episodes of "Star Trek: Discovery" (among other "Trek" projects, including two feature films), spoke with Collider concerning season 4 of "Discovery." During the interview, Frakes discussed how "Disccovery" utilizes ARWall tech to virtually craft entire sets using a combination of LED screens and virtual reality — and how "The Mandalorian" led to the adoption of that tech.
To boldly go where few filmmakers have gone before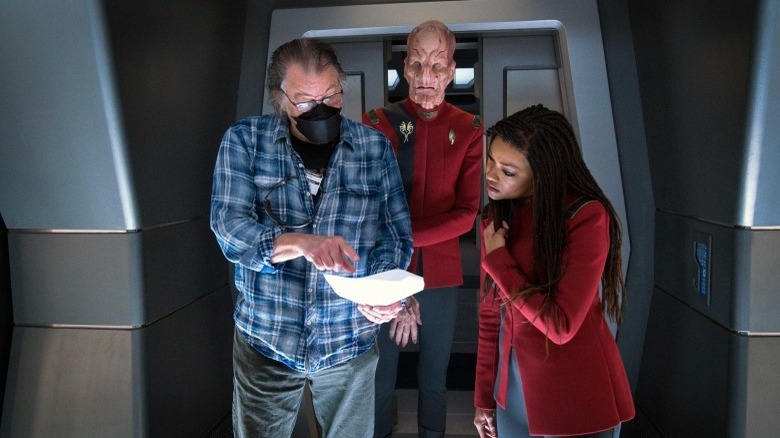 Paramount
Similar technology is also utilized on "The Mandalorian" with StageCraft. Unlike ARWall, which mainly stays stationary, StageCraft uses wraparound LED screens to craft entire digital sets that move with the camera — leading to the creation of "volumes." So while both shows are utilizing technology that's undeniably similar, in true "Wars" versus "Trek" fashion, they're also quite different. 
Frakes discussed how the ARWall tech was helpful in shooting "Discovery," especially with COVID protocols in place for season 4:
"That's been developed for, you can see it in a couple of the episodes that have been on already. It's been, I think, used very effectively. I think we went to it. We, Discovery, went to it because it was used on Mandalorian so beautifully."
While Frakes also said that he didn't personally have the chance to use ARWall for season 4 of "Discovery," he's more than ready to utilize it for future "Star Trek" projects as he feels it's a new frontier for filmmaking:
 "But I'm hoping to go back up there, and I'm hoping we use it on [the upcoming series] Strange New Worlds. I'm going to go up and do one of those next season. And I think it's a tool that is part of the future of filmmaking. On TV and film."
It's not hard to see why Frakes grew impressed with the ARWall tech. Behind-the-scenes video footage from season 1 of "The Mandalorian" features the StageCraft in action, and it's mind-blowing to think that the multiple worlds seen on screen were crafted using only LED screens and a single soundstage. Obviously similar tech could help bring the Star Trek universe to life.
This is the way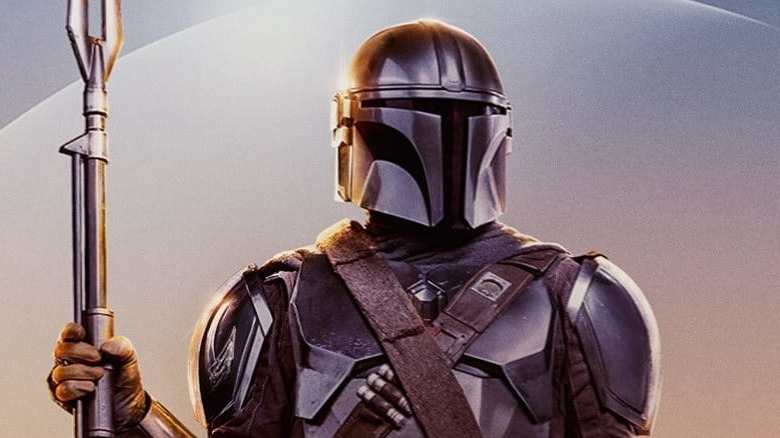 Lucasfilm
"Star Trek" super-producer Alex Kurtzman had previously confirmed that ARWall tech would be used in future "Star Trek" projects, so Frakes isn't the only Trek crew member who sees the potential of the technology being used on the franchise's sets. And similar technology is even being used in upcoming feature films, with "Ant-Man and the Wasp: Quantumania" filming scenes on the virtual soundstage known as The Volume. Peyton Reed, who's helmed all three "Ant-Man" films, even stepped behind the camera for two episodes of "The Mandalorian"'s sophmore season including the action packed finale "The Rescue".  With "The Mandalorian" slated for a third season, it looks like the "Star Wars" franchise will continue to explore this bold new frontier in filmmaking — and upcoming "Star Trek" series, including "Strange New Worlds" and the upcoming Section 31 series, will follow suit. I, for one, hope that Frakes' next "Star Trek" project allows him to utilize the ARWall tech.