One Of Sidney Poitier's Most Memorable Scenes Was Made Up On The Spot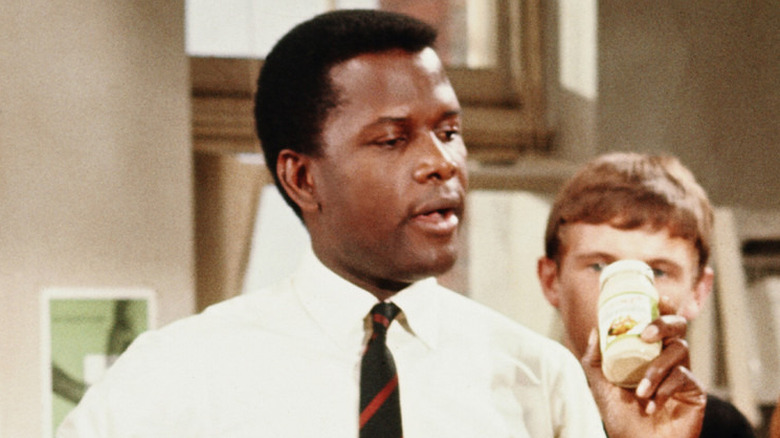 Columbia Pictures
The late Sidney Poitier had a career that included some truly game-changing films, including "Guess Who's Coming To Dinner" and "In The Heat of the Night". Even his lesser-known works, like the supremely underrated Western "Buck and the Preacher," were notable for how they dealt with the topic of race. 
One of Poitier's biggest films, "To Sir, With Love," has him portraying Mark Thackeray, a teacher who takes up work at a school in London's rough-and-tumble East End. Thackeray ends up winning over his students over the course of the film, including Judy Geeson's Pamela Dare. It even gave birth to a whole subgenre of film, with "Freedom Writers" and "Dangerous Minds" adopting a similar premise. However, in most subsequent "rogue teacher inspires underprivileged kids" movies the situation was reversed, with a white teacher shaping the lives of a predominantly Black class.
The Spectrum wrote up an oral history of "To Sir, With Love" to celebrate its 50th anniversary in 2017, during which Geeson talked about the scene where Thackeray escorts Dare to a "Ladies Choice" dance — and its surprising origins.
We Can Dance If We Want To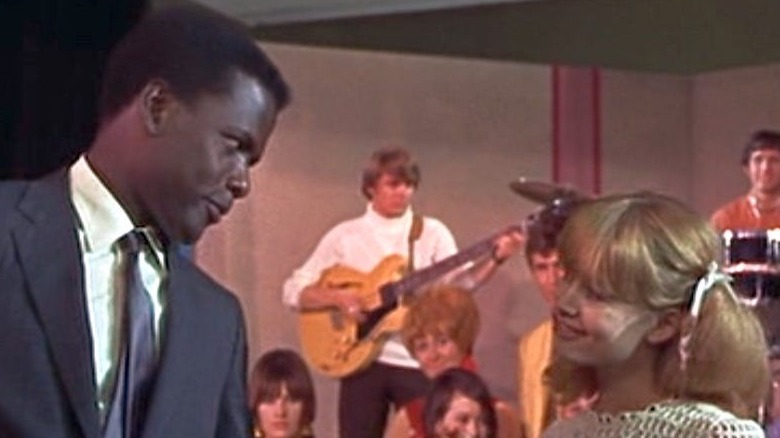 Columbia Pictures
Apparently Geeson didn't even know how to properly dance before she made "To Sir, With Love," but that wasn't a problem for writer/director James Clavell. As Gleeson recalled:
"I was not a dancer at all so Sidney and I rehearsed a lot. In fact, we didn't really know what we were going to do. Jimmy Clavell encouraged us to do what we thought we should be doing in the moment and would shoot the rehearsals."
That even extended to the rest of "To Sir, With Love," as Clavell encouraged the actors to do what came naturally.
"Like so much of the film, the director just wanted us to be ourselves. We even wore our own clothes with the wardrobe department adding a belt or pair of shoes here and there. We had little make-up on, just enough to make sure our noses didn't shine!"
The Ladies Choice dance ended up being one of the film's most uplifting moments, as Thackeray and Dare start to move to the beat and then slowly loosen up over the entirety of the dance. It's a scene that would melt even the hardest of hearts, for at this point in the film Thackeray has become an inspiration to his students rather than simply another teacher. Though Poitier would later reprise the role in the '90s-era film "To Sir, With Love II," it doesn't bear the same emotional impact as that one dance.